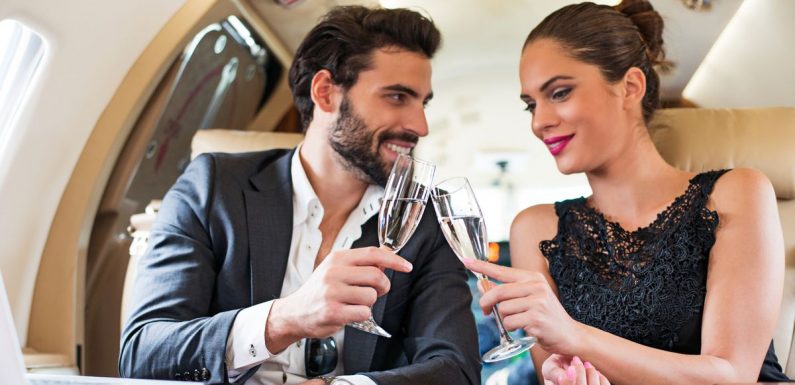 Many of us will be looking to book a holiday for 2023 especially with many holiday packages on sale right now.
For example, Loveholidays is offering breaks away from just £105 while Lastminute.com has holidays from £95.
However, one off-putting part of going away is travelling in economy.
READ MORE: Ryanair selling summer flights to Spain, Greece, Italy, Portugal and more from £13.99
While it's the most we're often willing to pay for air travel economy seats are cramped, uncomfortable and often noisy.
The dream is to get a free upgrade to a business or first class seat – which, while rare, does happen.
There are lots of ways you can try and get an upgrade and some actions that will rule you out for one all together.
Check out these flight attendants' tips for getting an upgrade on your next flight…
Avoid being drunk, smelly or scruffy
Flight attendant Miguel Muñoz, who has been flying the skies for more than 10 years, previously revealed that there are outfits sure to keep you firmly in economy.
Miguel said: "I would say dirty clothes 100%. Sometimes passengers come on board looking scruffy, smelly, with stains on their T-shirts, etc.
"You can tell when they come straight from the beach and they haven't changed. I've even seen passengers boarding the plane in flip-flops and sandy feet!
"It's obviously not nice to have passengers like these and I would never upgrade them to the first class if I could.
"I also wouldn't upgrade smelly people or drunk passengers, or passengers who give me the impression that they are going to cause trouble. "
Wear the right clothes
One travel expert atForbesAdvisorexplained what they look for when upgrading someone.
They said: "While dressing in your finest clothes is no guarantee for an upgrade, a smart outfit will certainly enhance your chances of being chosen.
"Top paying customers will often be dressed sharper, and airlines will want to ensure anyone they bump to first-class looks the part.
"Don't feel the need to dress in anything extravagant. However, just make sure you avoid items that are too casual like flip flops and cargo shorts."
Complain about a recliner
An anonymous flight attendant claims that airline workers will speak up if someone is reclining their seat during meals as this can interrupt other peoples meals.
However, they noted that holidaymakers do usually have the right to recline a seat.
That is, unless there's a medical reason why someone needs the extra leg room such as a history of deep vein thrombosis (DVT).
If you tell the staff you suffer with this health issue they'll insist the person in front of you puts up their seat.
The flight attendant added: "We may even move you to a seat at the front of the row, or maybe even upgrade you, so you have more room to stretch your legs, or so you won't have to deal with a recliner."
Pick the middle seat
If you don't like the uncertainty of waiting until a few hours before your flight to check in, then make sure to select the middle seat.
Airlines are more likely to upgrade passengers who are sitting in the middle seat as this is generally considered the least desirable place to sit, according to CEO of travel company Stasher, Jacob Wedderburn-Day.
So, if you don't mind being wedged between two other people, it might pay off to book those seats
Just ask
There are so many in-flight perks people don't know they can ask for, which can turn an economy ticket into a first class experience even if you don't bag an upgrade.
But sometimes, just asking could get you bumped up too.
When you check in, tell the attendant that you're interested in an upgrade. You can always ask again at the gate if they say there's no chance; the worst they can say is no.
The key is to be polite and humble. You don't want to come across as demanding or entitled, says Jacob.
Be friendly and let them know that you would really appreciate an upgrade, especially if it is a special occasion.
This won't always result in an upgrade, but you may possibly get a free glass of champagne and some special in-flight treatment.
READ NEXT:
Wearing leggings, flip flops or shorts on plane puts passengers at risk claim experts

Flight attendant exposes type of passenger she hates – as 'they need manners'

Flight attendant says she never upgrades passengers – apart from one exception

Virgin Atlantic plays trick on people who 'pinched' planes' salt and pepper shakers
.
Source: Read Full Article