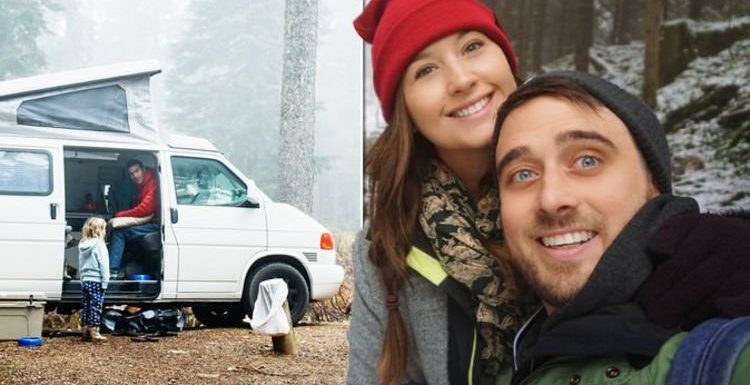 We use your sign-up to provide content in ways you've consented to and to improve our understanding of you. This may include adverts from us and 3rd parties based on our understanding. You can unsubscribe at any time. More info
Camping and caravanning is often more remote than other types of holiday. This means packing is very important. Shops may be a few and far between or distant drive, so a forgotten item could spell a nightmare.
Alex and Emma, the couple behind travel platform Travel Beans, have spent the time since the last lockdown turning a van into the perfect campervan and share their travels on their Youtube channel.
Since, they have travelled around the UK, to Somerset and Wales, among other locations.
How do the couple ensure they always have what they need? And what are their camping packing list must-haves?
The pair, who detail their journeys on Instagram, have a clever solution to always having enough power to charge all their electronics and avoid the pain of sharing a phone charger.
Alex told Express.co.uk: "One thing that I've always loved is the power strip, a power extension.
"It sounds stupid but it's one of those useful things.
"It's that are particularly useful because then you only need one adapter if you are abroad."
But no amount of electricity can soothe the feeling of soggy feet.
DON'T MISS:
'Strip down to underwear' – Tips for a successful autumn trip [CAMPING]
Incredible wildlife island in the UK open for staycations [STAYCATION]
Best UK staycation location to avoid 'busy' Cornwall and Devon [TRAVEL]
Hiking nearby the campsite, or even walking to get water in the dewy grass, can leave shoes and socks wet.
Therefore, Emma recommends: "Always take extra pairs of socks.
"They always seem to get wet, whatever you do."
Alex added one last item, which the couple always seem to use on their trips away.
"Binoculars," he said. "The number of times, if we forget them, I wish I had them.
"And the amount of times we use them is ridiculous."
The couple recently detailed an "underrated" UK staycation spot near Devon and Cornwall.
Alex said: "I'm a big advocate for Somerset.
"It is very underrated, especially as it's the gateway to Devon and Cornwall, which everyone seems to love."
Somerset is known for many things, including a fascinating pagan history.
Another favourite UK staycation destination of the couples' is an island full of wildlife.
They told Express.co.uk Skomer Island in Wales is in the top five wildlife spots they have visited worldwide.
Alex explained: "Only so many people can go each day and you can't book, so just you have to turn up in the morning.
"You go by boat and when you get over there, there's puffins, dolphins and whales, seals, owls. It's just amazing."
Source: Read Full Article