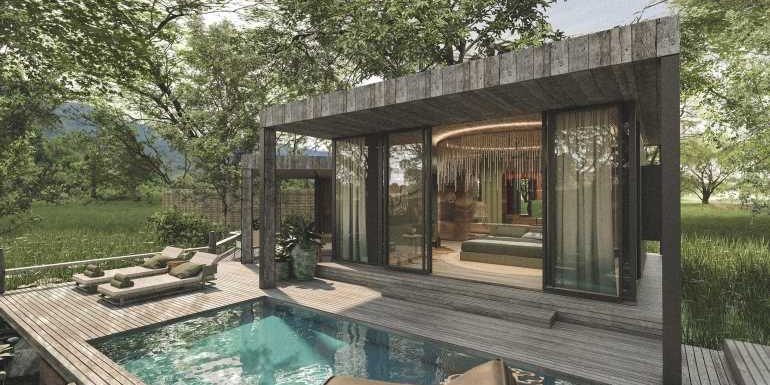 African Bush Camps (ABC) will soon be opening Lolebezi, a new luxury safari camp in the remote wilderness of the eastern region of the Lower Zambezi National Park in Zambia. The camp will start welcoming guests for immersive safari experiences on June 1.
"Lolebezi is a dream setting for travelers to experience the abundance of Africa and the beauty and power of the Zambezi River," said Beks Ndlovu, a veteran professional guide who established African Bush Camps in 2006. "As ABC expands its expertise in Zambia with a second lodge, our newest destination continues to redefine the safari experience with opportunities for adventure, learning, abundant wildlife amidst pristine wilderness and pure comfort designed to sustainably blend with its environment."
Guests at Lolebezi can look forward to twice-daily activities. Game drives, guided walking safaris, riverboating and canoeing offer close perspectives of wildlife, including enormous herds of elephants, leopard encounters, buffaloes, waterbucks, prides of lions and more.
Guided, catch-and-release fishing trips and bird-watching excursions are also part of the offering. Guests can also take advantage of Lolebezi's spa and wellness facilities or enjoy sunrise and sunset salutations on the yoga deck. An open-air cinema set amid a forest of enormous Winterthorn acacias offers movie nights, while strategically placed "river pods" are available for private picnics, guest retreats and quiet moments surrounded by the sounds of nature.
• Related: Africa offers a different type of space travel
Lolebezi can accommodate up to 16 travelers in four Signature Suites and two Signature Family Suites that are sensitively designed and outfitted with amenities, including a private plunge pool. Opening onto the river, each suite is essentially a minimalist viewing platform with sections' twisted away from each other: a bedroom and sitting room facing east and a bathroom, dressing room and 'loo-with-a-view' toward the west.
The camp is completely off the grid, powered by a dedicated solar farm comprises photovoltaic panels constructed in an existing clearing of the Winterthorn forest. The water supply and wastewater are managed via a staged treatment system that ensures no pollution of the Zambezi.
To celebrate the opening of Lolebezi, African Bush Camps is offering an introductory rate of $990 per person, per night. The rate is valid for bookings through November.  
Visit africanbushcamps.com/camps/lolebezi for more information or to make reservations.
Source: Read Full Article