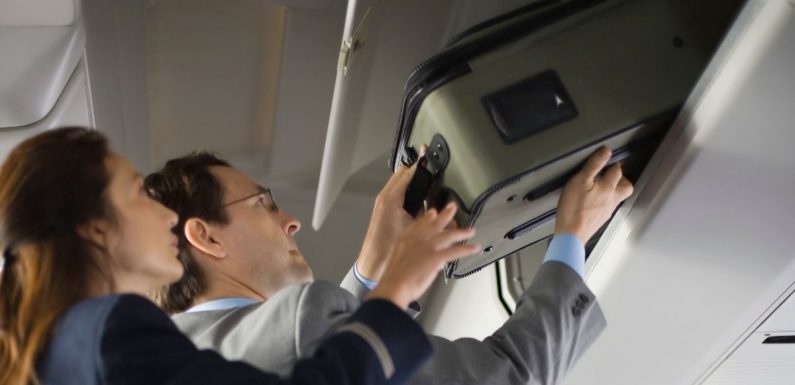 A flight attendant reportedly told a holidaymaker they had a "stupid face" after she tried to use the First Class overhead lockers for her suitcase.
The Delta cabin crew member apparently made the statement during a flight from Orlando to New York.
The passenger's husband has claimed they were "threatened" and "verbally assaulted".
READ MORE: Woman gets revenge on flight as fellow passenger puts gross bare feet on her armrest
He also claimed that they were "wrongly removed" from the flight as well, as reported by the Independent.
The duo said that the events unfolded after they stores their luggage in the first-class overhead bins.
While they were not sitting in the more expensive section of the plane, there wasn't enough bag storage for their suitcases on their row.
So they chose to place them elsewhere for the journey – but claim they were accosted by the crew for doing so.
Posting on Twitter, Thomas Todd claimed: "This out of control flight attendant verbally assaulted, threatened us, and had us wrongly removed from our flight back in November."
He also shared a video showing the verbal altercation which he began to film after the crew member reportedly said: "Don't look at me with that stupid face."
Thomas said: "Jen looks at her and asks her what she just said and then the lady says that 'she is from the Bronx and you don't want this'. The only thing Jen was doing is smiling."
In the clip, Thomas said, "I have you on video saying my wife has a stupid face", to which the flight attendant replied, "I don't care".
Thomas claims he was still waiting for compensation and that Delta had asked him to remove his social media posts which he has since done.
A Delta spokesperson told Daily Star: "We apologise for the delay in travel for all customers on flight 1260 from Orlando to LaGuardia on Nov. 7, 2022, after the flight crew made the decision to deplane some customers shortly after departure.
"Those customers were rebooked on another Delta flight and we've been in contact with this party to offer further apologies and compensation."
READ NEXT:
Wearing leggings, flip flops or shorts on plane puts passengers at risk claim experts

Flight attendant exposes type of passenger she hates – as 'they need manners'

Flight attendant says she never upgrades passengers – apart from one exception

How to get free upgrades on flights – flight attendants share their best secrets
Source: Read Full Article