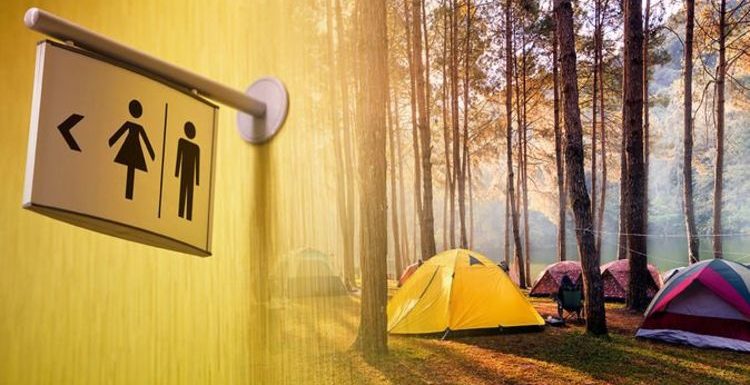 The Camping and Caravanning Club detail virus safety measures
When you subscribe we will use the information you provide to send you these newsletters.Sometimes they'll include recommendations for other related newsletters or services we offer.Our Privacy Notice explains more about how we use your data, and your rights.You can unsubscribe at any time.
Campsites.co.uk, which works with more than 3,000 camping and glamping sites across the UK, reported 300 percent more bookings and enquiries after Prime Minister Boris Johnson unveiled the good news. Under the current travel advice: "Self-contained accommodation, such as holiday lets, where indoor facilities are not shared with other households, can reopen" from April 12.
"The rest of the accommodation sector" can reopen from May 17.
However, this guidance has caused a big problem for some campsites.
Martin Smith, the founder of Campsites.co.uk, warned "thousands of campsites" are being unfairly affected over the matter of shared toilets.
He said today: "Under the current roadmap, pubs and shops can open their toilet facilities for customers from April 12, but campsites must keep theirs closed until May 17."
This detail means many sites simply cannot reopen which is a blow for both the industry and holidaymakers.
Bank Holiday weekend getaways will be impacted.
"This matters, because it stops thousands of campsites opening for the early Bank Holiday weekend, depriving independent sites the chance to claw back some of the revenue they have lost from missing successive Easters and all of spring 2021," said Smith.
"We want the Government to reconsider their decision and level the playing field for campsites.
"If toilets are okay for pubs and shops, there's no sane reason they can't be opened at campsites too."
Smith added: "It's great for the industry to have a much clearer picture of the months ahead and there is clearly customer demand for holidays in the UK.
"It's important to open safely of course, but this will be a big blow for some."
Cornwall, Devon and the Lake District have been identified as the most popular spots to have a camping holiday.
However, Britons are starting to branch out elsewhere, said Ed Bassett, General Manager at travel agency Camptoo.
"Following the UK Government's announcement… we have noticed a sharp rise in UK staycation bookings for the summer period," he commented.
"Bookings rose 60 percent on Monday, February 22, up from Sunday, February 21 (Sunday is typically the day of the week with the highest bookings), and we believe this trend will continue as people feel more confident in booking summertime travel.
"Cornwall, Devon and the Lake District are the three most booked destinations in England.
"Interestingly, we've noticed that customers are branching out and trying out new destinations entirely – in February 2020 our customers had booked holidays to around 250 destinations, whereas in February 2021 customers have booked to over 300 destinations."
Bassett added: "It's great to see that Brits are looking to alternative destinations that they may not have explored before – and that is made even easier when they choose to hire a campervan to take them absolutely anywhere."
Hotel bookings and cottage rentals are also on the up.
Comparing stats from UK hotel bookings on February 22 2020 (before the UK coronavirus crisis started), Profitroom, a provider of hotel marketing service, reported a 307 percent increase – a record high for hotel bookings.
Meanwhile, according to Last Minute Cottages, traffic increased 107 percent on Monday compared to the week before and bookings for self-catering cottages shot up 187 percent.
Source: Read Full Article