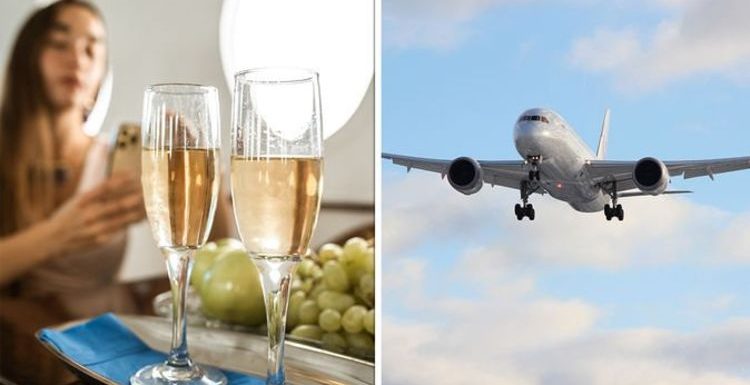 Flight attendant gives examples of what not to do on an aircraft
We use your sign-up to provide content in ways you've consented to and to improve our understanding of you. This may include adverts from us and 3rd parties based on our understanding. You can unsubscribe at any time. More info
Flight attendants can upgrade passengers for a number of reasons, and some lucky ones get to experience the luxury treat of a higher cabin for free. But how can you get it?
Flight attendant and Confessions of a Trolley Dolly founder Dan Air explained now is more difficult than ever to get an upgrade but there are some ways to boost your chances.
"Well if you're after a free upgrade, good luck with that.
"These days it's pretty difficult for your crew to upgrade you.
"And obviously if you're flying with a low-cost airline, there's not much we can upgrade you either," he explained.
"However, we can make your time onboard with us that little bit more comfortable, serve you first, maybe throw in a few freebies, move you to extra leg-room.
"And to get this it's pretty straightforward, simply treat us with a little bit of respect and courtesy.
"Smile when we smile, acknowledge us, ask us how our day is going and remember that we are people too.
"People whose lives have been turned upside down by this pandemic.
"We've lost friends and colleagues from our aviation family due to redundancies and even the virus itself. It's been tough, so show some compassion too," he said.
Nicky Kelvin, travel expert and head of The Points Guy UK, explained "there are several things you can do to increase your chances of scoring an upgrade".
He said: "Having status with the airline, or the alliance they are part of, is the biggest factor that increases the chances of an upgrade.
"Being loyal to an airline or an alliance can really pay off."
Nicky said passengers have more chances during a busy flight.
"Airlines only upgrade passengers when they have to, so picking a particularly busy flight, combined with all the other factors, does improve your chances.
"Having said that, it can be a good tactic to pick empty flights in order to have an empty seat next to you — but upgrades will not happen on those flights."
Nicky revealed the passengers with more possibilities of getting upgraded are solo travellers.
"Generally speaking, airlines will not split up a booking.
"In other words, they won't upgrade one person when two people are booked to travel together.
"There will, of course, be instances when they will need to upgrade numerous passengers but generally speaking, your chances of being one of those lucky ones is reduced when travelling with others."
Source: Read Full Article