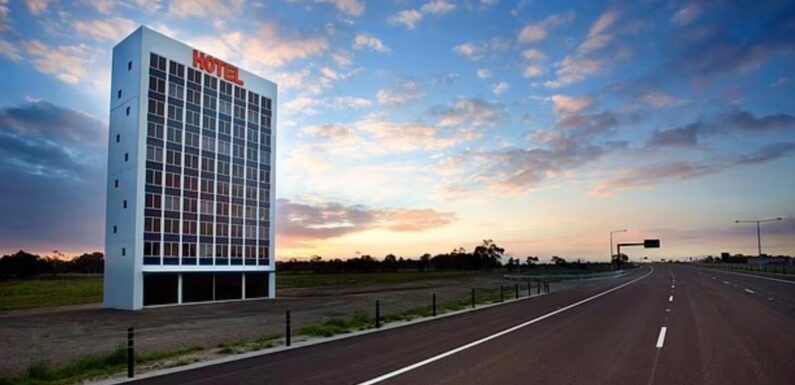 An unusual hotel has left motorists confused when they drive up to book a room – because although there's a building there, the hotel doesn't actually exist.
Hotel EastLink is based on a motorway outside of Melbourne Australia.
The skyscraper-like hotel apparently sees many drivers stopping to stay for a while only to leave them disappointed.
READ MORE: Tourist baffled by 'vile' hotel window that looks out into the corridor
The building isn't actually a hotel at all – it's simply an enormous sculpture, reports DailyMail.
The massive model of a hotel cost a sickening £655,000 ($1.2million AUD) to create.
It was put together by Callum Morton a Canadian artist who revealed his masterpiece back in 2007.
Over on the bizarre sculptures fan website it explained that many motorists do try to stay in the sculpture.
A statement reads: "You'd be surprised by the number of enquiries we receive from people wanting to know room rates, availability and parking enquiries."
Over on Twitter there are plenty of comments about the sculpture.
One confused motorist said: "This hotel on Eastlink never seems to have anyone in it."
A second confused poster noted: "The customer service at that hotel on Eastlink is appalling."
Another added: "One of the stranger things I have seen recently is that Hyatt have built a real hotel on the Eastlink. They should have realised that there is only room for one hotel on that road, and it's the fake one."
A third joked: "Eastlink Hotel… I share its energy because I too am chaotic, useless, and commonly mistaken for something I'm not."
Discussing the concept of his unusual art piece, Morton noted: "Motorists will view it from the car as an actual hotel and perhaps over time as a strangely de-scaled prop that has escaped a theme park or film set."
Basically, the sculpture was created just to be entertaining.
Now, the hotel itself isn't actually fully to scale.
It measures 12m long and 20m high and is just 5m wide.
It's made of concrete and steel and has glass windows that glow at night time.
Over on TripAdvisor there was a mix of people who loved the concept and others who were baffled by it.
One man noted: "Don't try and get a bed at this faux hotel… Hotel EastLink doesn't take guests, and never has."
Another added: "It represents [a] hotel, but it is not a hotel.
"No-one has ever stayed in it, and no-one ever will.
"It is on the northbound carriageway of Eastlink, it's impossible to miss."
READ NEXT:
'Exhausted and overworked' NHS worker ditches UK for better life in Australia

Inside the 'female only' hostel where men are banned and rooms cost £28

Thousands of Brits moving to spectacular city with tripled salaries sent warning

Brits fell in love while stranded abroad – so they went travelling together
Source: Read Full Article