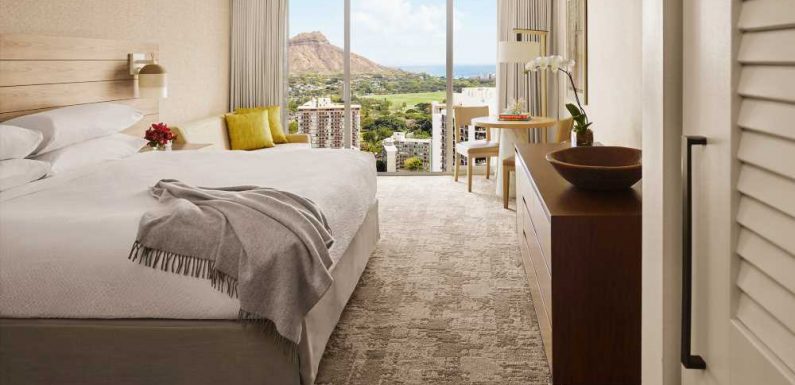 While Hawaii hospitals are hitting their capacity as the state confronts its highest daily Covid-19 case counts of the pandemic, the Alohilani Resort Waikiki Beach and a half dozen other Highgate Hotels properties in the state are mandating vaccines for all staff, guests and patrons starting Oct. 15. 
Highgate Hotels is the first hospitality company in the Aloha State to institute a vaccine mandate policy covering more than employees. 
Kelly Sanders, senior vice president of operations for Highgate Hawaii, said during a press conference Sept. 8 announcing the mandate that the policy was a matter of optimal safety and fairness. 
Related Hawaii news:
Delta variant halts Hawaii's steady tourism rebound
Dining out on Oahu will require vaccine card
"Everyone working for Highgate in Hawaii will be vaccinated, and that starts our journey on becoming the safe place to come and stay," Sanders said. "But we can't ask all employees to be vaccinated if we don't also ask guests and patrons to live up to the same standard we're setting for our people."
In addition to the Alohilani, the affected Highgate properties are the Aston Waikiki Beach Hotel, Park Shore Waikiki, Ambassador Waikiki Hotel, Pearl Waikiki Hotel, Hilton Garden Inn Waikiki Beach and Courtyard by Marriott Waikiki.
Since the beginning of August, Hawaii's Covid-19 case rate has soared, and the majority of the state's hospitals are stretched to capacity, according to state health officials. Nearly all current cases have been linked to the delta variant, and the vast majority of hospitalizations are for patients who were not vaccinated. 
Between Aug. 31 and Sept. 6, the state reported an average of 702 new Covid cases each day, according to the Hawaii Department of Health, and approximately 65% of the population is fully vaccinated.
Hawaii state workers and Honolulu County employees must show proof of vaccination or get weekly Covid-19 testing. In a new program announced at the end of August, patrons of bars, restaurants, gyms, museums and other indoor attractions on Oahu will be required to show proof of vaccination or a negative result from a recent Covid-19 test starting Sept. 13.
The new policy from Highgate does not permit unvaccinated employees or guests to choose regular Covid-19 testing as an alternative but does allow for medical or religious exemptions, in addition to an exception for children younger than 12, who are not currently eligible for vaccination under FDA guidelines.
There are roughly 1,000 employees among the seven properties, and an estimated 80% are already vaccinated, according to Sanders.
Upcoming guests of Highgate properties will receive emails announcing the new policy and will be able to upload their vaccine records prior to arrival, Sanders said. 
Vaccination mandate praised
Tourism officials and industry representatives applauded the move, saying increasing the state's vaccination rate is the best way to bring Covid-19 case numbers down.
"No doubt others in our industry will see the value of such a comprehensive approach," Hawaii Tourism Authority (HTA) president John De Fries said during the press conference. 
Mufi Hannemann, president of the Hawaii Lodging and Tourism Association said the organization is working with HTA on a new campaign to encourage hotel and other hospitality employees to bring the message of getting vaccinated home to their friends and family, adding the new policy is "exactly where we need to be headed." 
While Highgate is the first to issue a vaccine mandate that pertains to guests and patrons of hotel establishments, other Hawaii properties, including the Kahala Hotel and Resort and Aulani, a Disney Resort and Spa, recently announced vaccine mandates for all employees. 
"I think you'll be seeing more of this," said Jerry Gibson, president of the board of the Hawaii Hotel Alliance and vice president at BRE Hotels and Resorts. "I think we're going to see a lot more mandates from hotels, in addition to similar policies from other businesses like restaurants. Not all of them will do it, but more are coming down the line."
Source: Read Full Article