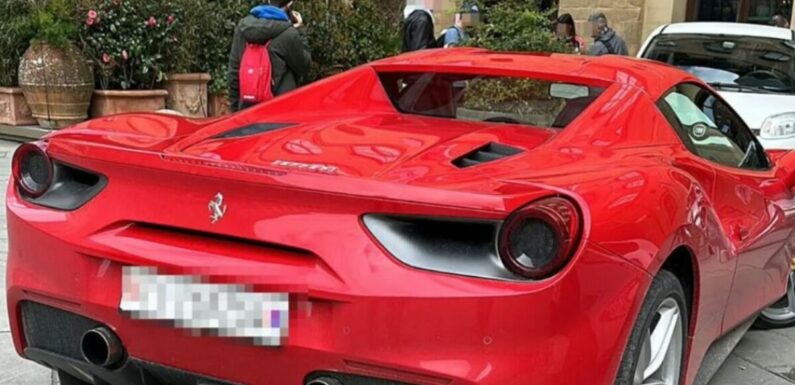 We use your sign-up to provide content in ways you've consented to and to improve our understanding of you. This may include adverts from us and 3rd parties based on our understanding. You can unsubscribe at any time. More info
The tourist drove a bright red Ferrari Spider into the Piazza della Signoria, Florence's famous pedestrianised square. He was apprehended by police in the Italian city.
The driver had been seen driving along the nearby Via dei Gondi street. Local officials described his driving as "nonsensical".
The Piazza della Signoria is shaped like a W and is usually packed with tourists heading to the Uffizi Gallery.
Police fined the man 470 euros (£412) after discovering he didn't have an appropriate driving licence.
A statement from the Municipality of Florence said: "Checks revealed that the 43-year-old driver had an American driving licence that did not comply with international conventions and did not have an international driving permit or official translation.
"A report was taken for parking in the pedestrian area, driving against the direction and having non-compliant foreign licence, the fine was a total of 470 euros, which he paid directly to the agents."
The offence is just the latest in a series of incidents caused by tourists behaving badly overseas.
In another Florence incident, an American tourist was fined for attempting to drive a Fiat Panda across the Ponte Vecchio bridge.
The Ponte Vecchio spans Florence's River Arno and is a pedestrianised crossing famous for its shops located in old houses.
Don't miss…
Travel expert on when Canary Islands holidays 'drop in price' [EXPERT]
Passenger shares clever method to get a free upgrade and 'champagne' [HACK]
Most 'sought-after' Easter holiday destination is a 'serene paradise' [INPIRATION]
Last year, a tourist from Saudi Arabia picked up a hefty fine for driving a rented car down Rome's famed Spanish Steps.
The Spanish Steps are heavily protected and tourists are even banned from sitting or eating on them.
The man was arrested as he tried to leave Italy and was charged with damaging a cultural monument.
Another American tourist caused around £21,000 worth of damage to the steps when she threw her electric scooter down them.
The tourist was caught on video during the act. She was fined and banned from visiting the Spanish Steps.
In Venice, a video of two tourists surfing down the canal prompted the city's mayor to offer a dinner to anyone who apprehended the surfers.
The city's canal system is very delicate and tourists also run the risk of being hit by one of the city's water taxis.
Local residents have also hit out tourists for skinny dipping in the canals and leaving graffiti on some of Venice's monuments.
The city is set to take matters into its own hands with day trippers set to be charged an entry fee.
It is thought that the fee will lower the number of tourists travelling to Venice and help control overcrowding.
Venice has already banned cruise ships from its lagoon although tourists have been ferried in on smaller boats.
Tourists can check that they have the correct licence to drive in their holiday destination on the UK Foreign Office Advice website.
Source: Read Full Article