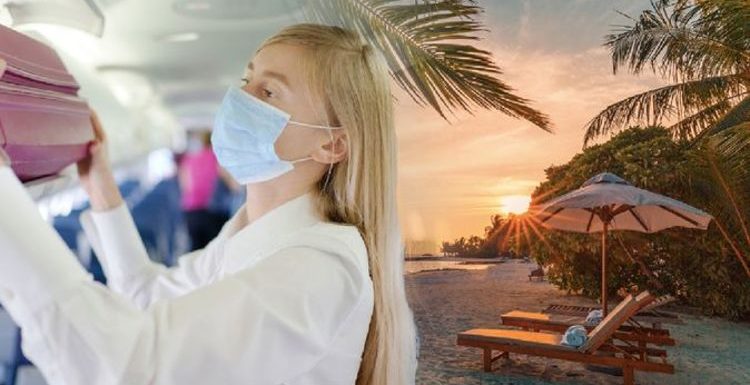 Matt Hancock says there will be 'further work' on international travel
When you subscribe we will use the information you provide to send you these newsletters.Sometimes they'll include recommendations for other related newsletters or services we offer.Our Privacy Notice explains more about how we use your data, and your rights.You can unsubscribe at any time.
Hopeful holidaymakers may have seen a glimpse of light at the end of the tunnel yesterday following the news international holidays may be able to go ahead as soon as May. As part of Prime Minister Boris Johnson's "roadmap" out of lockdown, the Global Travel Taskforce is set to be reinstated on April 12.
The experts will then look at the safety and possibility of travel, after which time a May 17 restart date for international journeys could be confirmed.
Already holiday providers including easyJet and Jet2 have reported an uptick in website traffic and sales.
According to Jet2 holidays, sales for flights and package holidays have seen an increase of more than 1,000 percent in the 24 hours since the PM's announcement.
easyJet holidays, meanwhile, has added a variety of new routes and destinations for summer 2021.
Though the update on international travel is likely welcome news for many, Rory Boland, editor of Which? Travel has warned booking a holiday could come with an added risk.
The travel expert said there are three things "to consider if you're booking a holiday abroad in May."
He explained: "Holidaymakers who have been waiting for the green light to book some long-awaited travel plans will be very happy with the prospect of international travel resuming this summer.
"But it's vital that travellers are advised when booking of the additional costs and risks still involved in planning foreign holidays.
DON'T MISS
TUI, easyJet and Jet2 holidays and flights cancelled until May [UPDATES]
Holidays 2021: Matt Hancock holiday warning for May foreign travel [COMMENT]
Camping & caravan holidays: UK bookings boom – is there still space? [INSIGHT]
"Some countries may remain closed to UK residents, a scenario for which several of the UK's largest airlines would refuse a refund for.
"Travellers will also be liable for the cost of any testing that may be required, which could easily add up to several hundred pounds for a family.
"But the greatest risk is travelling and finding the country you are in has been added to the red list, meaning hotel quarantine is required on return at a cost of £1,750."
This is why holidaymakers should remain "cautious" and do their research before they book.
"Our advice remains that anyone considering booking a holiday abroad in the near future should proceed with caution," the expert continued.
"If you do book, only use providers that offer flexible booking policies, and where appropriate, book a package holiday as these come with stronger consumer protections."
Secretary of State for Health Matt Hancock has also suggested holidays could be on hold for some time longer.
Speaking on BBC this morning, Mr Hancock said: "We've been absolutely clear that this is an area that we need to do further work on.
"We've put in the dates that we would like to see this opened up, but they are 'not before' dates, so, we are saying it won't happen before then.
"We have also got this review into international travel which is important."
Travel will be largely dependent upon the vaccine, and whether or not it is able to combat Covid variants.
"The number of these new variants that might not be dealt with by the vaccine as effectively as the Covid that's circulating in the large part here in the UK – all those variants, we need to see the impact of the vaccine on them," the Health Secretary continued.
"If that impact is perfectly good – if that stops the majority of hospitalisations and deaths, as the vaccine does against the variant that's here, then great.
"But if there's a variant that can get around the vaccine, then obviously, that would set us back."
Source: Read Full Article