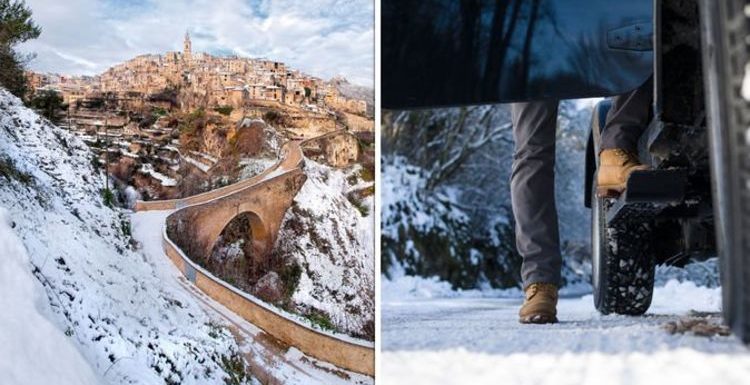 Brexit: British expat discusses difficulty of living in Spain
We use your sign-up to provide content in ways you've consented to and to improve our understanding of you. This may include adverts from us and 3rd parties based on our understanding. You can unsubscribe at any time. More info
Drivers are more likely to experience extreme weather conditions in winter, including heavy snow and rain. Spain's General Directorate of Traffic (DGT) has emphasised the importance of proper vehicle maintenance.
Some of the most frequently broken winter driving laws relate to a car's windshield. British expats will need to pay careful attention to their windscreen condition before setting off.
If ice has not been completely removed from the car's windshield drivers could be made to pay up to €80 (£67).
If the car's wiper blades are in poor condition and could endanger other drivers, owners could face a £67 fine.
Drivers with tinted windows will need to have the correct authorisation or they could be fined €200 (£170).
British expats who live in areas where winter snowfall is common will have to make sure they have all the right equipment for their vehicle.
If cars do not have snow tyres and an R-412 sign is displayed on the road, every driver must use snow chains.
Snow chains are a set of metal chains which can be attached to a vehicle's tyres to provide more grip in wintery conditions.
Drivers without the appropriate snow tyres or chains could be fined up to €200 (£170) by officials.
Tyre condition is a top priority in Spain during winter and officials will be on the lookout for vehicles with poor tyres.
Drivers spotted on the road in winter with bald or damaged tyres could be fined up to €200 (£170) per tyre.
While horns are used throughout the year in Spain, expats can expect to be fined if they use it improperly.
Car horns may only be used to alert other drivers of overtaking or to warn of a car's presence in Spain.
If the horn is used for an unapproved purpose, drivers could be fined €80 (£67) by the authorities.
As the skies get darker earlier, British expats in Spain will need to be careful to use their headlights correctly.
Using high beam lights that could daze other drivers can warrant a fine of up to €200 (£170) in Spain.
Driving without low beam or dipped headlights in a tunnel can also cost a driver up to €200 (£170) in fines.
British expats will also need to make sure their licence plate is fully visible at all times if they want to avoid a fine.
Fines of up to €200 (£170) could be imposed if a vehicle's licence plate is obscured at any time on the road.
Since September 28, anyone driving a British car in Spain will need to display a UK sticker on their car.
British expats also currently have until December 31 to drive on their UK licence. At the start of 2022 they will need to apply for a Spanish licence if they want to continue to drive.
Source: Read Full Article