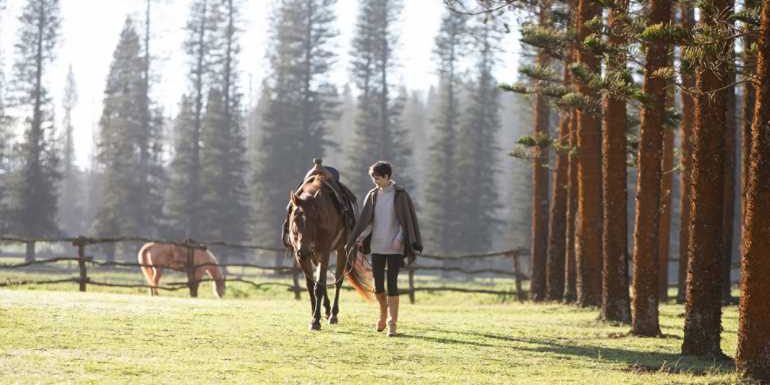 Following two years of living with the stress and restrictions of Covid-19, travelers are gravitating toward wellness experiences in 2022, and the Aloha State is rolling out more packages to meet the demand.
A survey conducted by American Express released in September found that roughly three out of every four respondents (76%) reported a desire to spend more on travel that improves their well-being, and 55% said they would be willing to pay more for such products and programs. The Global Wellness Institute is predicting the surge in interest will not be short lived, estimating a 21% annual growth for wellness tourism through 2025.
Across the Aloha State this year there are new resorts, new programs and updated services, all with a focus on wellness.
A horse course, of course
Sensei Lanai, A Four Seasons Resort is hosting the Unbridled Retreat, a program for women built around interactions with horses from July 27-31. 
The five day, four-night experience is led by equine gestalt coach Devon Combs, and participants receive daily coaching sessions that are designed to break down inhibitions, stimulate creativity and help participants achieve sustainable well-being. Equine gestalt is a life coaching method that focuses on increasing one's awareness, freedom and self-direction during sessions conducted with hands-on horse interactions. 
The Unbridled Retreat starts from $8,230 per person ($6,350 per person, double) and includes coaching sessions with Combs and a "Create Your Vision" workshop; two $600 wellness credits that can be applied to the resorts' menu of experiences, including spa treatments, activities and wellness consultations; all meals excluding alcohol; a pre-arrival consultation to personalize itineraries; a sunset catamaran sailing; priority access to resort classes; and roundtrip transfers from Honolulu to Lanai. The program is limited to 12 women, and no experience with horses is required to participate. 
Tennis or golf, anyone?
Additionally, at the start of 2022 Sensei Lanai began offering wellness packages designed for golf and tennis players. Based on the resort's Optimal Wellbeing Program, which includes a Whoop activity tracker and a handful of consultations, guests have a tailored itinerary that includes fitness, nutrition and mindfulness coaching along with either tennis or golf instruction and games. Through evaluations and data collection, each guest receives a tailored plan to reach their fitness and other goals. 
The five-night golf program, which includes at least eight hours of one-on-one instruction and is designed for intermediate and advanced players, starts at $1,640 per night, single, and $2,480 per night, double. 
The tennis option includes at least four hours of one-on-one instruction and time working with other players of similar ability is designed for Level 4 players as ranked by the National Tennis Rating Program, and the five-night program starts at $1,555 per night, single, $2,310 per night, double. 
Both programs also come with all of the Optimal Wellbeing Program amenities, including pre-arrival itinerary planning, biometrics testing, WHOOP fitness and activity tracker, wellness consultations, spa treatments and roundtrip transfer from Honolulu to Lanai. 
Wellness offerings from Kauai to Waikiki
On the Garden Isle, 1 Hotel Hanalei Bay, a new wellness resort coming to Kauai's north shore, is slated to open this fall. The flagship property of 1 Hotels and Resorts will offer 252 rooms, including 51 suites. The resort will also include five restaurants and bars with a focus on sustainably-sourced farm-to-table dishes, including using ingredients from the hotel's on-site organic garden. The property will have a variety of wellness offerings and is now taking reservations for September 2022. 
In Honolulu, the Prince Waikiki is offering a wellness retreat package available for stays through Dec. 22 with oceanview suites, a 50-minute Lomi Lomi massage and complimentary Matcha Breeze wellness drink from the hotel's Hinana Bar. 
Also in Waikiki, Halekulani has recently introduced a new lecture series called "Art of Wellbeing." Led by the hotel's team of resident experts, the 75-minute lectures are held on the second and fourth Saturday of each month and are $25 per person. The series includes lectures titled "Movement as Medicine," "The Healing Power of Crystals" and "Aromatherapy — Nature's Remedy," among others. 
Finally, Mauna Kea Resort, which contains both Mauna Kea Beach Hotel and the Westin Hapuna Beach Resort, this year features two full-service spas offering enhanced wellness programming. Guests of either property can choose from the menu of "Journeys" treatments, customizable sessions based around treatments and immersive experiences from specific regions of the world. There are four programs at the Mauna Kea Spa by Mandara, "Asian Journey," "Indian Journey," Mediterranean Journey" and "New World Journey." Each one includes a massage rooted in techniques from that area, facial treatments and more. 
At Hapuna Spa by Mandara the options include Balinese massage, which combines stretching, long strokes and palm and thumb pressure techniques; tropical Hawaiian body scrub, including foot and scalp massages; and sound wave therapy, which employs traditional European and Indian healing techniques to lull the mind and body into a meditative state.
Source: Read Full Article