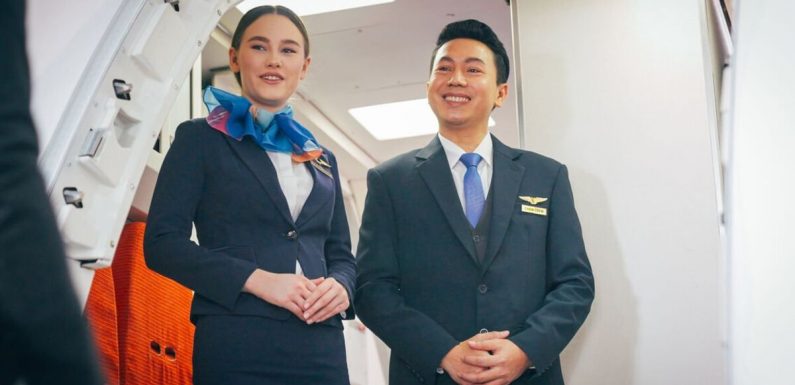 Former flight attendant and influencer Dave Anica took to his TikTok channel to share his best advice on how to get a free upgrade on a flight. He shared a video testing his own hack and said: "They deserve it and is a nice thing to do!"
He explained that as an ex-flight attendant, "there is one thing that I still do and I will keep doing until the last time I ever fly".
According to Dave, that is "getting sweets for the crew". In the video, the former crew member can be seen carrying chocolates and candy, that he presumably bought at the airport, and bringing them on board.
He gave the sweets to the crew as soon as he entered the plane saying: "These ones are for you!"
"This is a good tip as well if you guys want an upgrade or whatever, always give something to the crew, they will treat you like royalty," he promised.
@daveanica They deserve it and is a nice thing to do ✈️ #flightupgrade #cabincrewtips #fyp #viral #daveanica ♬ original sound – Dave Anica
Travellers took to the comments section to share their thoughts with Bobbi Murphy saying: "Seriously I've never thought of giving something to the crew. That's actually a good idea."
Another one commented: "I've never even thought of it before, it's like giving them a tip. I guess which they are serving you so I guess tipping makes sense."
Dave replied saying: "That's an example. Even if I don't get an upgrade is a nice thing to do for them. Sometimes it works sometimes it doesn't."
TikTok user J4CKMULL explained that he "had seen this a few times". It's "worth a gamble for a nine-hour flight I think," he opined.
Traveller @theONLYallan commented that this "works flying ID90 and empty seats, you'll get unofficially upgraded".
Ashleigh shared her experience and said she recently tried this hack on an Etihad flight and it worked.
"They upgraded me! Gave me some champagne and gifts! They were lovely!" she explained.
A commercial pilot said that the hack actually works and the crew really appreciates it when passengers do that: "I'm flight deck and confirm we appreciate this very much, I always get the crew some sweets when travelling as a passenger!"
A flight attendant agreed and commented: "Yes please bring us sweets we love it! We will treat you like Kings in return!"
Another one named Staci agreed: "As a flight attendant, I approve this message," she said.
"Did this on my last flight and they loved it! Costs me hardly anything but could tell it made their day!" added passenger Claire Fleming.
Experienced traveller Matt Nicholas shared his "secret hack" saying: "Hint: Starbucks gift cards are a hit."
Gifting sweets and chocolate to the flight attendants and pilots is one of the most effective ways to get a free upgrade, or at least, better treatment and freebies on board.
Flight attendant Miguel Muñoz told Express.co.uk that he loves when passengers bring "Toblerone or Cadbury Dairy Milk Buttons" from the airport.
"I am automatically nicer to the person who had that nice gesture. The cabin chief would always offer them free coffee and tea and if there are better seats available, we will move them!"
Former flight attendant Helena Afroughi agreed: "What always works is when people bring some sweets to the crew, chocolates or whatever. And they make themselves known, don't just give it and run away!"
Source: Read Full Article