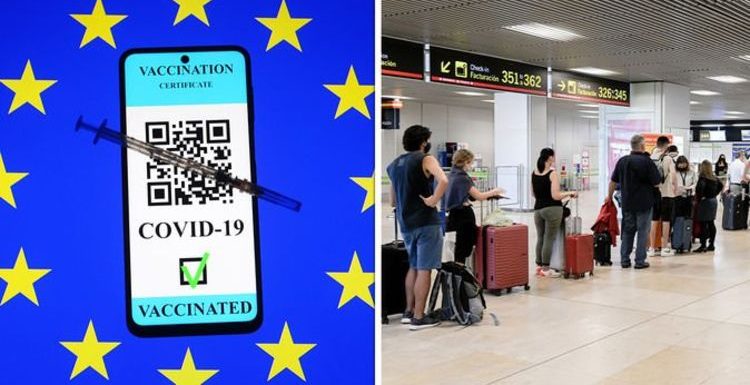 Travel: O'Leary calls for co-operation between UK and EU
When you subscribe we will use the information you provide to send you these newsletters. Sometimes they'll include recommendations for other related newsletters or services we offer. Our Privacy Notice explains more about how we use your data, and your rights. You can unsubscribe at any time.
A vaccine passport shared by all members of the EU has been released, but the "fragmented verification" will "undermine" the summer, warn airports and airlines.
The total lack of coordination in the European Union threatens to ruin its COVID-19 digital certificate.
In order to restore travel across the bloc, from July 1, all EU members share a digital passport showing their vaccination status.
However, airlines and airports warned of the existence of at least 10 different approaches among the 27 Member States.
In a letter sent to the heads of state of the European Union, airline and airports chiefs said that duplicate checks and the lack of verification tools "will cause queues unnecessary at airports ".
They revealed that the average time spent checking documents in airports has increased by 500 percent – which is 12 minutes per passenger.
"This situation threatens the success of the resumption of air travel this summer and will undermine the free movement of citizens across the European Union," they explained.
They said verification should "take place long before departure and for the passengers to arrive at the airport."
What do you think? Join the debate in the comments section here
DON'T MISS
Spain holidays: Readers slam quarantine rules – vow 'never' to return [COMMENT]
Beddgelert – the Welsh village with a shaggy dog's tale at its heart [INSIGHT]
Camping and caravan: New bill threatens wild campers with jail time [WARNING]
"We urgently need the Member States to implement these tools in a coordinated and efficient way to avoid long passenger queues.
As that would lead to new health risks and inevitably cause operational problems for airports and airlines," they explained.
Other airlines like Ryanair, also warned of "major operational risks" if Governments do not agree on a coordinated rollout.
The industry raised its concerns over a "worrying patchwork of approaches and solutions" in a letter to EU leaders, adding that "the risk of chaos at European airports is real."
According to Politico, a cyberattack has made it difficult for Ireland to get "all the technical solutions" in place by today, Justice Commissioner Didier Reynders said Wednesday.
However, Mr O'Leary urged the UK to unite with the EU on a plan for travel.
"The bit that's uncertain is [whether] European countries will welcome in UK visitors without any restrictions," he said.
"Will they accept the NHS app or will they have to produce other documentary evidence that they have been vaccinated.
"The UK is a country where 60 percent of the adult population has now been fully vaccinated.
"We see that as enough to allow UK families to go on holiday in Europe.
"But the Europeans need to reciprocate.
"In our view, the best thing would be to join the EU digital Covid certificate with the NHS app in the UK and therefore you'd have seamless travel."
Source: Read Full Article