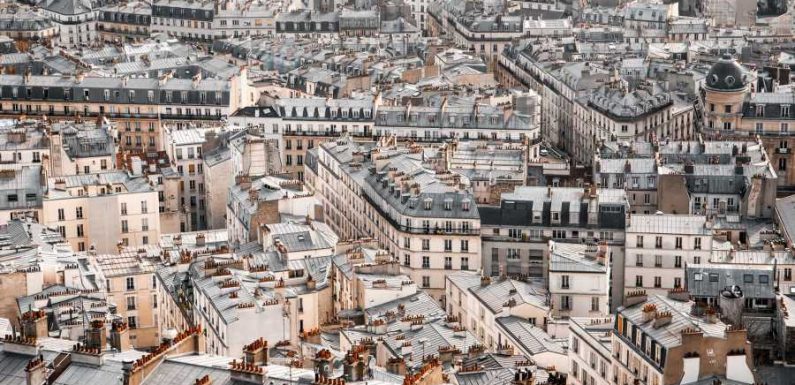 TABLE OF CONTENTS
On This Page

Time Zone
Best Time to Go
Things to Know
How to Get Around
Best Hotels
Best Restaurants
Things to Do
Best Shopping
Neighborhoods to Know
Weather
Apps to Download
Paris is a city unlike any other. It is overflowing with culture, history, and beauty. And while people travel to Paris to see the Louvre, climb the Eiffel Tower, or see Notre-Dame, the real magic is found in the streets. Here, the ins and outs of daily life play out — chic women on bikes pedal their children to school, artists post up in cafés with a notebook, and both young and old line up morning and evening for a fresh baguette from the neighborhood boulangerie. It is likely everything you imagined, and then a bit more — because while Paris is a city with a strong cultural identity, it also houses people from all over the world who add their own culture and customs into the mix. This is why a visit to Paris' top sights is simply not enough — to truly get a sense of the city, take to the streets where the essence and enchantment of Paris is most felt. 
As you explore the streets of Paris, you'll find yourself walking the hills of Montmartre in search of that perfect crepe spot or meandering through Belleville, a Chinese neighborhood interspersed with hip, young Parisians and elaborate murals. Across the Seine, you might find yourself enjoying an all-too-early verre du vin at a café in Saint-Germain-des-Prés or exploring the winding streets of the Latin Quarter. It doesn't take much to find yourself fully immersed in this special city.
To make sure you don't miss a thing, take a moment to read through our Paris travel guide, where we share our favorite local haunts, must-do activities, and favorite hotels.
Time Zone
Central European Standard Time (GMT+1)
Best Time to Go
It's hard to beat a visit to Paris in the spring or summer when the weather is warm, Parisians flock to the parks, and all seems right in the world. If you want to avoid the crowds, a trip in the month of August — when most Parisians go on vacation — is hard to beat, although be prepared for some restaurant and shop closures. And somehow even during the winter, when the skies tend to be grey and the temperatures low, Paris still shines — all you need is an extra layer or two.
Things to Know
Currency: Euro 
(Check the current exchange rate)
Language: French
I don't speak French: Je ne parle pas français.
I'm lost: Je suis perdu(e).
I would like… : Je voudrais…
Learn more French phrases
Calling Code: +33
Capital City: Paris
How to Get Around
Trains: The easiest (and often, the fastest) way to get around the city is by train. There are Paris metro and RER train stops throughout the city, with a one-way journey costing around $2. Single and multi-day passes start at $14.
Buses: The bus network offers a great, above-ground alternative to the Paris train system. A single journey costs around $2 and is often used to connect metro stations that are spaced further apart.
Video: France Lays Out New Reopening Plan for American Travelers (Travel + Leisure)
This Grand Budapest Palace Has Been Transformed Into a Modern Luxury Hotel

Travel + Leisure


You Can Buy a Luxury Residence in the London Building Where James Bond Was Born

Travel + Leisure


15 Mistakes to Avoid on Your Caribbean Vacation

Travel + Leisure


Royal Caribbean to Require Unvaccinated Guests Sailing From Florida to Have COVID-19 Insur

Travel + Leisure


10 Incredible Natural Wonders to See in Your Lifetime, According to T+L's A-List Advisors

Travel + Leisure


The Ultimate Adventure Travel Bucket List

Travel + Leisure


This Beer Company Is Giving Away a Custom Airstream to Its Funniest Fan

Travel + Leisure


Los Angeles' Newest Airline Is Giving Away Free Flights to Recent College and High School

Travel + Leisure


Iceland Lifts COVID-19 Restrictions for Locals and Visitors

Travel + Leisure


Disney Cruise Line Pushes Back Trial Sailing After Crew Tests Positive for COVID-19

Travel + Leisure


United Just Purchased 270 Planes — and That Could Mean More Upgrades for Passengers

Travel + Leisure


This Idyllic Hotel Is Bringing the Best of Fitness, Shopping, and Cocktails to the Hampton

Travel + Leisure


Everything You Need to Know About Traveling Through Newark Airport

Travel + Leisure


Soak in Natural Mineral Water and Sleep Under the Stars at This Hot Spring Oasis in the Ut

Travel + Leisure


UK Plans to Ease Quarantine Rules for Travel to U.S., EU for Vaccinated Travelers

Travel + Leisure


Sweden Will Welcome American Travelers Starting June 30

Travel + Leisure


This Grand Budapest Palace Has Been Transformed Into a Modern Luxury Hotel
The Matlid Palace has been given a new life as the newest hotel in Marriott's Luxury Collection.


Travel + Leisure



You Can Buy a Luxury Residence in the London Building Where James Bond Was Born
For more than a century, the building has been closed to the public, but it'll reopen next year with a hotel, restaurant, spa, and residences that you can purchase now.


Travel + Leisure



15 Mistakes to Avoid on Your Caribbean Vacation
Read on for common travel mistakes in the Caribbean — and how to avoid them.


Travel + Leisure

Taxis: There are several taxi companies in Paris — G7 is a great option that accepts credit cards and has its own app. Uber also operates in Paris. 
Car service: If you feel more comfortable arranging your airport pick-up in advance, take advantage of services offered by car service companies like Paris Black Cars or Blacklane.
Best Hotels
Hôtel de Crillon
Address: 10 Place de la Concorde, 75008 Paris, France
Phone: +33 1 44 71 15 00
Website
Hôtel de Crillon seems to have it all — a location at Place de la Concorde, easy access to the Champs-Élysées, and stunning views of the Eiffel Tower. Inside the landmark hotel is an elaborate spa, glamorous restaurants, and boutiques — all reflecting the hotel's timeless and unabashedly elegant feel.
Hôtel Bourg Tibourg
Address: 19 Rue du Bourg Tibourg, 75004 Paris, France
Phone: +33 1 42 78 47 39
Website
If you're looking to be transported back in time, there is no better place to lay your head than Hôtel Bourg Tibourg. The rich, opulent feel of the decor is at once both cozy and glamorous. In fact, don't be surprised if you spend far too much time at the hotel bar, imagining you're an old-time movie star hiding out in Paris.
Le Bristol Paris
Address: 112 Rue du Faubourg Saint-Honoré, 75008 Paris, France
Phone: +33 1 53 43 43 00
Website
Le Bristol is the first hotel in France to be awarded "Palace" status, a distinction that has enticed Hollywood and fashion icons like Rita Hayworth, Jojo Baker, Charlie Chaplin, Rosie Huntington-Whitely, Carla Bruni, and Dita Von Teese. The hotel's long and glamorous history is matched by its exquisitely refurbished interiors, which balance Louis XVI refinement with soft colors and simple lines. And for a true french culinary experience, drop by the hotel's three Michelin-starred restaurant, Epicure, which is run by four-star Michelin chef Eric Frechon.
Hôtel 9Confidentiel
Address: 58 Rue du Roi de Sicile, 75004 Paris, France
Phone: +33 1 86 90 23 33
Website
In the heart of the Marais neighborhood, surrounded by galleries, shops, and cafes, sits the elegant and cosmopolitan Hôtel 9Confidentiel. The property has a refined, yet welcoming feel that is only accentuated by its wide range of services — daily breakfast buffet, in-room spa treatment, and a wonderfully intimate tea room with a tree-lined outdoor patio.
La Réserve Paris Hotel and Spa
Address: 42 Avenue Gabriel, 75008 Paris, France
Website
Situated perfectly on the Jardins des Champs-Élysées, mere steps from the iconic avenue itself, is La Réserve Paris. The luxury hotel feels like a private home — if your home had an old-world library, hammam, and its own Michelin-starred chef. For more space than the hotel's rooms and suites allow, book a stay at one of the La Réserve apartments — which range from one- to four-bedrooms and offers views of the Eiffel Tower.
Hôtel Ritz Paris
Address: 15 Place Vendôme, 75001 Paris, France
Phone: +33 1 43 16 30 30
Website
It doesn't get much better than the Ritz, and the iconic brand's Paris hotel meets every expectation — and then some. Here, you'll stay in rooms and suites once booked by Coco Chanel, F. Scott Fitzgerald, and Marcel Proust. The hotel's enchanting Belle Époque décor is only topped by the wonderful spaces it inhabits — the stunning Grand Jardin, Bar Hemmingway, and the state of the art pool and fitness facility.
Hôtel Charles V
Address: 20 Rue Saint-Paul, 75004 Paris, France
Phone: +33 1 44 54 85 00
Website
Tucked in the Marais district is a refined space that feels worlds away from the buzz of the city. Here, at the Hôtel Charles V, modern meets elegant, resulting in an atmosphere that is both calming and refined. After a day of exploring Paris, put your feet up in the lounge or enjoy the on-site hammam, before retiring to your luxurious room.
Hôtel Le Relais Saint-Honoré
Address: 308 Rue Saint-Honoré, 75001 Paris, France
Phone: +33 1 42 96 06 06
Website
This beautiful boutique hotel may be small, but it packs a punch when it comes to location and amenities. At the Hôtel Le Relais Saint-Honoré, you'll find yourself just steps from the Louvre and the 17th-century Jardin des Tuileries. Inside are warm, colorful rooms and an on-site spa and hammam.
The Hoxton
Address: 30-32 Rue du Sentier, 75002 Paris, France
Phone: +33 1 85 65 75 00
Website
Hip and youthful, The Hoxton in Paris is sure to appeal to younger generations, but just because every corner of the hotel seems perfectly positioned for Instagram, doesn't mean the hotel doesn't have history and substance. In fact, the hotel itself was a grand 18th-century residence that retained the building's original staircases and mosaic marble floors. In addition to rooms that ooze Parisian charm, The Hoxton has three drink and dining destinations and a location that puts it within easy walking distance of Le Marais, Jardin des Tuileries, and the Louvre.
Hôtel Particulier Montmartre
Address: 23 Avenue Junot Pavillon D, 75018 Paris, France
Phone: +33 1 53 41 81 40
Website
It may be the smallest hotel in Paris — with just five suites, a wonderful French restaurant, and a cozy cocktail bar — but it's got droves of charm. The tiny hotel was once the Hermès family mansion, and it retains a wonderfully private feel. The hotel itself is hidden down an alley in the artist quarter of Montmartre and boasts a stunning garden, restaurant, and bar.
Hôtel Villa d'Estrées
Address: 17 Rue Gît-le-Cœur, 75006 Paris, France
Phone: +33 1 55 42 71 11
Website
On the Left Bank of Paris sits the wonderfully quaint and restaurant-rich neighborhood of Saint-Germain-des-Prés. In the heart of it all, tucked away on a tiny road, is Hôtel Villa d'Estrées, a distinct property with a melange of rooms, suites, and apartments. In addition to a daily breakfast and French bistro, the hotel offers easy access to the Seine river, Ile Saint Louis, and Notre-Dame.
Hotel Indigo Paris – Opera
Address: 2 Rue Édouard VII, 75009 Paris, France 
Phone: +33 1 44 80 00 32
Website
Mere steps from the Palais Garnier is this charming hotel that is at once both modern and historic. Situated on a quiet pedestrian street, the Hotel Indigo remains true to the neighborhood's deep theatrical roots (Molière developed his craft here), with a design concept that has a dramatic flair.
Grand Pigalle Hôtel
Address: 29 Rue Victor Massé, 75009 Paris, France
Phone: +33 1 85 73 12 00
Website
This wonderfully hip boutique hotel is found within a Haussmann-style building in a neighborhood that is known to draw artists and night owls. The youthful, carefree spirit of the neighborhood is reflected in Grand Pigalle Hôtel, a property that builds off its historic roots with a retro flair that provides a stylish, welcoming space. In the evening, grab a drink and an app at the Frenchie Pigalle, a restaurant and bar that is both stylish and delicious.
Best Restaurants
Holybelly 5
Address: 5 Rue Lucien Sampaix, 75010 Paris, France
Phone: +33 1 82 28 00 80
Website
For an American in Paris, there is nothing like a big breakfast at Holybelly 5. The service is friendly and the food fantastic — two qualities confirmed by the near constant line out the front door (they don't accept reservations). If the line at Holybelly 5 is a bit too long for your liking, head to Holybelly 19, which has the same quality — albeit different — menu and a more intimate feel. Indoor seating only.
Pizzu
Address: 22 Rue Béranger, 75003 Paris, France
Phone: +33 1 72 38 19 94
Website
You can find plenty of good — no, great — pizza in Paris, but this spot tops the charts. Owned by a skateboarder, this spot is not far from Place de la République, a famous skate spot in Paris with great people watching. Slip inside Pizzu and order a pie and carafe du vin for a cozy night in an unpretentious, skate-themed setting. No reservation is needed and seating is inside.
Udon Jubey
Address: 39 Rue Sainte-Anne, 75001 Paris, France
Phone: +33 1 40 15 92 54
Website
Sandwiched between the Louvre and Palais Garnier is Paris' Little Tokyo, and one star amongst many Japanese restaurants in the area is Udon Jubey. It's a small little spot where everything is made right in front of you and the list of soups are as customizable as it gets. At this walk-in spot, seating is indoors, but try to grab a spot by the window if you can.
Le Train Bleu
Address: Place Louis-Armand, 75012 Paris, France
Phone: +33 1 43 43 09 06
Website
It's near impossible to top the ambiance of Le Train Bleu, a French restaurant nestled within the Gare de Lyon railway station. The restaurant itself is a historic monument, and it's easy to see why — it feels more like the Chateau de Versaille than a restaurant. As you might imagine, you'll need a reservation to dine under the hand-painted ceilings and intricate chandeliers of this Belle Époque-style masterpiece.
Chez Nanchang
Address: 143 Rue de Charonne, 75011 Paris, France
Phone: +33 9 80 96 71 15
Website
It's impossible to go wrong at Nanchang's — everything is fresh, salty, and shareable, and the ambiance is both funky and casual. Grab a few orders of skewered meat and veggies for the table and an order of soup (they're famous for it) and enjoy the Chinese street BBQ experience — in Paris. Seating is indoors and they don't accept reservations.
L'Ambroisie
Address: 9 Place des Vosges, 75004 Paris, France
Phone: +33 1 42 78 51 45
Website
If you're a foodie, chances are you know of L'Ambroisie, the longest-standing three-starred Michelin restaurant in Paris. Set in the quaint Marais district, this restaurant, which was founded by Bernard Pacaud, is a true ode to French cooking. Try French favorites like foie gras or lobster from Brittany and let the flavors melt in your mouth aided by superb wine pairings. You'll need to make reservations well in advance for this indoor restaurant.
Café Obrkof
Address: 41 Boulevard Voltaire, 75011 Paris, France
Phone: +33 6 74 57 09 90
Website
This sunny and welcoming spot is the perfect place to slowly wake up in Paris. Grab a coffee and a sweet roll, and sit back and enjoy the bustle of the cafe. There is some outdoor seating (mainly indoor), the baristas are skilled and upbeat, and the Wi-Fi is fast.
Boulangerie Utopie
Address: 20 Rue Jean-Pierre Timbaud, 75011 Paris, France
Phone: +33 9 82 50 74 48
Website
Good boulangeries are a dime a dozen in Paris, but Boulangerie Utopie shines a bit brighter. There's almost always a line out the door and they have a delectable assortment of both salty and sweet baked goods that will satiate any craving. Pick up one of everything — their chausson aux pommes is legendary — and make the short walk to the banks of Canal Saint-Martin for a perfectly Parisian breakfast.
L'Avant Comptoir de la Terre
Address: 3 Carrefour de l'Odéon, 75006 Paris, France
Phone: +33 1 44 27 07 97
Website
Set within Hôtel Relais Saint Germain, next to the renowned Le Comptoir du Relais, is the tiny L'Avant Comptoir de la Terre, a tiny, casual, and oh-so-delicious wine bar that serves up individual-sized bites that will keep you coming back for more. This tiny, indoor restaurant doesn't accept reservations, so be prepared to wait. You can always drop by it's sister restaurant, L'Avant Comptoir de la Mer, for a pre-snack snack.
Chez Justine
Address: 96 Rue Oberkampf, 75011 Paris, France
Phone: +33 1 43 57 44 03
Website
This unpretentious spot delivers the authentic Parisian brasserie feel — groups laughing over post work aperitifs, couples lounging at a streetside table, and a bustling bar full of the who's who of the neighborhood. They have fantastic wood-fired pizzas, homemade lasagna, and a great happy hour.
Breizh Café
Address: 109 Rue Vieille du Temple, 75003 Paris, France
Phone: +33 1 42 72 13 77
Website
It would be wrong — horribly wrong — to leave Paris without eating a crepe. This delicious, but affordable spot in the Marais was conceptualized by Brittany-born Bertrand Larcher — and their amazing galettes and crepes can now be found as far as Japan. Make a reservation in advance and arrive hungry — you'll want to start with a savory galette and cider, before diving into a sweet, fruit-garnished crepe. 
Clamato
Address: 80 Rue de Charonne, 75011 Paris, France
Phone: +33 1 43 72 74 53
Website
This buzzy seafood restaurant is the place to go if you want to taste the sea while dining among the city's hippest foodies. The simple menu is full of once-in-a-lifetime bites like sea urchin and delicately prepared ceviche. And, of course, you won't want to leave without trying the oysters and enjoying a craft cocktail.
Things to Do
Eiffel Tower
Address: Champ de Mars, 5 Avenue Anatole France, 75007 Paris, France
Phone: +33 892 70 12 39
Website 
The Eiffel Tower is synonymous with Paris — in fact, we'd argue it's probably one of the first sights you should see in the city. From the top you'll get 360-degree views of the city and if you happen to visit at night, the entire tower illuminates with blinking lights. Magic.
Musée d'Orsay
Address: 1 Rue de la Légion d'Honneur, 75007 Paris, France
Phone: +33 1 40 49 48 14
Website
Paris has over 100 museums, but arguably none are more beautiful than the Musée d'Orsay, which is housed in an old railway station featuring stunning Beaux-Arts architecture. Inside, French art is the focus, with myriad paintings, sculptures, and photography on display — including famous work by Claude Monet and Vincent van Gough.
The Centre Pompidou
Address: Place Georges-Pompidou, 75004 Paris, France
Phone: +33 1 44 78 12 33
Website
The building that houses the Pompidou is reason enough to visit — with a multi-story escalator in a giant tube and an industrial feel. But inside, you'll be treated to modern art — think Picasso, Matisse, and Warhol — regular exhibitions, and stunning views over Paris.
Louvre
Address: Rue de Rivoli, 75001 Paris, France
Phone: +33 1 40 20 50 50
Website
The Louvre is known for many things — it's the world's largest art museum, is home to the "Mona Lisa", and was prominently featured in "The Da Vinci Code". But all that aside, this museum is a marvel (both visually, and in regard to the art it houses) — just make sure to put aside plenty of time to take it all in.
Notre-Dame de Paris
Address: 6 Parvis Notre-Dame – Pl. Jean-Paul II, 75004 Paris, France
Phone: +33 1 42 34 56 10
Website
For Catholics, curious tourists, lovers of French Gothic architecture, and fan's of Victor Hugo's "The Hunchback of Notre-Dame", the cathedral is a Paris must-do. Since the April 2019 fire, interior access is no longer an option, but you can walk around the medieval cathedral on a guided tour.
Jardin des Tuileries
Address: Place de la Concorde, 75001 Paris, France
Phone: NA
Website
Jardin des Tuileries or the Tuileries Garden, was once the garden of the Tuileries Palace, but after the French Revolution it opened to the public. Sitting between the Louvre and the Place de la Concorde, this garden has wonderful walking paths, great people watching, and a giant carousel.
Sacré-Cœur Basilica
Address: 35 Rue du Chevalier de la Barre, 75018 Paris, France
Phone: +33 1 53 41 89 00
Website
This beautiful Roman Catholic church is perched on the butte Montmartre, the highest point in the city. While admission is free, the real showstopper is sitting on the steps out front with a bottle of wine and enjoying the sunset.
Palais Garnier
Address: Place de l'Opéra, 75009 Paris, France
Phone: +33 1 71 25 24 23
Website
The opera may have originated in Italy, but the French sure know how to put on a show. At this 1,979-seat opera house, you can watch ballets, operas, and concerts from your perch in the historic building, which was built in 1875 at the request of Emperor Napoleon III. Or, if the opera isn't your thing, spend the day exploring the elaborate and extravagant building.
Père Lachaise Cemetery
Address: 16 Rue du Repos, 75020 Paris, France
Phone: +33 1 55 25 82 10
Website
Visiting a cemetery may sound like an odd thing to do on vacation, but there is arguably no more peaceful place in Paris than the cemeteries. Giant trees hang over vine-covered tombs and the cobblestone pathways lead visitors to the resting place of icons — including Édith Piaf, Oscar Wilde, and Jim Morrison.
Jardin du Luxembourg
Address: 75006 Paris, France
Phone: +33 1 42 34 20 00
Website
In the 6th arrondissement, just west of the Panthéon monument, is the sprawling Jardin du Luxembourg (Luxembourg Gardens). Here, walking paths circle around fountains, sculptures, elaborate flower beds, and lush grassy knolls. It is a garden fit for a queen, which is exactly why it was built — the park was created beginning in 1612 by the widow of King Henry IV.
Palace of Versailles
Address: Place d'Armes, 78000 Versailles, France
Phone: +33 1 30 83 78 00
Website
The Palace of Versailles sits just on the outskirts of Paris in the city of Versailles. This stunning chateau was the principal royal residence for French royalty between 1682 and 1789, and housed famous historical figures like King Louis XVI — the last king of France — and his iconic wife, Marie Antoinette.
Champs-Élysées
Address: Champs-Élysées, 8th arrondissement
Phone: NA
Website
This iconic avenue in the center of Paris runs from the Place de la Concorde to the Arc de Triomphe, which are both worthy sites on their own. Along what is often thought to be "the world's most beautiful avenue," are renowned restaurants, luxury boutiques, and renowned museums.
Catacombs of Paris
Address: 1 Avenue du Colonel Henri Rol-Tanguy, 75014 Paris, France
Phone: +33 1 43 22 47 63
Website
Beneath the beautiful city streets of Paris is a labyrinth of passageways and underground caverns, some of which hold the remains of millions of Parisians whose bodies were moved below ground long ago. While not for everyone, there is something truly thrilling about descending over 65 feet (or five stories) below the surface of the earth to the quarries below.
Best Shopping
Westfield Forum des Halles
Address: 101 Porte, Rue Berger, 75001 Paris, France
Phone: +33 1 44 76 87 08
Website
In the center of the city is a stunning building packed with shopping both above and below ground. Inside you'll find shops like Calvin Klein, H&M, L'Occitane en Provence, Levi's, and the LEGO store, along with a handful of restaurants, a cinema, and wonderful outdoor space. You may never leave.
Galeries Lafayette Haussmann
Address: 40 Boulevard Haussmann étage 3 Bâtiment l'Homme, 75009 Paris, France
Phone: +33 1 42 82 34 56
Website
This high-end French department store is worth a visit regardless of your interest in shopping. The building is, in a word, stunning, with tiers of shops surrounding a colorful Art Nouveau dome. When you've had your fill of shopping, head to the third floor to walk the Glasswalk — a walkway that cuts below the dome and provides the perfect vantage point of the beautiful building. If you want more, head to the shop's sister store on the iconic Avenue de Champs-Elysées.
Le Bon Marché Rive Gauche
Address: 24 Rue de Sèvres, 75007 Paris, France
Phone: +33 1 44 39 80 00
Website
One of the first modern department stores to pop up in Paris, this shopping center was founded in 1838 — which hints at the building's beautiful architecture. Inside, this true Parisian-style department store is filled with designs from brands like Celine, Burberry, Balenciaga, and Dior.
Shakespeare and Company
Address: 37 Rue de la Bûcherie, 75005 Paris, France
Phone: +33 1 43 25 40 93
Website
This English-language bookstore is a must-visit for literary lovers and cat lovers (keep an eye out for the bookstore cat, Aggie), and even though it is a major tourist spot, it's managed to retain much of its bohemian charm. 
Art du Basic
Address: 78 Rue Vieille du Temple, 75003 Paris, France
Phone: +33 1 44 54 95 14
Website
This little shop in the Marais neighborhood keeps their clothing simple and basic, which is what makes their pieces standout. Everything is carefully made and has that classic, French cool factor in spades.
Kiliwatch
Address: 64 Rue Tiquetonne, 75002 Paris, France
Phone: +33 1 42 21 17 37
Website
This shop specializes in used, vintage clothing, but also has a selection of new offerings. It's the ultimate go-to spot for that chic, stylish Parisian look — from jeans to sunglasses and scarves.
Merci
Address: 111 Boulevard Beaumarchais, 75003 Paris, France
Phone: +33 1 42 77 00 33
Website
This stunning concept store is beautifully and fashionably set up, making shopping their selection of clothing and home items a breeze. You'll find everything from linens and ceramic dishes to jewelry, shoes, bags, and clothes.
We Are Paris
Address: 13 Rue Oberkampf, 75011 Paris, France
Phone: +33 1 47 00 06 98
Website
If you want to support Parisian artisans and designers, head to We Are Paris, a boutique showcasing the works of artists based in the Paris area that are manufactured in small quantities. You'll find purses and jewelry alongside cosmetics and candles in this hip, truly Parisian shop.
Printemps Haussmann
Address: 64 Boulevard Haussmann, 75009 Paris, France
Phone: +33 1 42 82 50 00
Website: printempsfrance.com
This luxury department store in the center of Paris stocks over 200 brands over six floors dedicated to men's and women's fashion. Here, you'll find lesser-known French designers alongside international greats like Alexander McQueen and Gucci.
Papier Tigre
Address: 5 Rue des Filles du Calvaire, 75003 Paris, France
Phone: +33 1 48 04 00 21
Website
This modern shop is dedicated to out-of-the-ordinary stationary — like notebooks, pens, and paper clips. But don't let that throw you off — everything in this shop has a modern, clean aesthetic and their selection of carefully curated gifts make the perfect usable and lovable souvenir for your friends and family at home.
Neighborhoods to Know
Le Marais — 3rd arrondissement: It's hard to top Le Marais. It's centrally located, has myriad boutiques, galleries, and cafés — and excellent food (don't miss falafel at L'As du Fallafel on Rue des Rosiers). In addition to having plenty to do, the feel of the neighborhood is undeniably quaint — winding, cobblestone streets are lined with old buildings and hidden courtyards.
Montmartre — 18th arrondissement: Montmartre has housed and inspired artists for decades — including Claude Monet, Pierre-Auguste Renoir, Edgar Degas, and Pablo Picasso — and today, it is just as inspiring. You'll find arty cafés, cobblestone streets, history buildings, and from the steps of Sacré-Cœur, stunning views over the city.
The Latin Quarter – 5th arrondissement: The Latin Quarter is home to the Sorbonne University, so as you might expect, you'll find students roaming the streets and pouring over books in hip cafes. Here, you'll find plenty of old buildings and venues bustling with life — jazz clubs, bars, and historic restaurants.
Île de la Cité and Île Saint-Louis — 5th arrondissement: You'll find these two islands smack dab in the middle of Paris on the Seine river. Île de la Cité is the historic center of Paris and is home to Notre-Dame and Sainte-Chapelle, while the quieter Île Saint-Louis has shops and restaurants sprinkled among historic buildings and streets. 
Saint-Germain-des-Prés — 6th arrondissement: This neighborhood, with its narrow cobblestone streets, unbelievably cute café patios, and designer shops is probably exactly what you imagined Paris to be like. There is arguably no better place to sip on a glass of wine and people watch the afternoon away.
Belleville — 20th arrondissement: If you're looking for a different Paris than what you'll find in the tourist-laden neighborhoods down south, head to Belleville. It's where Chinatown meets hipster-town, the food is cheaper (and arguably, better), and buildings are covered with vibrant street art. 
Weather
Spring: Paris comes to life in the spring, but the weather can still be a little cool — high 50s to high 60s — and you might catch some light rain.
Summer: The summer is definitely Paris' high season, with June and July ideal (yet busy) months to visit. In August, many Parisians take their own vacation, so the city will be a little less lively.
Fall: Fall in Paris can be beautiful, with temperatures that range from the low 40s to mid 50s and a handful of rainy days a month. 
Winter: The winter months can be grey and chilly in Paris (sometimes with a dusting of snow!), but it's the perfect time to visit if you want to avoid the crowds and dress in layers, which always has a super-chic effect.
Apps to Download
Uber: Ride hailing, electric bikes and motorized scooters, food delivery
iOs | Android
Google Translate: word translation with offline capabilities
iOs | Android
Paris Metro Map and Routes: Paris metro map, route planning, route updates
iOs | Android
TheFork: Guide to restaurants, in-app table reservations
iOs | Android
Source: Read Full Article