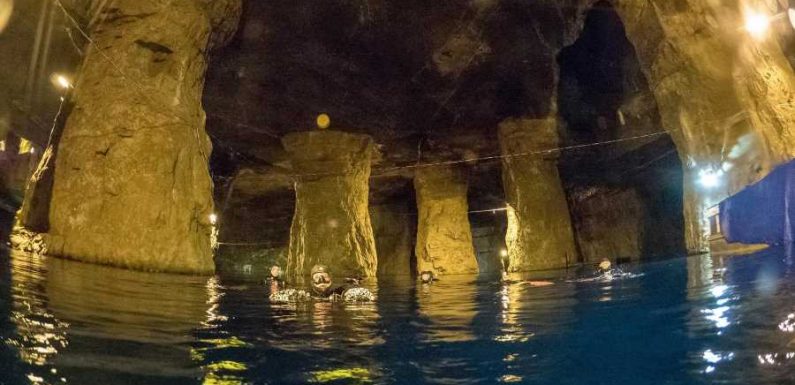 An hour south of St. Louis, you'll find the small town of Bonne Terre. Driving through, it might seem unassuming—a typical stretch of houses, shops and eateries. But nestled among them is a small building with arresting red letters on its sign that read, "Bonne Terre Mine Tours." And below that, there's a whole underground, underwater world to explore.
Bonne Terre Mine is one of the world's largest man-made caverns, sprawling out underneath the town. Formed over a century ago, it's a pivotal site in mining history. When the mine closed in 1962, water flooded through the hundreds of feet of passageways, drowning equipment and seemingly freezing the cavern in time. Now, Bonne Terre Mine has opened to the public and, yes, you can actually dive through the gigantic underwater caves. With passageways, a "Billion Gallon Lake," abandoned equipment and even underwater offices, adventurers get the chance to dive into a magnificently unique environment.
Doug Goergens, who co-owns Bonne Terre Mine with his wife Catherine, told Fodor's, "It's like its own beautiful, alien world… like something from the movie Journey to the Centre of the Earth.
"Divers get to an area we call 'The City', about 80-100 feet deep, and cruise past buildings with doors, with glass still in the windows… A machine shop, repair shop, corrals of the mules that worked. There's even an old cast iron drinking fountain, underwater, outside one of the old offices. It's like you're going down a street in an old Western town. You're imagining the activity at that time but no one is home. It feels like you've got into a time machine."
So how did this underwater world form?
The History
In the 1720s, French settlers discovered lead in Bonne Terre—hence the city's name which translates to "good earth." Miners began digging through rock for lead in the 1860s. Using only hand tools, they created the five-level "room-and-pillar" cave system which is over 457,000 square feet, with 17 miles of shoreline. The main room is large enough for a 20-story building to stand inside. Offices and a rail system were built underground, so workers didn't have to come in and out to do admin. There was a whole constructed world operating mostly unseen beneath Bonne Terre.
"Divers get to an area we call 'The City'… and cruise past buildings with doors, with glass still in the windows… A machine shop, repair shop, corrals of the mules that worked. There's even an old cast iron drinking fountain… It's like you're going down a street in an old Western town. You're imagining the activity at that time but no one is home. It feels like you've got into a time machine."
After almost 100 years, the mine's lead ran out and it closed. "When they abandoned the mine, the method of mining had already become obsolete but the architecture of the mine did not lend itself to bringing in modern heavy equipment," Doug explains. It would have been so difficult to get all the equipment above ground, it was simply left.
Gallery: 10 Secret Islands in Italy Where You'll Find Few Crowds and a Lot of Paradise (Fodor's)
Most Comfortable Shoes: "These Shoes Are Like Walking On Clouds"


Ad
Microsoft

Don't Borrow From The Bank – Borrow From Yourself


Ad
Microsoft
10 Secret Islands in Italy Where You'll Find Few Crowds and a Lot of Paradise
All of the natural beauty of Italy's well-known beaches without the crowds.
Forget the glamour of Capri and the VIP beaches of Sardinia. Italy is a treasure trove of pristine remote islands that give the Seychelles and the Bahamas a run for their tourist money. They are secret paradises far from the madding crowd, so don't expect any social buzz (and be prepared for a long journey).
Linosa
Prickly pears, hammer sharks, black underwater scenery. To get here you need to embark on a 12-hour trip from Rome–but it's totally worth it. This volcanic atoll is so far south it's close to the Tunisian shore.  Prepare to land on a Mars-looking heaven. The jet-black beach of La Pozzolana has sulfur-yellowish and red layers. Dip your mask into the water and it's a translucent black aquarium where loggerhead turtles freely swim. Volunteers work at a marine hospital here to heal those caught in fishermen's hooks. At night under starry skies, sea tortoises come to lay their eggs. The tiny fishermen's village is a cluster of bright yellow, purple, and pink dwellings. The minuscule harbor is where locals gather for a granita slushy. One single road circles the island, lined with dry stone walls covered in capers. The hike to the extinct crater of Monte Vulcano is a killer one but with great views. A bunch of hammer sharks swim around the nearby desert atoll called Lampione.
Palmarola
It's the pearl of the Pontine archipelago off Rome's coast. Dubbed by many globe-trotters as one of the world's most beautiful islands, it's uninhabited except during summer. There are no roads, no shops, no electricity. Prepare for a Robinson Crusoe thrill. There's just one beach restaurant and a few, exclusive fishermen grottos stuck inside the rocky cliffs up for rent. One even comes with a private dinghy. There's a Jurassic age vibe with massive sea stacks shaped like rifles and cathedrals, rock arches, pink coral pebble-stone beaches, purple sponge grottos, white granite rocks, and tropical waters the color of blue curaçao swarming with baby barracudas. Forget AC, minibars, and internet. Not even mobile phones work. When the sun sets, it's just torches and candles. You wake up at dawn to hike to the highest peak to admire the sunrise and dine with fresh fish from the net.
Alicudi
Welcome to the most remote and quirky island of the Aeolian archipelago. When the sea is rough, not even a dinghy can dock. You'll enjoy a castaway, no-frills vacation. Time has frozen. Forget cars, donkeys are the sole means of transport–that is, other than your own legs. Prepare to stretch muscles. Instead of roads, 10,000 stone steps connect the village layers and miles of dusty mule paths that unwind uphill to old ghost districts. Weird mushroom-shaped rocks and natural arches dot the pebble beach.
Filicudi
On the wildest and most stunning of the Aeolian islands, uncontaminated nature rules. It was a gangsters' paradise. You can stay and eat in Pecorini, a Mare fishing hamlet where Mafiosi were confined–albeit free to roam around like holidayers. A winding hairpin curved road and stone paths connect to white-washed houses covered in bright bougainvilleas where locals dine on rooftops with panoramic views. Trekking paths unwind to the sleeping volcano craters. Cliffs are black, green, and red with labyrinths of grottos and scorched scarred flanks of pasta lava flows. Sea stacks such as La Canna, shaped like a cobra head, jut out of the emerald sea. Ruins of a prehistoric hamlet and crumbly farmer huts dot the shore. The legend goes that a cave still hides a pirate treasure, but nobody has yet to find it.
Capraia
This rocky Tuscan island is close to France's Corsica and is a diving heaven. Part of the so-called Cetacean Sanctuary, it's great for dolphin and whale watching. Giant groupers with white dots greet divers at 40 meters below sea level, staring at you straight in the eyes. Pirate lookout towers and an overhanging castle dot the reddish volcanic cliffs. The quaint medieval village with old stone cottages was once a penal colony, with ghost dungeons. It's quiet but happy hour on wooden platforms suspended above the sea is a ritual, just like the "squid festival" lures fish eaters. Top sunbathing spots are below the Zenobito tower, at Ceppo bay and Cala Mortola, the island's only beach accessible by taxi boats.
Asinara
It's a spell-binding spot off the northern tip of Sardinia. The sea color is fluorescent blue, just like in the Maldives. Once a quarantine hospital where sick and mad people were shut, today it's part of a protected marine park with limited tourist access. The only inhabitants are local albino wild donkeys who freely graze the land welcoming tourists and hundreds of unique animal species. Park guards constantly patrol the isle to make sure no whacky visitors spoil the pristine habitat. That's why no cars are allowed–just bikes and organized Jeep tours. You get to sleep and eat in a former prison, which is the only hostel around. But don't expect any luxury: the rooms are very spartan with bunk beds.
Pianosa
The name nods to the flat shape of this former prison isle, resembling a butterfly. Only a few hundred visitors are allowed to visit each year, which makes it exclusive. Snorkeling and scuba diving are allowed just in certain areas. Beaches are covered in fossil and shell dust. At night baby barracudas perform moonlight dances as they swim around the harbor lined with abandoned buildings crumbling to the ground and a desolate fortress built by Napoleon. Dubbed the Devils Island, many convicts were once shipped here including noble Roman women. Guided mountain bike and horse-back tours will bring you uphill to admire old Christian catacombs. Pianosa is the only still functioning prison isle in Italy which is open to visitors. Ten residents live here, and they rub shoulders with inmates on supervised release who run the only hotel restaurant and bring guests on walks.
Ventotene
Don't be fooled by how tiny it is: just two square kilometers wide. Located off the coast midway between Naples and Rome, there's so much to see: the mosaic-covered floors of an ancient Roman villa, cisterns, old fisheries where you dive inside, a Bourbon castle, fields of lentils, and an old harbor cut into the tuff rock with cave pubs. Cute little yellow dwellings give the fishermen's village a cozy laid-back vibe that clashes with its dark past. The island used to be a jail center for adulterous Roman noblewomen and later for anti-fascists. The former prisoners' cells have been transformed into low-cut pink, yellow, and purple summer houses. Locals dive off funny mushroom-shaped sea stacks. It's a diving mecca dotted with Roman vases and a sunken warship.
Marettimo
It's sleepy and secluded, with pristine shores and clear tropical-like waters. Marettimo, the wildest and farthest island of the Egadi archipelago off Sicily's western coast, is the kingdom of silence. Tall pinkish granite cliffs resembling the Alps, Byzantine chapels, solitary pebble-stone inlets, and animal-shaped grottos where sea monks hide dot the shores. There's just one village with dazzling white and blue fishermen dwellings. Forget noisy beaches and crazy partying. Solitary inlets are great for solo suntanning and skinny-dipping. There's just one seaside hotel with independent studios and a bunch of houses rented by locals. Sunset dinners are in front of a spooky, crumbly overhanging pirate fortress. Locals kill time chatting at the picturesque harbor where fishermen sell their daily catch.
Levanzo
This is the icing on the cake of the Egadi Islands. The sparkling white fisherman village with several abandoned ghost houses overlooks a fluorescent blu sea the color of an aquamarine gem, dotted with boats and dinghies that take tourists out on daily tours. The seafood is great, particularly minnole fish omelet and spaghetti with sardines fried in bread crumbs, pine nuts, raisins, and wild fennel. Locals suntan naked behind huge sea rocks. The great thing is that you can walk to all beaches. The top spots to bathe in translucent waters are the Faraglioni pebble beach, which has a massive sea stack, and Cala Minnola, sheltered by pine woods. Cliff-hanging old military barracks offer spectacular views. At night a magical vibe kicks in. The harbor seems alive with bright boats lulled by the waves as fishermen prepare their nets for the next morning.
That was when the water pumps, which had been installed to stop groundwater flowing into the mine, were switched off. Water poured in and gradually rose until the bottom three levels of the five-story mine were completely flooded, drowning the passageways and everything left behind. By the 1970s, a huge lake had formed underground. It grew and grew, earning the nickname Billion Gallon Lake. Doug calls it "an underground sea," as lakes sit above that are smaller than the mine's.
It was in the 1970s when Doug and Catherine bought the abandoned mine and began developing it for public tours and, eventually, diving.
'Deep-Earth Diving'
Bonne Terre Mine is now one of the top diving destinations in the U.S. and across the world, with many keen divers visiting as a bucket-list trip. Its fresh mineral water ensures over 100 feet of visibility and a constant year-round water temperature of 58 degrees make it unique. The water is lit by 500,000 watts of stadium lighting, turning it a dazzling electric blue. Look up from an underwater spot in the Billion Gallon Lake and see other divers silhouetted in color as clouds of bubbles rise up. The crew call the experience "deep-earth diving."
 Doug Goergens
West End Diving—one of the oldest diving centers in the U.S.—have developed 50 diving trails through the mine. Trained instructors lead groups of 10 certified divers to explore the mine, from The City of underground offices to the submerged elevator shaft. As you dive through archways and past pillars, you'll spot abandoned mining equipment sitting at the bottom (there's even a locomotive down there!) and the sparkling calcium falls, cascading down the rocky walls.
Visitors enter through the "mule entrance" into a space filled with rusted mining equipment. Sixty-five steps lined with golden lamps lead down into the mine. "You enter the mine at 125-130 feet and it opens up like a huge auditorium," Doug says "Imagine a great indoor domed stadium, illuminated. You walk through to the Billion Gallon Lake and the giant wooden dock sitting on it. You'll see giant pillars that look like the legs of dinosaurs. Then you look down and see the water is crystal-clear blue mineral water."
The Experience
There's more than just diving tours, too. Silent boats of tourists stream through 17 miles of clear water, while walkways rise above the lake so visitors can view the impressive characteristics of this enormous underworld. A guide, torch in hand, explains the history of the mine as you go.
Outside, you'll find Bonne Terre Depot Bed & Breakfast, the original 1909 depot transformed by Doug and Catherine. It's classified as a national historic site with its train car suites, genuine artifacts, and an authentic Whistle Stop Saloon bar.
 'Mother Nature Reclaimed It'
Over the years, Bonne Terre Mine has seen lots of excitement, including being part of filming for select scenes in The Abyss and the Red Bull Death Charge where wakeboard competitors whizzed through the mine. One standout experience was a visit from Jack Cousteau, a French naval officer, conservationist, and famous marine explorer whose nickname was "the father of scuba diving." Jack planned to spend half a day filming for a story but, after viewing the mine, he and his crew chose to stay for five-and-a-half days.
Doug recalls, "Jack asked me, 'What will you do to further develop the mine?' I said, 'I'm thinking of putting some fish in there, feeding stations.' He said, 'No, you cannot do that! Man adulterated the earth. He mined it, he destroyed it. Mother Nature has reclaimed it. She's created a very sanitized, beautiful, perfect ecosystem down there. You don't want to disturb it.'"
Doug followed Jack's word and left the mine to flourish in its natural wonder (though he did introduce two fish to the mine for a little extra fun). Next time you're diving in this one-of-a-kind, underwater world, see if you can spot them. They're just two of the many marvelous hidden secrets in the depths of Missouri's incomparable Bonne Terre Mine.
Bonne Terre is an hour south of St. Louis off Route 67, close to Mark Twain National Forest. For information visit www.bonneterremine.com.
Source: Read Full Article