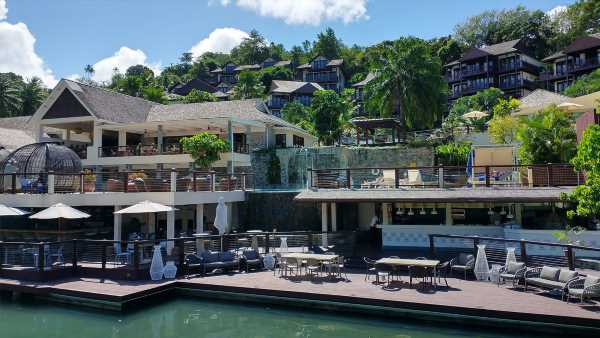 Like the brand's other all-inclusives, the Zoetry Marigot Bay St. Lucia prides itself on being intimate and personal, a haven for relaxation. On a recent visit, I learned why.
Upon arrival, the staff greeted me with "welcome home." In my room, I was greeted by a bottle of St. Lucian Chairman's Reserve rum, chocolates and fruits. It was a touch of decadence, as were my suite's spaciousness, the dark wood hues used in the rooms and across the resort, the nightly turndown service and daily fridge stocking. Two personal balconies offered a scenic view of the lush, green hills of Marigot Bay, which doubles as a place where boaters seek shelter for their vessels during hurricanes. It is also one of several locations used for the "Pirates of the Caribbean" movie franchise, as well as the original "Dr. Doolittle."
The resort, which Hyatt's Inclusive Collection added to its all-inclusive lineup last year, is the second AMR Collection resort to open in St. Lucia. The 124-suite, adults-only property opened its doors in December after a rebranding of the former Capella Marigot Bay Resort and Marina.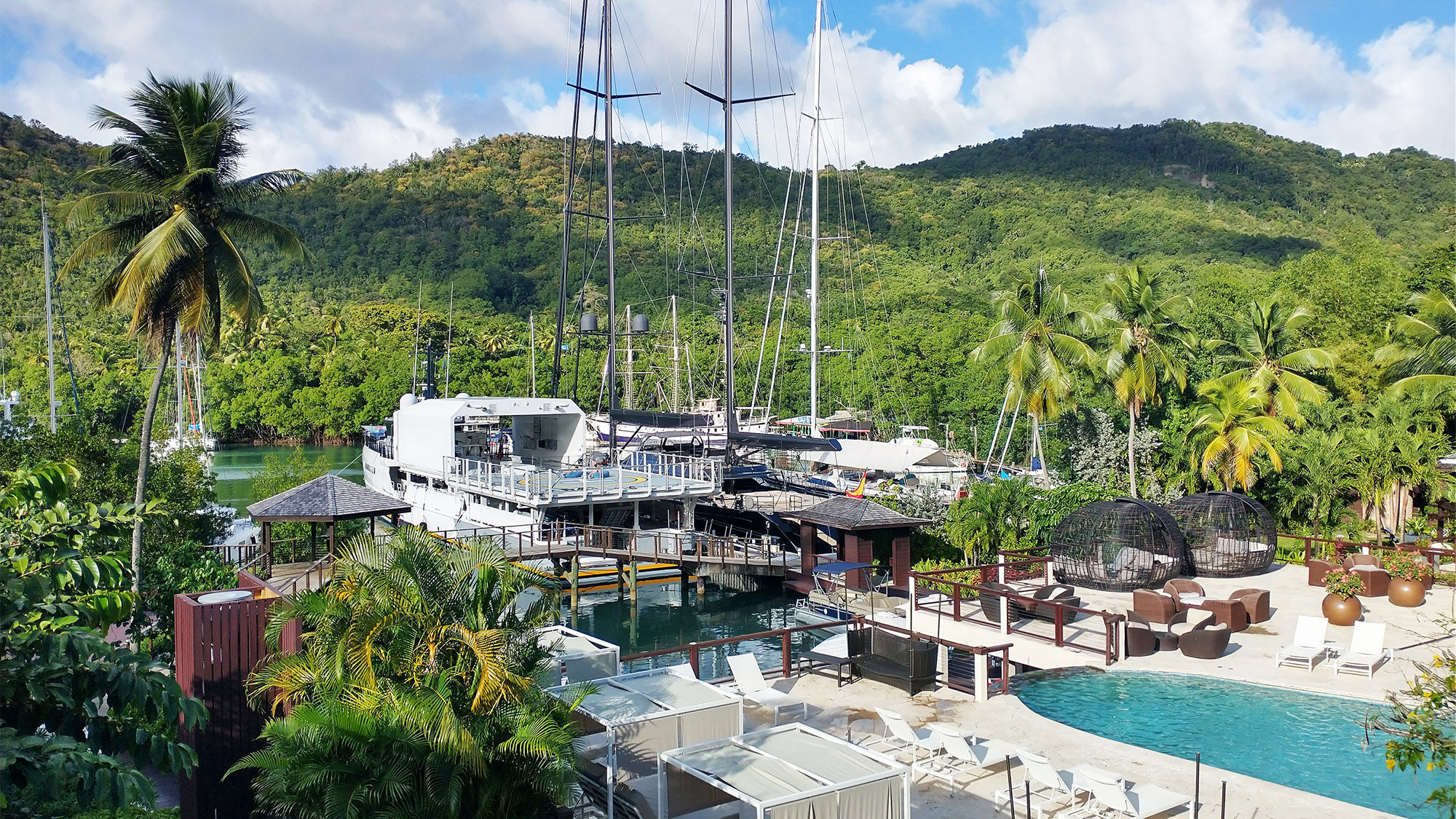 At the 1461 restaurant, we had breakfast, with an open-air dining view of those lush hills and the Marigot Bay Yacht Haven, home of megayachts and sailboats bearing flags of countries as far away as Greece and Spain. While 1461 served an American-style breakfast, I opted to first try a St. Lucia's staple, salted fish and green figs (green bananas), which left me convinced that salmon isn't the only acceptable fish for breakfast. Also open for dinner, 1461 becomes less casual and more formal, with dishes such as beef short ribs and grilled prawns, and Asian-style tuna. Every night, a solo music performer serenaded diners with pop and classic tunes.
• On the Record: Hyatt's Inclusive Collection's Mark Benson
The Hurricane Hole, which sits alongside the marina and offers bar fare, is open from breakfast, lunch and dinner.  The Rum Cave offers small plates and tapas, and specialty rum selections. The 24-hour, room-service menu lists a sampling of each restaurant's offerings, but I opted for in-person dining, even if the views were magnificent from my room's balconies.
The poolside Le Bateau served all-day lunch fare, including sushi, ceviche and salads, with a swim-up bar that made in-pool ordering and dining a novelty. The main pool is one of two in the resort.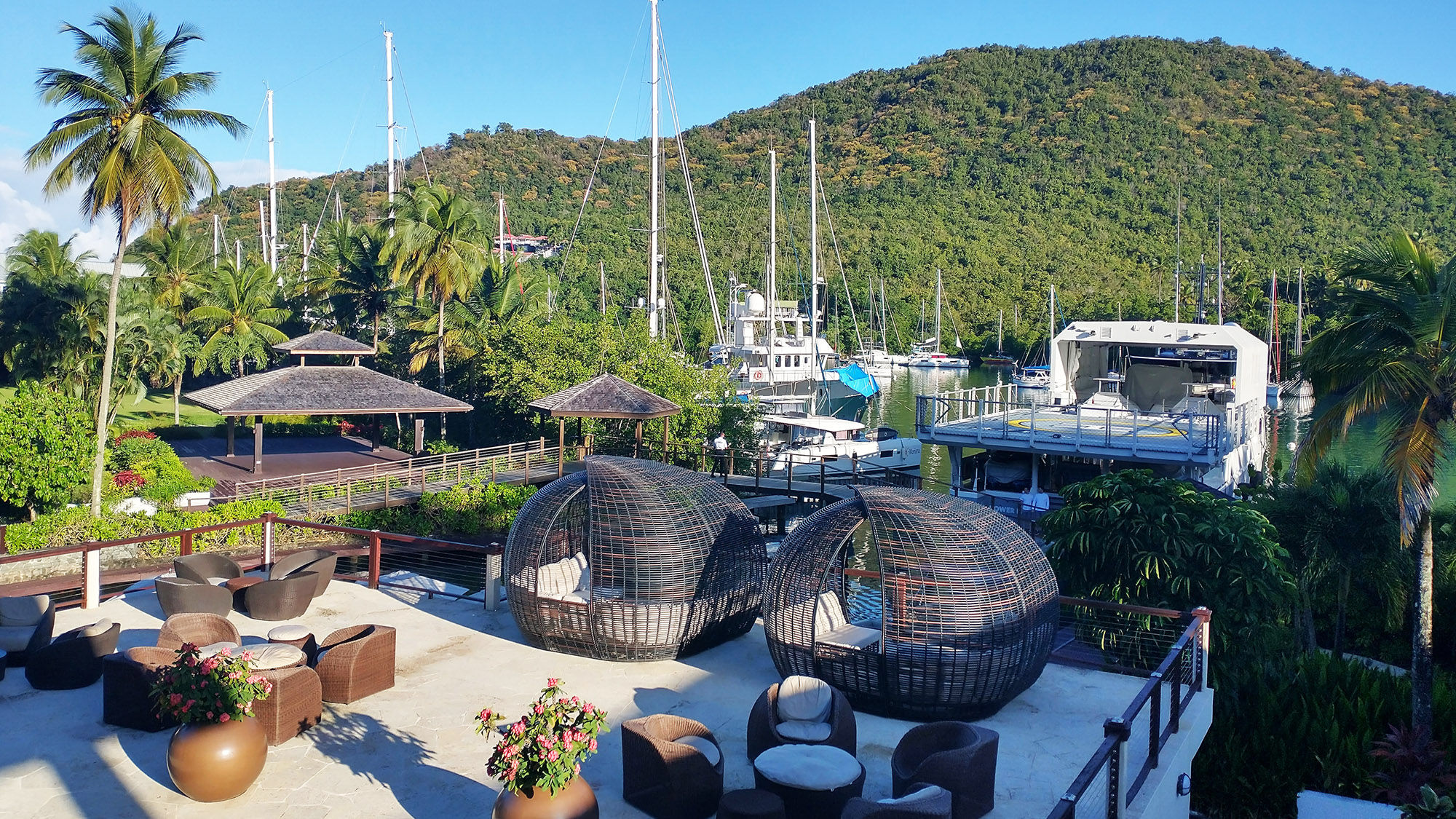 For guests really looking to add pampering to their unwinding, the Zoetry Spa offers body treatments, facials, massages, manicures and pedicures; I opted for a 3D Collagen Shock facial. The spa also has a sauna, steam inhalation room and a plunge pool. Daily yoga sessions also help bring out one's Zen.
Nearby diversions
The resort may feel secluded to some, since there are no nearby shops or attractions. But there are plenty of activities available to guests who have the urge to get away for a few hours. 
Water sports are available off-property and include kayaking, fishing, snorkeling, scuba diving, paddleboarding or a sunset cruise. While the resort is not beachfront, a complimentary, short boat ride takes guests across the bay to LaBas Beach, which is quite small, but it gets one's toes in the sand, if that's the mission.
The resort also offers opportunities to explore St. Lucia including sightseeing tours to the majestic, must-see Pitons volcanic spires, a trek to the world's only drive-through volcano, La Soufriere, and a chance to indulge in nearby mud baths composed of sulfur-rich mud and volcano-warmed water. This is a bucket-list item of mud mask fans.
The off-site activities are not included in the all-inclusive rate.
Source: Read Full Article