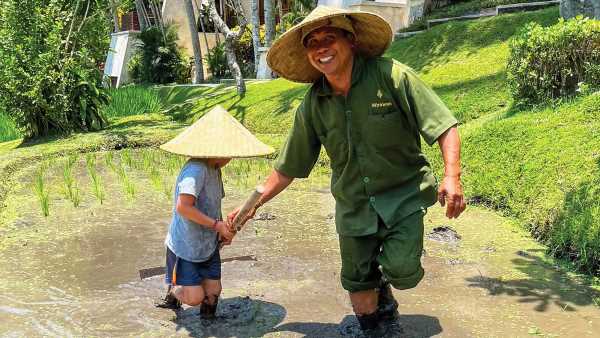 SAYAN, Bali — We were on day six of a weeklong trip here in Bali, and my two young kids — who up until this point had been absolute champs in terms of fending off jetlag — had finally hit a breaking point.
My 5-year-old son was whining loudly, his entire body limp in his chair. My 1-year-old daughter, meanwhile, bounced impatiently on my hip, rubbing her eyes and crying out every time I tried to put her down. 
It seemed that two exhaustion-induced meltdowns were imminent, and while my husband and I are far from amateurs when it comes to handling ill-timed temper tantrums, this particular setting — the serene main spa area at the Four Seasons Resort Bali at Sayan — was less than ideal.
The spa, however, was the designated meeting point for our morning family excursion, "A Day in the Life of a Balinese Farmer." And thankfully, our guide Sari showed up completely unfazed by the tense scene unfolding in front of her. 
Sari assured me that we shouldn't stress. She too was a mother and could relate, and we all agreed that the kids were sure to perk up once we embarked on the experience.
And so off we went into the hot sun, kicking off our agricultural adventure by walking the winding paths of the Four Seasons Resort Bali At Sayan. As we went, Sari pointed out the many garden plots throughout the property, which were planted with crops like ginseng, aloe vera, wild ginger and lemongrass.
A steep staircase then led us down to an expanse of flooded rice fields, which we marched past single file before entering the jungle. As we walked a small dirt path, Sari pointed out more local flora and fauna, and as the path gradually became more substantial in size, she revealed that we were entering her home village of Sayan.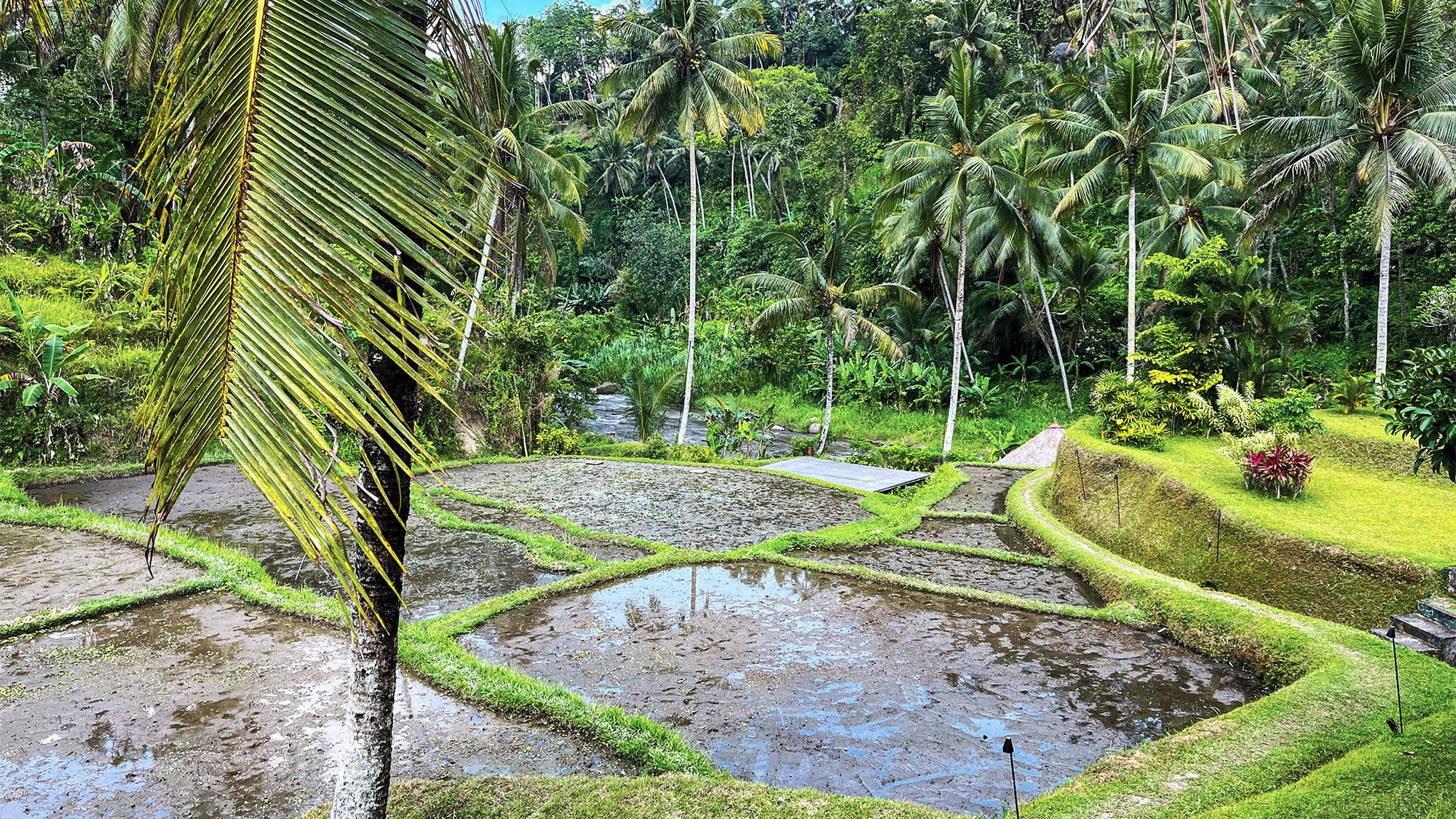 From there, the excursion became a bit more "choose your own adventure" in style, with Sari offering us the opportunity to visit a neighbor's traditional Balinese home, as well as a local artist's studio. We said yes to both, stopping by the neighbor's residence, home to several generations of family within a single compound, as well as meeting Nyoman Sujana Kenyem, a talented artist and Sayan native who offered us a behind-the-scenes look at his creative space, where he was busy at work on a series of commissioned paintings. 
Then, it was back to the resort, where we sat at a shaded table and enjoyed some traditional Balinese refreshments: fresh coconut water, black rice pudding, noodles topped with egg and a colorful selection of local fruits.
By this point, the kids' attitudes had done a complete 180, just as predicted. They were now running around excitedly, all giggles and smiles, and ready for the main event: rice planting. 
We headed over to an unplanted, flooded field, and Sari introduced us to Wirawan, one of the vast property's many groundskeepers/agricultural experts. Wirawan provided us with conical straw hats to help shield us from the sun, and we shed our socks and shoes, hiked up our pants and waded into the warm, muddy water.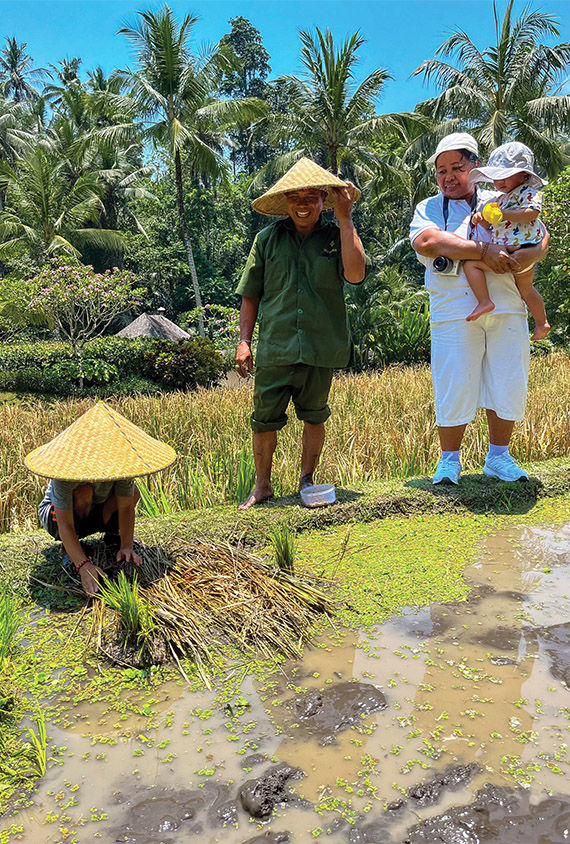 For my son, this was heaven. (My daughter, who was too little to be able to stand in the field, watched us from Sari's arms, her fists full of plucked flowers.)
With Wirawan's help, we turned the mud with a large garden rake, then listened as he talked us through the steps of germinating the seeds with water. We were then handed bunches of pre-germinated rice plants, which we tucked into the mud, spacing them evenly in neat rows. 
Once we were done, it ended up taking quite a bit of coaxing to get my son out of the rice field. He was finally swayed by the promise of another fresh coconut, expertly cut open with a scythe by Wirawan. 
The experience ended where it all began — at the spa, where one can shower off as well as opt for a traditional Balinese massage. Before departing, Sari handed us a family photo album, which featured a mix of candid and posed photos she had taken throughout the tour as well as a certificate of completion. 
Related: Agricultural tourism is a growing trend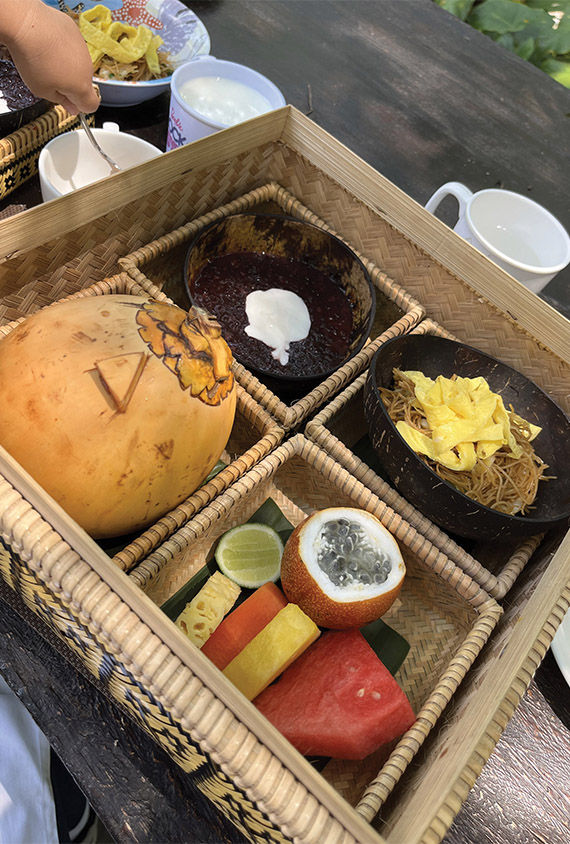 My kids, who just hours ago were in meltdown mode, had undergone a radical shift in attitude. 
Cheerfully, my son asked if we could come back in four months, when his planted white rice would be ready to reap. I gently delivered the reality check that a follow-up trip to Bali just to gather rice was likely not happening. But to my surprise, he wasn't even a little bit upset to hear this. 
Instead, he kept on smiling, taking comfort in the fact that even if he wasn't there to see it, his rice was quietly taking root, and one day soon would be ready to harvest halfway around the world.
Source: Read Full Article