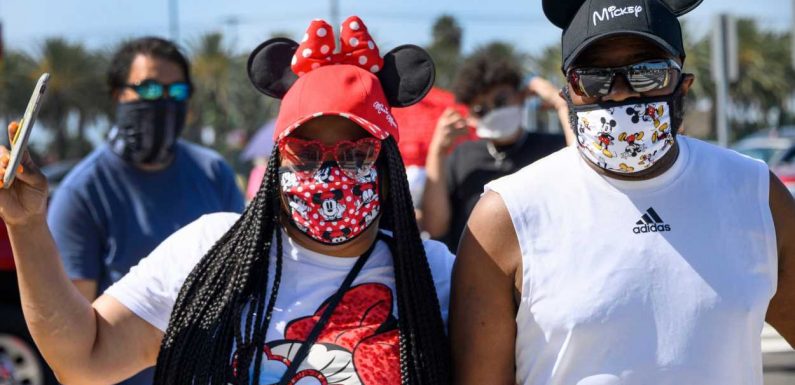 On Thursday, Disney announced that it will be ending and issuing refunds for its annual passport program which gave regular visitors discounts on park admission at its two California parks and other benefits.
The company said it was discontinuing because of "continuing uncertainty" around the reopening of the Disney theme parks amid the ongoing COVID-19 pandemic, but added that it could eventually offer other similar programs in the future.
In an email to current passport holders, Ken Potrock, president of Disneyland Resorts, said that Disney would soon create new membership perks for visitors of Disney's theme parks and resorts.
"For nearly four decades, our Annual Passport program has been an important part of connecting with some of our most valued Guests," Potrock email stated. "I know that sunsetting the Annual Passport program will be disappointing to many of our Passholders who are just as anxious as we are to reopen our gates and welcome Guests back when the time is right."

A List Of Trump Administration Officials Who Resigned Over Rioting At Capitol Hill

Newsweek


Politicians And Celebrities React To Georgia Senate Election Results As Democrats Take Control Of Senate

Newsweek


21 Things To Look Forward To In 2021

Newsweek


What Is The 25th Amendment? Donald Trump Removal Urged After Capitol Chaos

Newsweek


What To Know About The Electoral College Certification Amid Riots At Capitol Hill

Newsweek


World Leaders Condemn Violence At Capitol Hill

Newsweek


U.S. Capitol Hill Riots In Pictures

Newsweek


Georgia Election Results: Democrats Take Control Of Senate After Warnock, Ossoff Win

Newsweek


LeBron James, Bernice King And Others React To No Charges In Jacob Blake Shooting

Newsweek


Georgia Runoff Elections: Raphael Warnock Will Make History As State's First Black Senator

Newsweek


Name That Tune Season 1 Teaser

Newsweek


20 Positive Moments Of 2020

Newsweek


Raphael Warnock Projected To Win Georgia Senate By AP, CNN, NBC, FOX

Newsweek


5 Most Memorable Science Moments And Firsts Of 2020: NASA/SpaceX To COVID-19 Vaccine

Newsweek


5 Of The Most Politically Active Celebrities Of 2020: Cardi B To Chris Evans

Newsweek


A List Of Trump Administration Officials Who Resigned Over Rioting At Capitol Hill
Following the riot that Trump supporters staged in the U.S. Capitol on Jan. 6, several Trump Administration officials have stepped down. Here's an ongoing list of those who have chosen to resign.


Newsweek



Politicians And Celebrities React To Georgia Senate Election Results As Democrats Take Control Of Senate
Democrats Raphael Warnock and Jon Ossoff are projected to win the Georgia US Senate runoff elections against Republican incumbents Kelly Loeffler and David Perdue respectively. Here's how lawmakers and twitter users reacted to the news that the Democratic Party of President-elect Joe Biden has now won control of the Senate – and of Congress overall.


Newsweek



21 Things To Look Forward To In 2021
Here is a list of things to look forward to in 2021, from the 50th anniversary of Disney World to the next Blood Moon.


Newsweek

The change will only affect Disney's California venues and won't apply to Florida's Walt Disney World resort, according to the San Diego Union Tribune. Potrock also told the publication that the company will consider developing alternative discount programs for regular patrons, priced depending on how often and when they visit the park.
Despite pleas from Disneyland executives asking California's Democratic Governor Gavin Newsom to allow its parks to stay open, amid rising COVID-19 case counts last autumn, Newsom issued guidelines that restricted Disney's parks from reopening. Over the last year, Disney laid off 100,000 of its workers, the Tribune states.
The California parks initially closed mid-March 2020 and had hoped to reopen in July of last year, albeit with required temperature checks at the entrance, enforced mask protocols and no daily parades or character meet-and-greets.
Dr. Clayton Chau, director of the Orange County Health Care Agency has said that Disneyland and the Disney California Adventure Park may not be allowed to open until summer of this year or later, according to The Los Angeles Times.
Disneyland first started issuing annual passes in June 1983. The park offered different levels of pass, based on how many days a passholder wanted to spend in the park each year. Low-level passes allowed people in only on weekdays and during the off-season, while the most expensive pass gave year-round access.
In October 2020, Tokyo Disney also discontinued its annual passport program for similar reasons. However, Tokyo Disney reopened on July 1 at 50 percent capacity to help accommodate social distancing between visitors.
The Disney World theme park in Florida is currently open although its associated hotels, restaurants and other offerings may be modified or unavailable, limited in capacity or subject to limited availability based on precautionary measures related to the pandemic.
Newsweek contacted Disney for comment.
Related Articles
Disney, Procter & Gamble, Other Trusted Brands Funded Misinformation that Fueled Capitol Riot
EA Will Still Make 'Star Wars' Games, Just Not Exclusively
'WandaVision' on Disney+: Where the Show Fits Into the MCU Timeline
Marvel Faces Calls to Retire the Punisher After Capitol Rioters Were Seen Wearing His Logo
Start your unlimited Newsweek trial
Source: Read Full Article