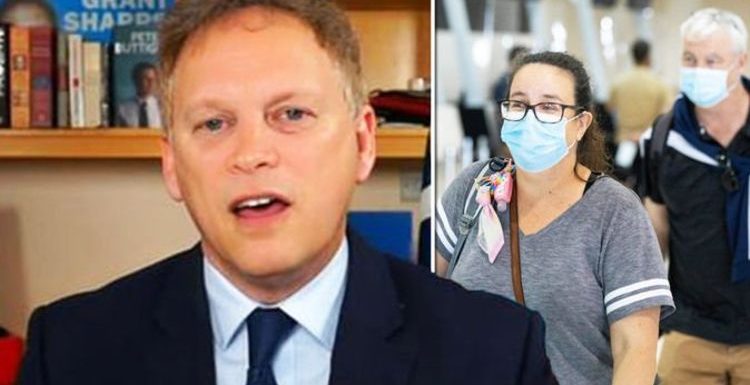 Quarantine: Rule breakers could get 'criminal record' says Shapps
The Secretary of State for Transport of the United Kingdom Grant Shapps told GMB viewers quarantining after travel was the "most important thing" to stop the spread to coronavirus. Failing to do so could see Britons slapped with a criminal record.
He told GMB presenters this morning: "The most important thing is that when people do get home they quarantine themselves.
"Not only could you get a fine, but you could get a criminal record."
Expanding on the numbers of people coming back to the UK ahead of a negative test being made mandatory, Grant said: "Those people will all have had to quarantine by law."
He went on: "Public health England do 1,500 checks a day and people end up getting fines, getting criminal records.
We will use your email address only for sending you newsletters. Please see our Privacy Notice for details of your data protection rights.
"In the UK it's illegal to do all sorts of things, so we don't do them just because someone's not looking over your shoulder.
"It relies on people doing the right thing and we can't be checking up on people all the time."
He also explained the deadline for travellers needing a negative coronavirus test to enter the UK had been pushed back to avoid a "repatriation crisis".
He told viewers: "When we looked at the 200 territories around the world all using different types of test, it turns out that there are so many different ones we didn't want to make criminals out of people just because their test didn't have the right specificity.
DON'T MISS
Camping and caravan holidays: Expert on how to prepare [EXPERT]
FCDO issues update as Spain green-lights 'transit' passengers from UK [TRAVEL RULES]
Madeira & the Azores hit with quarantine [TRAVEL CORRIDOR]
"We didn't want to create some repatriation crisis."
The new testing regime has been delayed until Monday.
You will need proof of a negative test at least 72 hours before you plan to travel.
The Government website states: "For example, if you travel on Friday, you must take a test no earlier than Tuesday."
Anyone who arrives in England without proof of a negative test result could be fined £500.
Transport Secretary Grant Shapps said on Twitter the new date will give visitors time to "prepare".
He said: "To give international arrivals time to prepare, passengers will be required to provide proof of a negative COVID-19 test before departure to England from MONDAY 18 JANUARY at 4am."
The Transport Secretary also announced a large number of South American flight bans last night.
It comes after a Brazilian strain of the virus was discovered in Japan.
Arrivals from a host of South American countries will now be banned.
The list of countries banned are Argentina, Brazil, Bolivia, Cape Verde, Chile, Colombia, Ecuador, French Guiana, Guyana, Panama, Paraguay, Peru, Suriname, Uraguay and Venezuela.
Grant Shapps also tweeted to the news that flights to the UK from Portugal – a country with strong links to Brazil – will also be banned.
He said: "Travel from PORTUGAL to the UK will also be suspended given its strong travel links with Brazil – acting as another way to reduce the risk of importing infections."
Source: Read Full Article