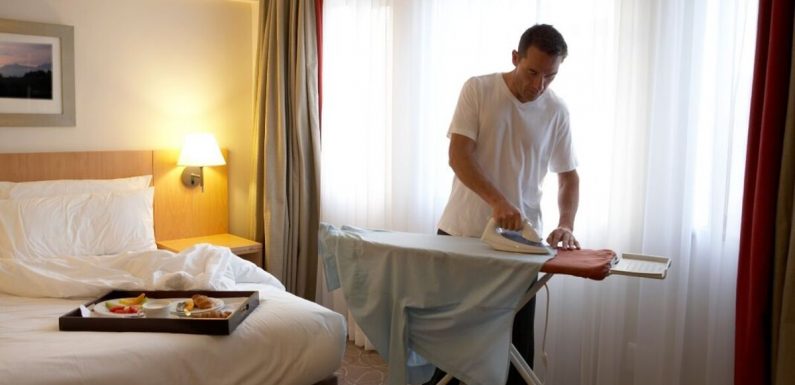 Many hotel rooms have an iron that guests can use to get rid of any clothing wrinkles. However, guests might want to be cautious about using one.
A Reddit user said: "Learned this the hard way when I packed one dress shirt for the day of a professional presentation.
"The water had been left in the iron for some time and nasty, rusty water spurted all over my shirt."
Another person said they recommended that guests test the hotel iron on a wet towel before putting it on their clothes.
Hotel irons might not be cleaned between room changeovers so guests could have a nasty surprise when they use it.
If tourists test the iron on a wet towel before putting it on their clothes, they might be able to identify a problem before they ruin their belongings.
Another guest said: "You can take this a step further. Don't iron your clothes directly. Take a pillowcase and drape it over your clothes.
"Run more steam/heat than you originally planned. It'll steam through the cloth and catch any residual dirt from previous uses.
"You're actually supposed to do this with suits so you don't damage the fabric. I learned it's helpful with other clothes too so you can avoid dirt issues."
Placing a pillowcase over clothes could help to protect the garment from any damage when it's ironed.
Another person said: "I also wish I'd tested a hotel iron that turned out to be much hotter than the one I had at home even on a similar setting.
"Ended up damaging a brand new pair of slacks the night before a huge trade show."
Irons can have very different settings and some run at a much higher heat than others. If guests try out the iron on a hotel item, they can lower the risk of damaging their own clothes.
One person said: "This is a top tip. Went to a wedding in Italy and the crappy hotel iron left a huge rust mark on my white shirt. Thankfully I could hide it under the suit top but it kind of ruined the prep for the day."
If hotel irons haven't been used in a while, guests might end up with an unsightly rust stain on their clothes.
Guests could contact the hotel reception and ask for a new iron to be sent up if they're concerned about the one in their room.
Some hotels also have a laundry service although guests may need to pay an additional fee to use this.
If guests are concerned about using the hotel iron or their room doesn't have one, they could use a quick shower steaming trick.
Using a clothes hanger, guests can hang their item up in the bathroom and run the shower for a short time.
The steam from the shower may help to get out any tough creases and guests don't run the risk of staining their clothes.
However, this tip may work better in a smaller bathroom such as the ensuites on a cruise ship.
Source: Read Full Article