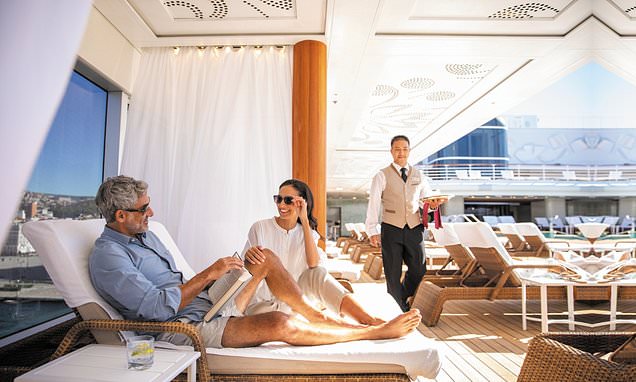 From lavish suites to personalised service: Discover your sanctuary at sea with a cruise on board the world's most luxurious ships!
Ad Feature by Regent Seven Seas Cruises
Sprawling suites, world-class chefs, private excursions and exquisite ships – when it comes to dream sailing holidays, Regent Seven Seas Cruises promises a trip unlike any other.
Known as the experts when it comes to all-things luxury, Regent's award-winning all-suite fleet is loved for its beautiful style, unrivalled space and pure elegance.
Guests can choose from a vast number of must-visit destinations, including the Caribbean, South America, Asia, the Mediterranean, Africa, Australia and Canada.
Then, once onboard, all you have to do is sit back and relax, luxuriating in the incredible restaurants, spectacular bars, palatial suites and dynamic entertainment.
You'll even have your very own personal assistant.
With a maximum of 490 to 750 guests onboard these perfectly sized ships, you'll never need to queue and the spacious facilities will never feel crowded.
What's more, every luxury is included in the price – from your flights and transfers to drinks, speciality restaurants, open bars and lounges, and even pre-paid gratuities.
Not to mention the fact that at every port of call you can choose from a wide variety of shore excursions, all of which are included in the price of your cruise.
So all you have to do is decide which one you want to do. 
With everything included, all you'll need to do is relax and enjoy the 5* service
Sensational suites
Wake up every morning and start the day on your large, private balcony (available in 98 per cent of Regent's suites), so you can take in the incredible ever-changing vistas.
These large rooms are designed to be a 'home away from home', boasting beautiful decor and generous walk-in wardrobes, as well as a bathtub or a walk-in shower.
Why not stretch out and enjoy a book or movie along with a glass of champagne in the plush, separate sitting area? And with a dedicated attendant for every suite, you won't need to lift a finger.
The higher the suite category the more perks are included. The larger suites include priority boarding, guaranteed reservations at the speciality restaurants of your choice each night and a private butler to attend to your every need. 
And at the very pinnacle of luxury is the Regent suite, where you could enjoy a private dining experience in The Study, an in-suite spa with unlimited treatments, as well as a private car and driver in every port. 
First-class dining
Chartreuse restaurant features modern French fare with attentive servers and a maître d' on hand to ensure your dining experience is flawless
Chartreuse is about the closest thing to a Parisian culinary gem on the high seas
Exquisite dining experiences await every guest on board a luxurious Regent cruise, with tastes from around the world and fine wines to match.
With top-class chefs, maître d's, sommeliers and attentive waiting staff, diners are in expert hands, while every personal request can be catered for.
Make new friends and opt for open seating dining, or reserve a spacious table for two in a speciality restaurant. You're only problem will be choosing which one to try each night. 
Sample divine Alaskan king crab or Filet Mignon at the intimate Prime 7; indulge in classic French fare with a modern twist at Chartreuse, while at al fresco Sette Mari at La Veranda there's fine Italian cuisine on offer along with outstanding wines. 
Want to enjoy some privacy or a more low-key evening? Why not make the most of your elegant room with in-suite dining?
Phenomenal entertainment
Elegant onboard lounges are the perfect spots to make new friends and to enjoy the fantastic programme of  entertainment
After sunset, the ship comes alive with chic lounges and brilliant entertainment you won't want to miss.
After dinner, enjoy a cocktail with your new friends, before taking in the headlining production on stage in the Constellation Theatre.
Then, dance the night away, as the incomparable Regent Signature Orchestra delivers an unforgettable dance party.
After that? Why not take to the mic for a spot of karaoke, or try your luck at the onboard casino?
Then unwind with a nightcap while listening to the sounds of a grand piano in one of the lavish bars or lounges – there are five to choose from.
While The Connoisseur Club is the place to sip a fine cognac and enjoy a fine conversation.
Whatever your evenings hold, be sure to take a stroll on the vast decking area to enjoy a bit of star-gazing!
Day-time fun 
Once onboard you can luxuriate in the incredible restaurants, spectacular bars, palatial suites and dynamic entertainment.
Keep the pampering going with a relaxing spa treatment
While you're at sea, it's the perfect time to enjoy Regent Seven Seas Cruises' award-winning facilities.
Whether you want to laze the day away at the large, luxurious poolside area, sipping on a cocktail or two, or fill your day between destinations with engaging activities, you can find your sanctuary at sea.
Feel invigorated after an exercise class in the state-of-the-art fitness centre, before indulging in a massage, facial and much-needed 'me' time in the elegant onboard spa.
Enjoy a stroll, taking in your ship's beautiful interior and superior craftsmanship, and admire the beautifully curated selection of artwork.
Then team up with like-minded travellers for a game of trivia at tea time. Or, budding chefs can book a cooking class – don't worry they cater to all tastes and abilities.
Or simply curl up with a soft, warm blanket and a good book on your private balcony. 
Bliss!
Fascinating destinations 
Enjoy the incredible views from your private balcony
From the sun-drenched white-sand beaches of the Caribbean and the historic cities of Europe, to dancing the tango in Buenos Aires and the sunny islands of Greece – Regent Seven Seas Cruises has hand-selected some of the world's most sensational destinations.
What's more, you'll have time to explore at your own pace taking in culinary delights, music, art, culture and UNESCO World Heritage sites, as well as local wildlife, all while in the safe hands of an expert guide.
Enjoy more than 2,000 unlimited shore excursions across every region of the world, all of which are included in the price of your Regent cruise.
Learn how communities around the world are improving their environments on an Eco-Connect Tour or soak in thermal springs and practice tai chi on the beach on a wellness tour.
Or, for something extra special, and a small supplement, book one of Regent Seven Seas' shore excursions for a private group adventure with no more than 16 guests.
Witness Alaskan forests and mountains via helicopter en route to taking in the majesty of Mendenhall Glacier; see the extraordinary and endangered fluffy-eared koala in its natural habitat in Australia and sample organic teas grown in the Vietnamese mountains. 
And with absolutely everything included in the price – even taxes and tips – Regent Seven Seas Cruises, provides fantastic value for money with no post-cruise costs to worry about. 
With unrivalled luxury, spacious, all-suite ships and elegant rooms, exquisite dining and entertainment and must-visit destinations, it really will be a holiday of a lifetime. 
You won't want to come home! 
Click HERE to order your Regent Seven Seas Cruises brochure! 
Discover incredible destinations on a once-in-a-lifetime trip you'll never forget
Source: Read Full Article