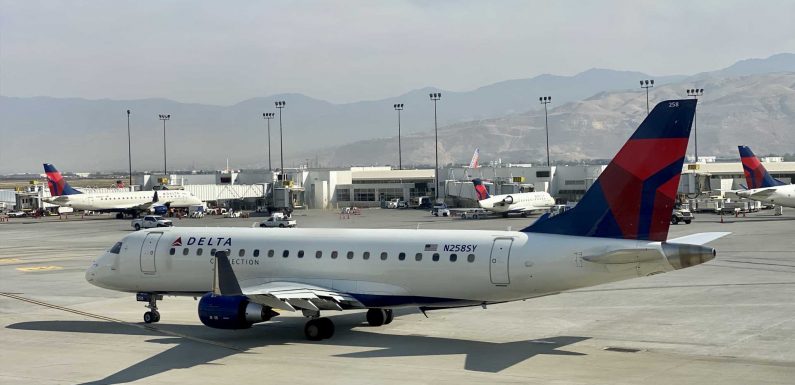 A passenger on a Delta Air Lines flight allegedly hit a flight attendant and tried to open the main cabin door while the plane was in the air.
The man, who was not identified, was detained by law enforcement after Flight 2349 landed at Logan International Airport in Boston on Sunday, WCVB reported.
Load Error
Mark French, who was also on the flight, told the station that the man apparently struck the flight attendant after she tried to stop him from opening the cabin door.
"I saw the stewardess in first-class, it seemed like she jumped back. I learned she had been hit," he told WCVB.
"I stuck my head up and pulled off my headphones, and she was yelling, saying, 'He's trying to open the door.'"
French said law enforcement officers who happened to be on the flight intervened to subdue the man.
But the man "was not going down easily," so he jumped out of his seat to help, French added.
He said he started yelling at other passengers for a belt to restrain the passenger and he ultimately got one from a woman in the first class section of the plane.
French said the man was handcuffed for the rest of the flight. He screamed, "Let me out of here, this isn't my home," for the remainder of the journey, according to French.
He shared pictures with the station that showed Massachusetts State Police troopers boarding the plane at Logan Airport, apparently to take the man into custody.
In a statement to Newsweek, a spokesperson for Delta Air Lines confirmed that law enforcement met the flight when it landed on Sunday afternoon.
"Law enforcement officials and medical personnel met Delta flight 2349 operating from Atlanta to Boston upon arrival on Sunday, February 14, due to a disruptive customer on board," the spokesperson said.
"We will defer to local law enforcement and others for specific details and further questions related to this incident. As always, the health and safety of our customers and employees remains our top priority."
A possible motive for the incident was not immediately clear.
David Procopio, a spokesperson for the Massachusetts State Police, told WCVB that it was aware of the alleged assault on the flight attendant. However, he said the FBI had jurisdiction over the investigation.
The Massachusetts State Police, the FBI and the Federal Aviation Administration have been contacted for additional comment.
Related Articles
Woman Dragged Across Tennessee Bar Floor for Not Wearing Mask in Viral Video
Woman Slaps Store Employee During Mask Dispute Caught on Surveillance Video
Woman Fatally Shoots Boyfriend Outside Walmart on Valentine's Day, Police Say
Plane Slides Off Taxiway Before Takeoff at Pittsburgh Airport
Start your unlimited Newsweek trial
Source: Read Full Article