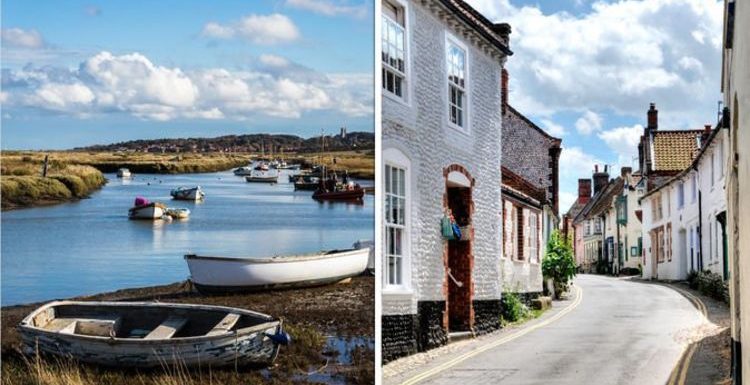 Norfolk: Couple spot shark fin poking out above the surface
We use your sign-up to provide content in ways you've consented to and to improve our understanding of you. This may include adverts from us and 3rd parties based on our understanding. You can unsubscribe at any time. More info
Located in an Area of Outstanding Natural Beauty on the North Norfolk Coast, one village was singled out by Which? readers as one of the best. With its flint cottages, Medieval buildings and incredible wildlife, the village has something to offer to everyone.
Blakeney was once the home of fishermen and smugglers, before the estuary started silting up.
Nowadays, the estuary is made up of marshes, sand hills and mud banks and the village is a popular resort for holidaying Britons.
In town, visitors can see the remains of the 15th century Blakeney Guildhall.
Once the house of a prosperous merchant, it later became the Guildhall of Blakeney's guild of fish merchants and is notable for its brick-vaulted undercroft.
READ MORE: British expats in Spain: Christmas food warning
On Tripadvisor, Paul R said; "Blakeney guildhall is an attractive but modest and small building with local historical interest.
"More than anything it is simply one small element that adds to the overall ambiance of this peaceful, delightful small port."
St Nicholas church is a 13/ 15th century church with two towers and is worth a look for architecture lovers.
While Blakeney is full of history and interesting buildings, the main reason holidaymakers come to these parts is the wildlife.
The National Trust's National Nature Reserve is the highlight of the region.
With uninterrupted views of the coastline and plenty of opportunities to spot wildlife, the Reserve is the attraction bringing visitors from far and wide to Blakeney.
Birdwatching is a popular activity all year round, with a summer tern colony of particular importance.
In winter, the seals get all the attention.
Blakeney is the largest seal colony in England and a visit to the village would not be complete without a look at its most famous winter residents.
To see the seals, Britons can walk but it's recommended to get a ferry from Morston Quay as there are restrictions to protect nesting birds and fragile habitats.
On Tripadvisor, user Tring said: "A beautiful place to walk – amazing views and lots of wildlife to see.
"Would recommend taking good binoculars with you. Lots of seals to see in the water."
Geoff H wrote: "If you love nature, then this is the place for you.
"One of the best ways to see the Reserve is from one of the seal watching boat trips from Blakeney. If you are lucky, you will be able to get up close."
Karen S said: "Highlights include the seals basking on the sand and the sight of cormorants catching their lunch.
"The amazing variety of birds and the open views are just breathtaking."
In Blakeney, most of the fun is located around the Quay with sailing, kayaking wand 'ghillying' – fishing for crabs – popular activities.
In summer, the Sailing Club Regatta's Greasy pole challenge has become infamous and is not to be missed for holidaymakers in the region in August.
Source: Read Full Article