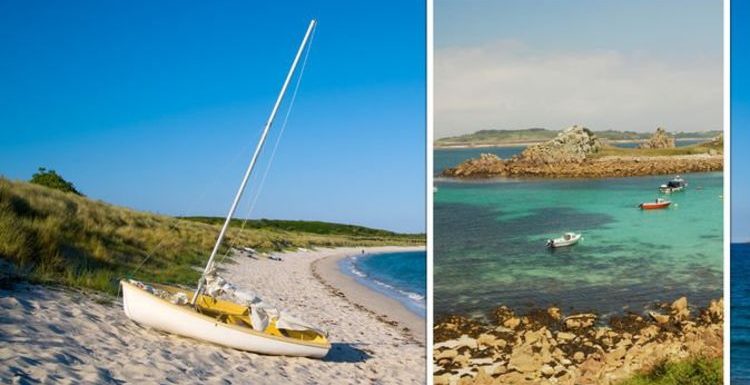 Prince Charles and Camilla arrive to Isles of Scilly
We use your sign-up to provide content in ways you've consented to and to improve our understanding of you. This may include adverts from us and 3rd parties based on our understanding. You can unsubscribe at any time. More info
The best Area of Natural Beauty (AONB) in the UK was named by Which? readers. The UK is home to plenty of natural beauty, but where are Britons having the best experiences?
Coming top was the Isles of Scilly.
The smallest AONB, the archipelago off the Cornish coast offered visitors the best scenery, walks and wildlife-spotting opportunities.
Also ranking best for peace and quiet, the Isles of Scilly are a fantastic destination for nature lovers.
The islands are not the easiest to get to, and this may add to their attraction.
With wildlife aplenty, from puffins to seals, harbourside pubs and ancient ruins,
the Isles of Scilly are a great UK holiday spot.
READ MORE: British expats in Spain: Christmas food warning
Reachable by boat, cars are rare on the islands and Tripadvisor user Mel S called the isles "paradise".
The largest island of Scilly is St. Mary's and it is also the gateway to the rest of the islands.
Over six square miles, the island has three beaches a Garrison Wall and a Iron Age burial chamber at Bant's Carn.
Hugh Town and Old Town are the two "major" settlements of the island and where most visitors will congregate to start their Scilly adventures.
Tresco offers luxury in a sub-tropical paradise and is the only privately-owned Scilly island.
One of its most famous attraction is the Abbey Garden and its Valhalla Museum.
The garden is home to 20,000 plants from more than 80 countries.
Beach lovers will want to head to St. Martin's.
While only two miles long, the island is great for a beach holiday.
It's also a fantastic place to go for a tipple, with a vineyard to visit and the first – and only – rum distillery in Scilly, SC Dogs Rum Distillery.
Britain's most south westerly point, St. Agnes is a small island with Bronze Age burial sites.
Visitors can go to Gugh at low tide to see the Bronze Age Obadiah's Barrow or stop at the gin distillery, Westward Farm Gin.
Bryher inspired Michael Morpurgo's novel, Why the Whales Came, and was the setting of the film based on the book.
The island has a phone box mini-museum, and visitors should not leave without trying the local seafood.
The Isles of Scilly is also comprised of around 140 uninhabited islands.
The largest archipelago in the UK, only five islands are inhabited and many of the others are never visited by anyone, home only to birds and wildlife.
Some of the inhabited islands are reachable by day boats and make fantastic day trips for adventurous holidaymakers.

Source: Read Full Article