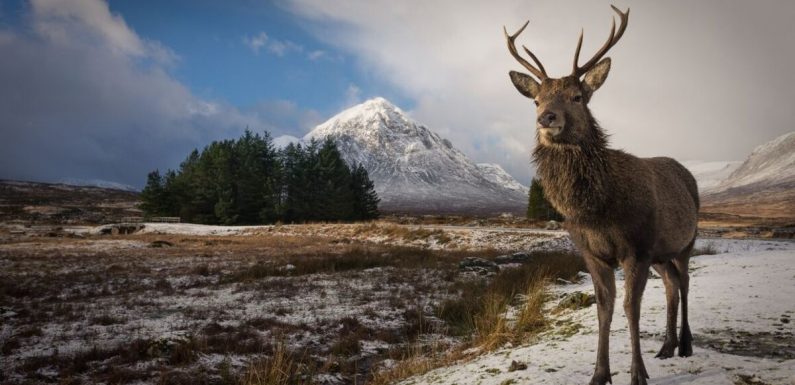 We use your sign-up to provide content in ways you've consented to and to improve our understanding of you. This may include adverts from us and 3rd parties based on our understanding. You can unsubscribe at any time. More info
ComparetheMarket looked at staycation destinations around the UK to find the most beautiful spot. The team analysed the number of lakes, listed buildings and mountains to locate the best winter staycation.
Best winter staycation destination
The Scottish Highlands
Devon
Cornwall
Edinburgh
Kent
Essex
Glasgow
Greater London
Norfolk
Suffolk
The Scottish Highlands were named the UK's most beautiful destination for a winter staycation.
With over 300 lochs, almost 5,000 mountains and over 4,500 listed buildings, the Highlands are the best spot.
The team said: "Known for its glorious scenery, the Scottish Highlands has the most lochs and hills and mountains in Britain, making it the most beautiful location.
"The Highlands also boasts 776 walking trails suited to all kinds of walkers, and 4,513 listed buildings to gaze at in all their glory."
British tourists will need to wrap up warm for a Highlands staycation but will be rewarded with stunning views.
Winter is a great time to spot some of the Highlands' unique wildlife including redwing and waxwing birds.
The redwing is the UK's smallest thrush and travels to Scotland each winter from Iceland and Scandinavia.
Winter can also be a good time to spot deer as they tend to move down from the mountains for lower grazing.
Tourists could also visit the island of Islay to see the 50,000 wild geese that visit there between October and April.
After a spot of goose watching, visitors can always warm up at one of the island's whiskey distilleries.
Devon was the second best rated spot for a winter staycation and could be perfect for anyone looking for a windy beach stroll.
The team said: "It's not just beaches and coastline – Devon also has the most listed buildings of all the locations looked at.
"With so much history to explore, it's no wonder it ranks in second place. The county also boasts over 400 hills and mountains, giving you the perfect opportunity to get a good view of the surrounding areas."
Neighbouring Cornwall rounded off the top three while Edinburgh and Kent also made the top five.
Tourists travelling to Edinburgh in December will be able to enjoy the city's pretty Christmas markets.
Kent could be the perfect spot for eager hikers as the destination has over 500 walking routes.
Source: Read Full Article