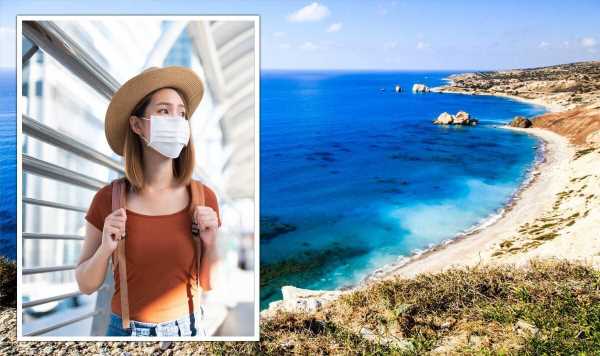 Prince Edward and Sophie meet UK military members in Cyprus
We use your sign-up to provide content in ways you've consented to and to improve our understanding of you. This may include adverts from us and 3rd parties based on our understanding. You can unsubscribe at any time. More info
Face coverings will be mandatory in all indoor public venues including in shops, pubs and restaurants. The rule comes into effect in Cyprus on July 8.
Covid cases have tripled in Cyprus in the last month with around 1,500 cases a day on average on July 5 compared to fewer than 300 a month ago.
Cyprus only lifted its face mask rule in June, marking a quick U-turn for the Government as cases rise.
There are concerns that other top holiday destinations could make the same decision as cases soar across Europe.
Cyprus' Health Minister, Michalis Hadjipantela, said that a rise in hospital cases had prompted the decision.
Face masks were already reintroduced in pharmacies, clinical labs and at Government testing sites.
Cyprus is a popular holiday destination with many tourists excited to travel to one of the country's beach resorts this summer.
Spain's Health Minister has also warned residents to wear masks in crowded indoor spaces.
Covid cases are on the rise in Spain with hospitalisations now at their highest level since February.
Currently British tourists have to demonstrate proof of vaccination or a negative test to enter Spain.
They can also travel to the country if they have proof of a recent infection with the virus.
Covid cases are also rising in France and are currently at their highest level since April with a spike of almost 80 percent in infection rates over the last fortnight.
France's health minister has advised citizens to wear masks on public transport although it is not currently mandatory.
Portugal has just dropped all its Covid entry restrictions with unvaccinated Britons now able to travel without taking a test.
Cases in Portugal have been falling with experts saying the country is "unlikely" to reintroduce measures.
Infections are rising in Germany with Covid cases currently at a two month high in the country.
Tourists must wear an FFP2 surgical face mask on public transport in Germany at all times.
Covid infections in Italy are also currently at a five month high and are up almost 40 percent in a fortnight.
Masks are required in Italy on public transport and people who test positive must isolate for a week.
British holidaymakers in Turkey are no longer required to prove they are vaccinated or test negative to enter the country.
They also do not have to wear masks although health chiefs advise that people wear them in crowded spaces.
Source: Read Full Article