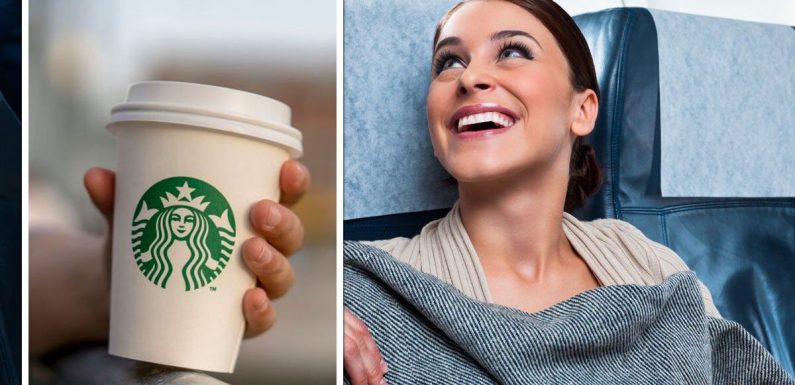 Travel tips: Marie Kondo shows how to pack luggage efficiently
We use your sign-up to provide content in ways you've consented to and to improve our understanding of you. This may include adverts from us and 3rd parties based on our understanding. You can unsubscribe at any time. More info
If you are taking a carry-on with you on your next trip abroad, you may be worried about meeting the strict restrictions regarding liquids. Some seasoned flyers have provided their top tips for (plane) sailing travel.
Reddit user @u/kooL_uoY_edaM_I took to the social media forum to ask others for their best travel secrets.
They asked: "What airline-travel 'hacks' do you use that actually work well?"
Reddit users came flocking with their helpful suggestions, with ideas from the comfiest clothes to wear on board, to how to snag freebies.
A Reddit user posting under the username easilydistracted123, shared a hack which could save passengers money.
They recommended bringing an empty one through security to avoid incurring costs on the other side.
The user wrote: "Bring an empty water bottle to refill after you go through security. So you don't have to pay $6 (£5.07) for a bottle of water.
"Bring snacks from home in your carry-on! Just take them out of your bag when you go through security! Save at least $20 (£16.91) bucks!"
Reddit user @three-five-zero shared how passengers can avoid being incredibly bored on flights without forking out for pricey magazines or books.
They suggested loading up mobile devices with different media, such as games or films.
A user posting under the name @tomharden69 said: "A nice hoodie is key. If it's too warm, you can use it as a blanket or pillow. If it's too cold then thank goodness you wore a hoodie."
@individualchaotin shared their crafty way to get special treatment on board, by making some airport purchases for cabin crew.
They advised: "Bring a small gift for the flight attendants, chocolate, doughnuts, Starbucks gift cards.
"They will spoil you with snacks and drinks all flight long."
"If you're in first class, you'll get extra pillows, blankets, a mattress, slippers, and pyjamas, your glass is always full, and they'll save your favourite snack for you."
They continued: "If you're in Economy, you might get a First Class meal, free snacks that are usually purchased, free alcoholic drinks, etc."
Spending a little money on something small for the flight attendant may reap huge rewards, so according to this user, it's "absolutely worth it".
Finally, one user suggested how to get a whole row to yourself and your loved one at no extra cost, simply by booking the window and aisle seats.
A Reddit user posting under the name @gigibuffoon explained that people often won't book the middle seat as their first choice if the window and aisle are already taken.
In lucky circumstances, this means a two-person travel party can get a whole row to themselves.
However, @gigibuffoon explained that in his experience if someone is assigned the middle seat they'll "always be willing to switch to the aisle seat so we can sit together".
Source: Read Full Article