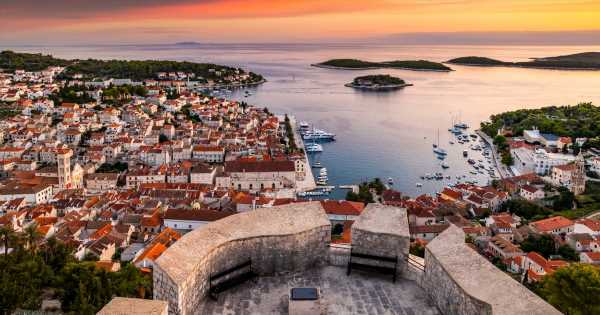 Did I know a downward dog from a tree? No, but by the end of the yoga class I felt like a pro.
OK, maybe that was stretching it a bit, but I certainly couldn't have picked a more perfect spot for my first ever lesson – Croatia's TUI Blue Jadran hotel.
Located in the stunning resort of Tucepi on Croatia's Dalmatian coast, overlooking a magnificent beach and fragrant pine forest, the designer hotel is part of TUI's lifestyle brand.
READ MORE: Europe's cheap Lake Como alternative with heaps of glamour and stays from £7 a night
I had chosen the beginners' yoga session from a wellness menu designed with TV presenter and fitness icon Davina McCall.
Booking it was easy on the handy TUI Blue app which encouraged me to try out other new activities.
Pilates was more intense than I had expected, working muscles I never knew I possessed – I had no clue I have a core – despite an AS Level in PE.
Aching muscles aside, I felt more alive and relaxed than ever before, so I raised the bar with a hardcore high-intensity training class, which I also enjoyed.
Trying paddle-boarding in the quiet cove next to the hotel was more of a challenge as I attempted to keep my balance in the open sea. At least my acrobatic tumbles into the water kept everyone entertained!
But it's not all workout and no play. At the hotel's spa, a full-body massage not only eased those sore muscles but sent me drifting blissfully off to cloud nine.
Set between the Adriatic sea and the Biokovo mountains, the hotel on the Croatian coast was built in 1948, closing its doors to guests in 1989, a couple of years before the Croatian War of Independence.
Reopening after a multi million-pound makeover in 2017, behind its historic facade lie 161 stylish rooms and suites, two bars and two restaurants, plus swimming pools including an infinity pool with spectacular sea views.
At the buffet restaurant, which serves traditional Croatian and Dalmatian dishes, I seized the opportunity to get my first taste of scorpionfish – minus the poisonous spines, of course.
On an evening trip into Tucepi town, we tucked into tasty beef steak and freshly caught fish at Konoba Ranc restaurant in the relaxing setting of an old olive grove.
Venturing further afield the next day, we drove 55 miles up the coast to Split, Dalmatia's biggest city.
A tuk-tuk tour is the best way to see the old town, dominated by Diocletian's Palace, built by the eponymous Roman emperor in the third century.
The UNESCO world heritage site is a must-see for history buffs and Game of Thrones fans will recognise the fortress as part of the city of Meereen.
Being a big Thrones fan, it was especially exciting to walk through the basements of the palace where Daenerys kept her dragons, and I couldn't resist a browse in the gift shop.
Split is also home to one of the quirkiest attractions I've ever seen.
A few eyebrows were raised when we stepped into Froggyland but this bizarre museum, filled with stuffed frogs depicted in eerily lifelike scenes such as a school classroom and a swimming pool, has proved a popular tourist attraction.
While on an island-hopping boat trip from Split we landed on beautiful Brac island.
There was ample time for swimming and snorkelling off picturesque Golden Horn beach in Bol but I was transfixed by an inflatable assault course – cue the greatest 30 minutes of my life, with Total Wipeout-style fun.
I recovered from my exertions over a delightful lunch in the quaint port of Milna.
It was worth stopping off at Hvar to take in the picture-postcard views from the island's medieval hilltop fort.
I cooled down with scrumptious orange and chocolate jaffa flavour ice – the best ice cream I've ever tasted.
Back at the hotel there was time to appreciate Croatia's fine dry whites at a wine-tasting session which I'd found and booked on the app – Grasevina and Posip are highly recommended – before ending the evening at the Pink Cricket restaurant.
Cooked over special grills, the three-course barbecue dinner of mildly smoky fish and meat was tender and juicy, and was accompanied by crispy caramelised vegetables.
Then it was straight on to the app to book my next exercise class to work off those calories!
How to book
TUI offers a seven- night half-board holiday to the TUI Blue Jadran hotel in Dalmatia, Croatia, from £598 per person.
Includes flights from Luton on May 2, with 23kg baggage and transfers; Bristol on May 6 from £629, Glasgow on May 10 from £664; tui.co.uk
You can also find out more at croatia.hr/en-gb.
READ NEXT:
Inside Turkey's 'cave city' with hidden hotels, 'fairy chimneys' and hot air balloons

National park that inspired Avatar has 'floating' mountains and towering cliffs

Inside the 'most alien looking place' on Earth with bizarre trees and animals

Amazing Love Island style Airbnbs you can hire with mates from £21pp per night
Source: Read Full Article