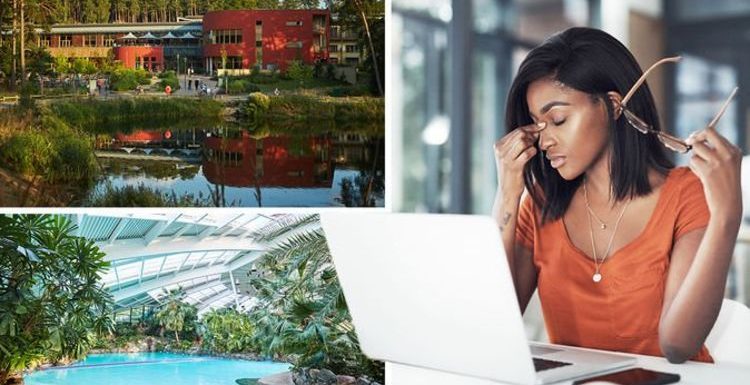 Center Parcs: Simon Calder explains reason for success
When you subscribe we will use the information you provide to send you these newsletters.Sometimes they'll include recommendations for other related newsletters or services we offer.Our Privacy Notice explains more about how we use your data, and your rights.You can unsubscribe at any time.
Center Parcs holidays were encouraged yesterday by travel expert Simon Calder. He told ITV viewers that some great deals are available to be snapped up. "The big holiday companies in the UK, so we're talking about Butlins, Havens, Centre Parcs, Forest Holidays, all of them offering great, great deals," said Simon.
However, Britons on Twitter are not so convinced.
Many have shared on the social media platform their shock at the expense of a Center Parcs holiday this year as British holidaymakers opt to stay in the UK amid the pandemic.
Center Parcs, along with Haven and Butlins, which hope to open in March, have all hiked their prices for Easter
At Center Parcs in Woburn Forest, Bedfordshire, a two-bed Woodland Lodge for seven nights from March 19 costs £97.
However, at Easter time, from April 2, it is £2,498 – a rise of £1,520 or 155 per cent.
Meanwhile, during the summer holidays, a stay in a two-bed Woodland Lodge from July 16 will set you back £1,848.
Twitter users aired their thoughts on the price rise.
"Wonder if the politicians booked their 'staycations' before saying that foreign travel wasn't looking likely this year, thus getting a cheaper price than we are all now looking at? Center Parcs is £1,500 more expensive than normal," one person tweeted.
"Imagine the price of a Center Parcs break this summer. Probably about the same as the cost of a two bed house in Scunthorpe," another wrote.
A third posted: "Just made a reservation for three nights in Center Parcs in the rain. £1,600 for accommodation only. The problem right there!"
Another tweeted: "Me: hi @CenterParcsUK we've got our break coming up which is in the lockdown.. so can I change the date? Center Parcs: of course! Here's your new date.
"Great! Is there anything else I need to do? well yes there's just the extra FIFTEENHUNDRED quid to pay."
Parks are currently set to open from March 7 at the earliest, though this is dependant on Government updates and guidelines.
A statement from Centre Parcs explained: "Following recent indications from the Government that restrictions will continue into March we have made the decision to extend the closure of all our UK villages until at least March 7 2021. Our priority continues to be the safety of guests and staff.
"We will continue to monitor government announcements closely and will be ready to welcome our guests back when the time is right and with all the appropriate measures in place.
"All guests impacted by the closure period will receive an email from us February 3 with instructions on how to cancel activities and restaurant reservations and how to reschedule with a discount to the value of £100 or cancel with a full refund."
The extended closure is applicable to all resort locations including Sherwood Forest, Eleven Forest, Longleat Forest, Whinfell Forest and Woburn Forest.
Customers with travel plans after March 8 are directed to the Centre Parcs website, where new updates will be issued for customers.
"Government COVID Alert/Tier levels may change and rules and advice are constantly under review," a company spokesperson previously explained.
"Guests must check government information themselves to understand any changes or new rules prior to visiting Center Parcs, booking a new break or when considering a date change or cancellation of an existing booking."
Express.co.uk has contacted Center Parcs regarding the raised prices.
Source: Read Full Article