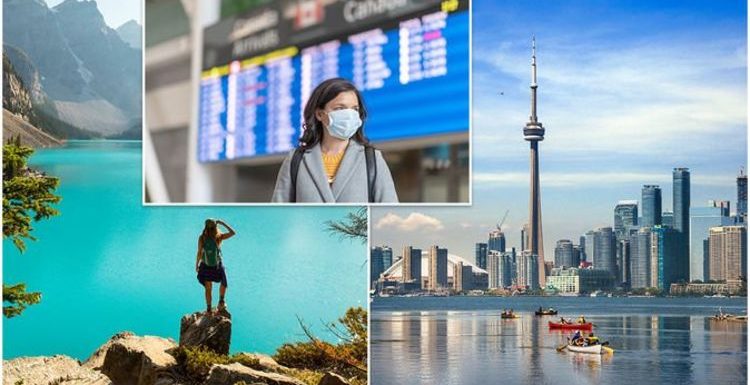 Canada: Coronavirus vaccine uptake discussed by expert
We use your sign-up to provide content in ways you've consented to and to improve our understanding of you. This may include adverts from us and 3rd parties based on our understanding. You can unsubscribe at any time. More info
Canada has announced plans to reopen its borders to UK travellers in a matter of weeks. If the epidemiological situation remains "favourable" in both Canada and the UK, the nation plans to reopen from September 7, 2021.
However, only fully vaccinated travellers will be permitted initially.
This means Britons who have not received both doses of an approved coronavirus jab 14 days or more before travel will not be permitted to enter Canada.
What entry requirements will be in place for Britons visiting Canada?
From September 7, passengers who are able to provide official evidence of having received two doses of an approved COVID-19 jab will be able to enter the country.
Travellers must upload their vaccination evidence into the ArriveCAN app.
Accepted vaccines in Canada include Pfizer, Moderna, AstraZeneca, and Johnson & Johnson.
Canadian officials will accept travellers who have received a "combination of accepted vaccines".
Along with vaccines, all travellers aged five years and older must provide proof of a negative COVID-19 test result taken within 72 hours of the scheduled departure time of their flight.
Alternatively, those who have previously recovered from coronavirus can provide proof of a positive COVID-19 molecular test when crossing the border, instead of a negative one.
DON'T MISS
Spain holiday rules: The important rules you MUST follow [ADVICE]
The fastest pop up tents for a hassle-free staycation this summer [REVIEW]
Green list update: When is the next traffic light travel review? [INSIGHT]
The test must have been conducted at least 14 days and no more than 180 days before the initially scheduled departure time.
All travellers must enter a "suitable quarantine plan" into the ArriveCAN app as preparation in case they are required to quarantine.
Travellers who are found to be symptomatic or who do not meet the set-out requirements must quarantine.
Upon entering the country, border officials will be conducting "randomised" testing.
Those who are selected must take the arrival test as directed or may receive a home test kit to complete within 24 hours of entering the country.
Fully vaccinated travellers are not exempt from random testing.
What rules are in place for returning from Canada?
At the time of writing, Canada is on the UK's amber list for travel.
However, the next review is anticipated on or around Wednesday, August 25, 2021.
See the latest Covid vaccine stats below and visit InYourArea for all the Covid vaccine latest
Paul Charles, CEO of the PC Agency, has predicted that Canada could move to the green list based on its rate of infection and vaccine rollout,
However, there is no confirmation as to whether or not this will happen.
Currently, unvaccinated arrivals from Canada to the UK must self-isolate for 10 days.
Fully vaccinated Britons arriving in the UK from Canada can side-step quarantine.
Pre-departure and day two PCR tests are required for all arrivals, with unvaccinated arrivals required to take a further PCR test on day eight of their arrival in the UK.
Source: Read Full Article