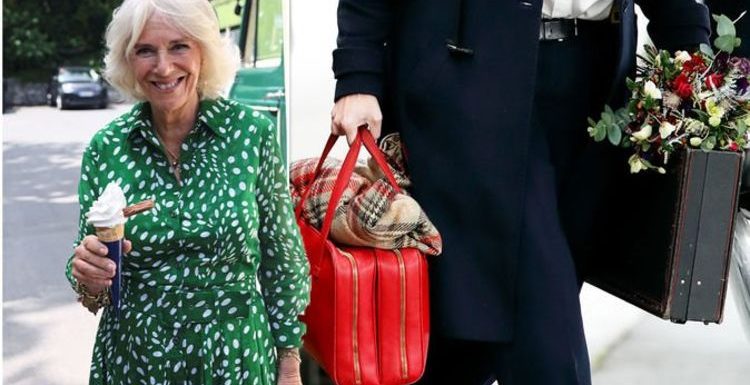 Camilla's face mask difficulties discussed by royal commentators
When you subscribe we will use the information you provide to send you these newsletters. Sometimes they'll include recommendations for other related newsletters or services we offer. Our Privacy Notice explains more about how we use your data, and your rights. You can unsubscribe at any time.
Camilla Parker Bowles may be 73, but even at her busiest she is said to prioritise "healthy ageing". As part of her role as a Royal Family member and wife of Prince Charles, the Duchess of Cornwall is often required to fly long distances and spend time away from the UK representing the UK.
With so much travel experience behind her, the Duchess has come up with a specific packing list to ensure all of her needs are met.
This includes making sure she always packs a specific fitness item to help her remain "supple".
Camilla is a big fan of both yoga and pilates, ensuring she even gets her practice in while overseas.
In his 2018 book Queen of the World, royal author Robert Hardman revealed she always take a yoga block on her travels to aid her practice.
The revelation was made during a 2017 tour of Southeast Asia which the Duchess made alongside the Prince of Wales.
"The Duchess is touring a community centre where she turns her hand to art, flower-arranging and cooking, and drops in on a yoga class for senior citizens," wrote Hardman.
"They all obediently freeze in position as she walks in.
"She spots a 'back brick' and tells her guide that she never travels without one.
DON'T MISS
Camilla, Duchess of Cornwall once has shoes flown 3,000 to Kuwait [INSIDER]
Portugal quarantine rules for Britons come into force [WARNING]
Spain holidays: Brit traveller says Spain is 'very safe' [COMMENT]
"'Healthy ageing – that's what we all need,' she says cheerfully."
Yoga blocks are said to help make certain poses more accessible, provide support for those practising and even boost strength.
Made from foam, the blocks are also relatively lightweight which means they are fairly easy to transport.
According to insiders, while at a yoga class in Singapore, the Duchess commented on her own love of the practice thanks to its health benefits.
"It's very good for you yoga, isn't it?" She said.
"I do a bit of yoga. A bit of yoga and a bit of Pilates.
"It's very good for you as you get older, it makes you less stiff – good for your muscles.
"It makes you much more supple.
"I think it's very important as you get older to take exercise and stretch."
Yoga is not the only self-care regime Camilla engages in on her travels.
According to Hello! magazine, the Duchess of Cornwall has also been known to pack the Bee Venom Mask cream from skincare line Heaven.
As the name suggests, the face mask concoction is made using actual bee venom and has been hailed as a nonsurgical alternative to a facelift.
Camilla is also said to have recommended the product to Kate in the lead up to her wedding.
Source: Read Full Article