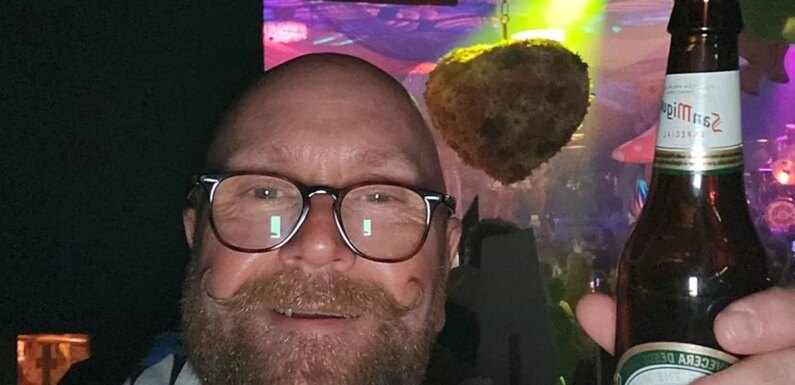 Brits have been snapping up some incredible holiday deals to Ibiza – from one man who bagged £25 flights so he could hit the clubs, to a group of mums who had a girls' day out in Ibiza as it was cheaper than the UK.
While for most of us the cheap flights mean we can keep the cost of our annual holiday down some Brits are using them to extend the range of their day trips. One of the main hotspots for such speedy trips is Ibiza – the rave capital of Spain.
But it's not just young adults taking advantage of a hop over to the party town; it's everyone from dads in their 60s, to mums whose children are at school and one bloke who wanted to see if he could fly to Spain for a pint cheaper than a case of beer in the UK.
READ MORE: Bloke gets flight to Italy and delicious pizza – for less than price of Domino's
Read all the latest stories from the Daily Star's travel team
Andy Armstrong, 63, spent £25 on a flight to Spanish party island Ibiza and headed out to clubs Ushuaia and Pacha before kipping on the beach and returning home. Party animal Andy Armstrong took nothing but a change of clothing in a carrier bag for his speedy holiday away.
He had just returned from a trip to Ibiza when he went back to work – only for his colleagues to encourage him to return without booking a hotel to sleep at. He caved to the pressure and decided to fly to the Spanish island by booking a Ryanair flight from Newcastle Airport to Eivissa Airport, Ibiza, for just £25, on August 21, at 5pm.
The raving dad partied the night away, slept on a sun lounger and then got a flight back home. Andy said: "One thing about Ibiza, you never feel old or alone. When I got to Ushuaia, I treated myself to The Unexpected Breakfast, as it is called. I got a taxi at 11am to the airport and got the obligatory photo taken at Ibiza's iconic last stop – Burger King."
He's not the only one to grab a cheap flight to the party hotspot. Clare Jeffs, 36, and Hannah Brown, 38, from Stockport, Greater Manchester, left their young children at home to sunbathe, dine out and explore the Old Town of Ibiza. The pair spent just 10 hours on the island as they wanted a day out together.
They bagged some flights for £37 – cheaper than the cost of a train to London – and went to enjoy brunch before coming home to their little ones. They left home at 3am by taxi and arrived back at midnight after seeing the sights.
Clare said: "The flight was for 5.45am and was all on time. When we got there, we picked up a hire car and drove to Old Town. We had brunch, had a walk around the harbour and the old church and just around the old streets. Then we sat watching the sea from a wall. It was beautiful.
"We then went to the beach and ate paella, and then drove to a different beach where we stayed there for a couple hours before leaving at around 8pm."
Clearly, there's something to be said for a girls' day out, as Rebecca Ratcliffe, 38, from Manchester, organised return flights for herself and five school mums for cocktails and sunbathing on Ibiza, before returning at 11pm the same night in time for the Monday school run.
Laura, Danielle, Fay, Rebecca, Danielle and Lauren chose to wake up early and catch the 6am flight from Manchester before landing to spend Sunday on the island. They took just a handbag each and enjoyed some food, wandered by the marina and explored the marina before having cocktails by the sea.
Rebecca commented: "We were so blessed with the weather — the sky was cloudless. It was such a good day. I spent time in gorgeous company with supportive friends all on the mum journey together."
Bargain hunters have also taken on the challenge of finding cheap ways to get to the popular holiday spot. Callum Ryan headed off to the Spanish island and swigged a pint, all as part of a TikTok challenge for less than £15. The 22-year-old went to the supermarket where he spotted 12 cans of Estrella for £15 – and set that as his budget for his trip to Ibiza.
He found a flight from London for a tiny £10 and hopped over to Ibiza where he bought a pint for £3.22. Meaning he went to Spain for a drink and spent just £13.22 succeeding in his challenge before he returned home. Callum said: "When the pint arrived, it looked beautiful. The sun was beaming down on my face and I couldn't be happier.
Source: Read Full Article