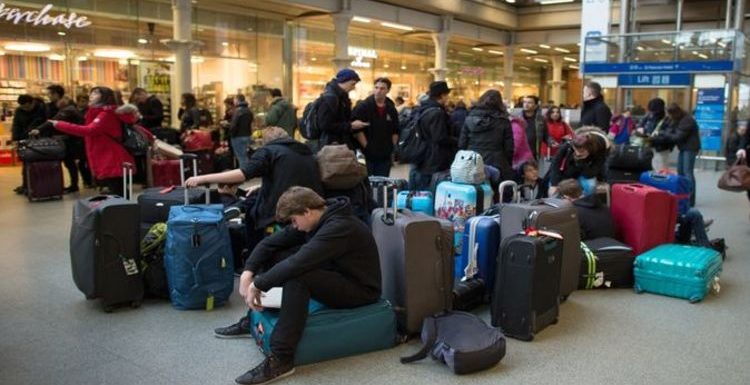 Boris Johnson discusses booster jabs for international travel
We use your sign-up to provide content in ways you've consented to and to improve our understanding of you. This may include adverts from us and 3rd parties based on our understanding. You can unsubscribe at any time. More info
UK citizens are now subject to the same travel rules as non-EU residents and in 2022 will need to pay a new travel fee. The European Travel Information and Authorisation System (ETIAS) is set to begin next year.
The scheme means that all non-EU residents, including British citizens, will need to fill out a form and pay to enter the Schengen zone.
The ETIAS is a visa-waiver scheme and British travellers will need to pay a seven euro (£5.88) fee before travel.
ETIAS will apply for all 26 Schengen countries, including the popular British holiday destinations of Spain and Portugal.
The only EU countries that are not within the Schengen zone are Ireland, Bulgaria, Croatia, Romania and Cyprus.
That means that British residents will still be able to visit Ireland without paying the ETIAS fee.
ETIAS has suffered delays so is now due to come towards the start of 2022 and be fully operational by the end of next year.
British tourists have been advised to wait until the official ETIAS website is live as there are reportedly several websites running scams.
Although the ETIAS was planned before Britain left the EU,UK nationals are only subject to the rule due to Brexit.
Britons will not have to go to a consulate to apply for the ETIAS and the scheme is expected to be run online.
Those under the age of 18 and people over the age of 70 will be exempt from paying the ETIAS fee to visit the Schengen zone.
British tourists will need to pay the ETIAS fee more than once as it is only valid for three years.
If a Briton's passport expires within the three year period, they will also need to pay for a new ETIAS.
British people will need a passport and to provide some personal information to qualify for the ETIAS.
They will not normally need to attend an interview at a consulate unless their application raises any issues.
The European Commission has said that it is likely at least 95 percent of ETIAS applications will be successful.
Applicants could be rejected if the document has been reported as stolen, the person poses a security or epidemic risk or if there is reasonable doubt about information supplied.
The ETIAS system will cross check applicants against Interpol and Europol data as well as the Schengen Information System.
British travellers can only stay in the Schengen zone for 90 out of every 180 days without a visa.
Some phone operators have also scrapped free data in the EU for non-EU citizens which means Britons will need to pay roaming charges.
British citizens are advised to check the UK Government website for the latest rules and restrictions before travel.
Source: Read Full Article