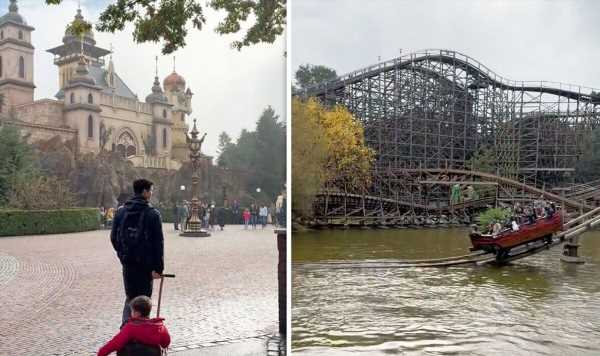 @thetravelmum

If youre looking for a fun place to go that wont break the bank, this ones for you@Efteling is a theme park weve wanted to visit for a long time. It is just an hours drive from Amsterdam, making it a perfect addition to a city break.Ill be making more videos on this park over the coming days so let me know what you want to know! #efteling #gifted #themeparks #disneylandparis #eftelingthemepark #familytravel #cheaptravel #thetravelmum #travelwithkids #themeparktok

Fairytale world view, girly techno long A(1008259) – motofuji
TikTok creator Thetravelmum took to the social media platform to share her review of Efteling, a Dutch theme park that offers a great experience for a fraction of Disneyland's cost.
In a video showing the highlights of the park, the online user showed her followers the impressive rides and entertainment options.
She told viewers: "We have been told this theme park is better and cheaper than Disneyland, let's go and check it out.
"Efteling is a theme park in the Netherlands and with no queue to get in, tickets starting at just £34, and these cool little trolleys that you can pull bigger kids around in, I'm already impressed.
"As you walk around, there's all the magic and attention to detail that you get from a Disney park."
Read more: Europe's cheapest city for British expats has coffee for under £1.50
But the affordable prices and great facilities were not the only standout of her trip, as the creator also praised the short queue times and variety.
She went on: "This park is huge, there's a great app you can download and as you can see, the majority of queue times are less than 10 minutes.
"There are some amazing indoor rides which absolutely blew Leo away. There's a fairytale forest where we spent two whole hours exploring.
"The good thing bout this park is there's also a lot of bigger rides for adults and big kids."
The British mum continued: "There are tons of themed restaurants and all the food we had was delicious and really well priced."
Don't miss…
The European island with incredible public transport[LATEST]
I explored the capital city of Europe's richest country on a budget[TRAVEL]
'I'm a travel expert and this is Europe's best city for interrail'[INSIGHT]
Efteling is a fantasy-themed park based on fairytales, and since opening in 1952 it has drawn in over 100 million visitors.
The park's attractions are inspired by various elements from ancient myths, fairy tales, legends, fables, and folklore.
From the iconic wooden rollercoaster known as Joris en de Draak, translating to "George and the Dragon", to a mystical forest and a haunting "cursed villa," each ride is intricately tied to a captivating story.
Situated in Kaatsheuvel, it proudly holds the title of being the largest theme park in the Netherlands, even though it remains somewhat of a hidden treasure among tourists.
Advert-free experience without interruptions.
Rocket-fast speedy loading pages.
Exclusive & Unlimited access to all our content.
Get all the latest news, entertainment, sport and lifestyle updates from our dedicated American team.
Follow Daily Express US on Facebook and Twitter @ExpressUSNews
Source: Read Full Article