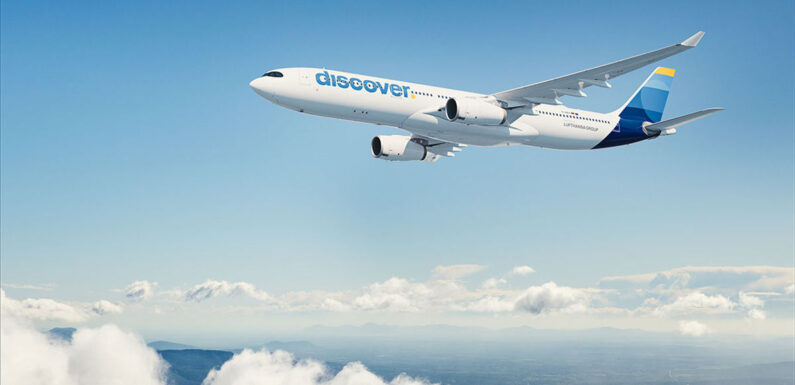 Lufthansa Group has rebranded its Eurowings Discover leisure brand as Discover Airlines.
The first newly painted Discover plane, an Airbus A320, made its inaugural flight Tuesday, going from Frankfurt to Palma de Mallorca. 
The rebranding has also extended to the airline's website and social media channels. Overhauls of airport signage, crew uniforms and cabin furnishings, as well as the remaining livery transformations, are to follow in the coming months.
"The design is inspired by colors and elements that aim to awaken memories of holidays, relaxation and the desire to travel," Lufthansa Group explained in an announcement. "The various shades of blue, the so-called 'skylines,' represent the colors of the sky, the horizon and the water, while the sun and beach are reflected in yellow accents.
The gradient of colors evokes the view from the aircraft window as passengers look toward the horizon or the sea."
Discover Airlines flies a fleet of 22 Airbus planes, including 12 A330 widebodies. The carrier plans to expand to 28 planes in the coming year.
Next summer, Discover plans to serve seven U.S. destinations from its Frankfurt hub, according to a company graphic: Anchorage, Salt Lake City, Las Vegas, Philadelphia, Orlando, Tampa and Fort Myers, Fla. 
Source: Read Full Article