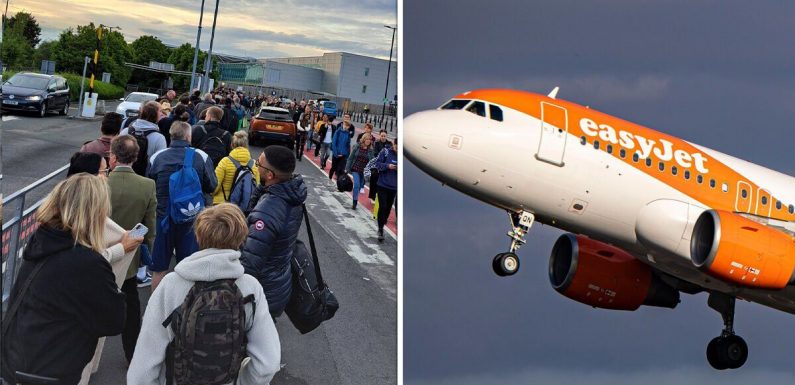 Simon Calder outlines customer rights after EasyJet cancellations
We use your sign-up to provide content in ways you've consented to and to improve our understanding of you. This may include adverts from us and 3rd parties based on our understanding. You can unsubscribe at any time. More info
easyJet, TUI and British Airways have all cancelled flights in recent days just as demand picks up. Many passengers have been disappointed as they try to escape the UK for a well-deserved half-term break.
Passenger rights in a queue
Long security queues at Bristol airport have caused chaotic scenes for passengers this morning.
Rory Boland, editor of Which? Travel said: "Millions of holidaymakers set to jet off this half-term and bank holiday weekend are frankly panicked by last-minute flight cancellations by some airlines and unacceptably long queues at airport security, check-in and bag drop.
"Reassuringly, the number of people who have missed a flight because of queues is very low.
"But if you are stuck in a queue and your flight is due to depart shortly, make a fuss and ask a member of staff to take you to the front.
"If it looks like you'll miss the flight through no fault of your own, it is important to tell your airline as soon as you can.
"Buried in the T&Cs of many airlines is a promise to help, and some will let you rebook for free in such instances.
"Travellers who miss a flight due to extraordinary circumstances may be able to claim on their insurance.
"Evidence that you turned up at the time advised by the airport or airline could be crucial, so keep your bus ticket or parking stub, and any receipts from shops or restaurants inside the terminal."
Passenger rights if a flight is cancelled
If a flight is cancelled, airlines should find a passenger a flight to their destination on the same day if one is available.
This is the case even if the only available seat on the desired day is on a rival airline.
On Friday, easyJet cancelled 240 flights set to depart from Gatwick over the half-term holiday.
Travel expert Simon Calder tweeted: "You can insist on a flight on your original day of travel, including a rival airline such as British Airways or Ryanair, at easyJet's expense."
Passengers are also entitled to cash compensation if the cancellation was the airline's fault and little notice was given.
Simon told BBC News: "If they cancel a flight with less than two weeks notice, they have to pay you compensation."
Will the chaos ease before summer and what's causing it
Many British passengers will be worried about flights booked for the upcoming summer chaos.
Travel expert and head of the PC Agency, Paul Charles told Express.co.uk: "I'm afraid that some of these issues will continue into July as it's taking a long time for airports and airlines to recruit the required number of people.
"Shortages of staff are creating bottlenecks in security channels at airports as well as leading to flight cancellations due to lack of flight crew.
"Slow Government processing of mandatory security passses, for new starters, is adding to the delays in getting enough resources to the right areas.
"All of this is compounded by there simply being fewer people available to recruit. There has been a shrinking of the workforce, either put off by wages being too low or attracted by higher-paying jobs in Europe, giving people no incentive to come to the UK."
easyJet and TUI have apologised for the cancellations.
Source: Read Full Article