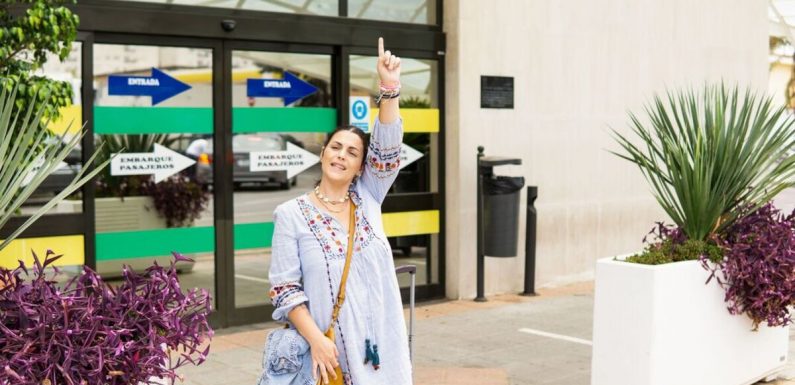 We use your sign-up to provide content in ways you've consented to and to improve our understanding of you. This may include adverts from us and 3rd parties based on our understanding. You can unsubscribe at any time. More info
All-inclusive getaways mean you don't have to think twice about getting from the airport to your accommodation, but it can be a grey area when you book different elements of your trip with separate providers. While taxi services are easy to come by in most holiday destinations, you could be overpaying for your transfer by simply hopping in the first one you see. Express.co.uk spoke to travel and aviation experts to find out exactly how you can get the most affordable and convenient transport deals on holiday – whether you have pre-booked, or not.
Nicky Kelvin, head of travel website The Points Guy UK, said: "Sometimes, travellers may find that it's easier to hail a cab from outside the airport than trying to find a driver via an app that may or may not have service or at a pickup checkpoint, that may or may not has changed locations since their last visit.
"When travelling by taxi, it is always a good idea to make sure you know the local regulations, including whether or not drivers are required to post signage and licences from the government. Also, if prices are not a set fare, find out if local cabs run on metered pricing set by the government, or if prices need to be negotiated before you depart.
"As a general rule, it's best to avoid cabs whenever possible in destinations that require haggling, especially if another language is involved as this is the easiest way to get overcharged."
Taking a quick look at reviews or price estimates a few days before you travel is always worth doing to gain an accurate idea of what you should expect to pay, though some popular destinations will remain fairly consistent.
If you're headed to Spain, for example, Nicky noted that prices from popular airports including Madrid Barajas, Barcelona and Palma de Mallorca to the city centre "usually" range between €25 – €30 one way.
According to David Doughty, an experienced aviation expert and CEO of Admiral Jet,a taxi in Portugal from the airport to Lisbon can cost around €15-€30, though he noted that this "can be cheaper" if you use apps like Uber or book ahead, so you should "do your research" before you fly.
He said: "While buses or trains can be the cheapest option, they can often take much longer and may not be able to take you directly to your accommodation. I suggest looking into the local taxi services or looking on apps like Uber, especially when you're laden down with luggage.
"While they can be more expensive than public transport, you can try to negotiate a fair price, plus they are much more convenient when you don't yet know your destination. I recommend booking your journey in advance or asking for a metre to be used. If a flat rate is negotiated, be sure to agree on the price before getting in the taxi to avoid being overcharged."
In some cities, however, public transport may be your best option if the roads are particularly busy.
Nicky explained that buses and metros are a "popular option in major metropolitan areas with more modern infrastructure such as Tokyo, New York or London.
He said: "Taking the bus or train will often be your cheapest option, whether you're staying in a hotel or an Airbnb. Utilising public transport is one of the easiest ways to travel around a country cost-effectively, especially as buses and metros/trains frequent popular tourist destinations and usually stop at nearby landmarks.
"In some countries, if you fall between a particular age bracket, you may be eligible for discounted travel on transport via concession or student tickets. Valid ID should always be shown as proof of age with these ticket types."
For more rural destinations, it will likely be much more affordable and easier to navigate a taxi service directly to your holiday accommodation.
Unsurprisingly, The Points Guy CEO explained that planning ahead is the most foolproof way to cut costs and ensure you can definitely reach your holiday home.
He said that it is "strongly recommended" that travellers arrange transportation in advance of their arrival to avoid delays, or even getting stuck at the airport.
With public transport, many cities such as Amsterdam offer travelcards which can be booked in advance and used for various modes of travel including bus and train. Ride hailing services can also be pre-booked in-app by selecting the date, time and location of your pickup.
If you hold a driving license, car rentals are also something to consider – particularly if you're not staying very close to popular tourist hotspots.
Nicky said: "These can be booked in advance with the rental operator, however, the most convenient rental car companies have kiosks directly available within the airport, sometimes in one of the terminals or perhaps near the parking garage. Luxury car services often vary based on location, so check reviews on TripAdvisor and similar travel websites before booking for the most up-to-date information.
"Some hotels offer complimentary pickup service to and from the airport via shuttle bus which can be selected whilst booking.
"Travellers can also request the front desk call for car service. Some hotels allow you to add the charge to your room, but most will have you arrange payment directly with the driver or service."
Source: Read Full Article