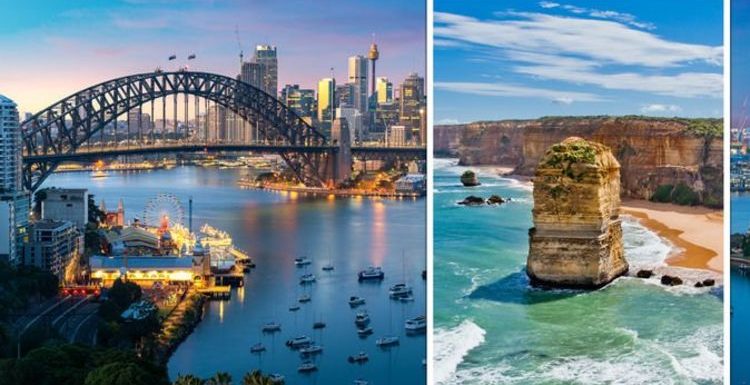 Djokovic set to be deported from Australia after losing visa appeal
We use your sign-up to provide content in ways you've consented to and to improve our understanding of you. This may include adverts from us and 3rd parties based on our understanding. You can unsubscribe at any time. More info
Britons in search of a new home are looking beyond Europe, a new study has revealed. While Spain and Portugal may be very popular with British expats, neither of the southern European countries make the top five of places Britons want to relocate to.
Would-be British expats are looking to relocate to the other side of the world.
Australia was found to be the most popular country for Britons.
A new study by immigration law firm Reiss Edwards analysed Google searches to name the top country for Britons.
Britons planning a permanent move were looking at Australia in their droves.
There are 58,000 Britons moving to Australia every year, but searches for "Australian visa" and "emigrate to Australia" exploded after March 2020.
The Covid pandemic made Britons reassess and many are now eyeing Down Under as a viable option for a relocation.
Searches for Australia surged 125 percent during the pandemic.
But Britons aren't just looking to Australia for their expat adventures.
Coming second was Canada, which proves Britons are not only looking for sun and heat.
In third place was New Zealand, with interest rising 14 percent last year.
All top three countries Britons are looking at for their relocations are part of the Commonwealth.
And with English as the main language, a move is made easier.
In fourth place was the USA and in fifth place was South Africa.
Britons planning to become expats may not be willing to learn a new language.
Commenting on the study, Amar Ali, Reiss Edwards managing director said: "There are numerous reasons Britons want to move abroad.
"Whether it's for a hotter climate, a cheaper economy or to be nearer loved ones.
"With an average of 400,000 Britons emigrating each year, this data offers a fascinating insight into where UK residents wish to relocate this year."
While dreaming of becoming a British expats surged during the pandemic, Covid made it harder to move.
Borders in Australia are just now reopening, while in New Zealand, they are completely closed.
Western Australia is still closed, even to other Australians and the latest Novak Djokovic's saga has put a spotlight on border control in the country.
New Zealand is delaying its reopening of borders constantly, with the latest plan to reopen at the end of February 2022.
Top countries Britons want to relocate to
1. Australia
2. Canada
3. New Zealand
4. USA
5. South Africa
Source: Read Full Article