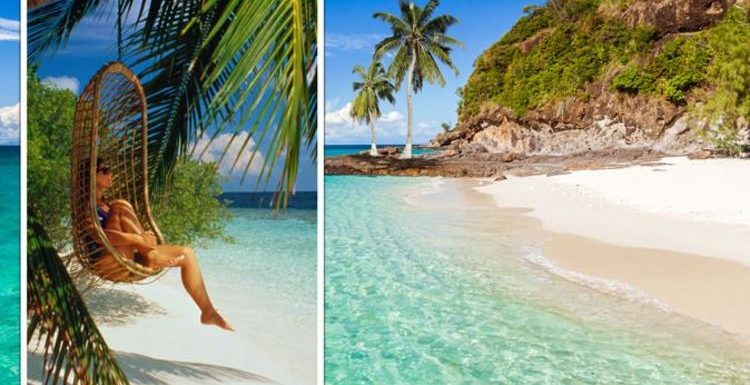 Linda Robson shares view whilst on holiday in the Maldives
We use your sign-up to provide content in ways you've consented to and to improve our understanding of you. This may include adverts from us and 3rd parties based on our understanding. You can unsubscribe at any time. More info
The definition of a luxury holiday varies widely depending on who's asked. However, some hotels should put everyone in agreement as they epitomise luxury. And they have a price tag that goes with it.
Some of the most expensive hotels in the world have been named by magazine Travel+Leisure.
From bucket list destinations such as the Maldives or Dubai to true luxury with a private island in Fiji, these hotels are promising a holiday to remember.
The most expensive hotel on the list was Jumby Bay Island – An Oetker Collection Hotel in Antigua.
The private island is home to 28 suites and 14 villas, as well as 22 residences including a nine-bedroom mansion.
All meals and activities are included in the price, but at $6,900 (£5,100) per night for a mid-tier suite, this may still be a bit stiff for most.
On Tripadvisor, Bicittini Posette wrote: "Perfection.
"This is the jewel of the Caribbean. A perfect paradise in every way. Wonderful staff who go out of their way to make sure you are happy."
And Bruce C said: "Wonderful to be back at Jumby Bay again. I look forward to this visit every year. Usually, the worst part of the trip is getting through the airport, but guests of Jumby Bay are escorted through a fast track service for Covid documentation review and passport control.
"We were through and had collected our bags within half an hour of the plane door opening. Yet another reason to book a stay at this fabulous hotel!"
Coming second was Soneva Jani in the Maldives, at $6,130 (£4,530) per night.
There is also an all-inclusive option, but this will cost holidaymakers more.
The overwater resort has a dozen dining options and a wellness centre with spa and yoga pavilion.
NetoDourado said: "Soneva is the place to go if you're looking to live a dream!
"Not only is this the most beautiful place on earth but you will also be treated like a king! Just come, take off your shoes and enjoy the view! It's spectacular!"
In third place was One&Only Gorilla's Nest in Rwanda at $6,000 (£4,435) per night for a suite, including all meals and beverages.
However, the price does not include a gorilla trekking permit, which is a further $1,500 (£1,100) per person.
The luxury property is perfectly located on the edge of the Volcanoes National Park and guests can trek from there to see the gorillas calling the surrounding forests home.
Amr E wrote: "This hotel is really different. I wish there was a higher than five stars review to give it.
"Although the cost of stay may seem very high at first but I assure every reader that it is well worth the money.
"Every place in this hotel is a piece of art. The service is of a quality never before seen in any hotel. They take care of every detail."
In fourth place on the list was Kokomo Private Island Fiji, costing $5,500 (£4,065) per night.
This is not the most luxurious option, as a full island buyout costs $65,000 (£48,000) per night and accommodates up to 40 guests.
Understandably, most holidaymakers chose to book just one of the 25 villas.
The price includes all dining (without alcoholic drinks), non-motorised water sports, and a 45-minute spa treatment or a scuba diving excursion per adult per stay.
Johanna Sonneveldt said: "There are no words to describe how amazing this private Island is.
"The lounge at the airport had everything we needed to relax while we waited for our sea plane to Kokomo. The sea plane ride was an experience in itself and the views were fantastic!
"The food at both restaurants was outstanding. The villa with our private pool was just perfect. We almost felt like staying all day in."
Rounding off the top five was Kudadoo Maldives Private Island at $5,400 (£3,990) per night.
With a motto of "anything, anytime, anywhere", a stay at this private island will be unforgettable.
The rate includes unlimited spa treatments, water sports, diving excursions, and dining.
For the underwater restaurant and excursions on the private yacht, it will be extra, and so are the private jet charters.
Lotus Dk said: "This resort is more than amazing and words cannot describe it."
Most expensive hotels in the world
1. Jumby Bay Island – An Oetker Collection Hotel, Antigua – $6,900 (£5,100) per night
2. Soneva Jani, Maldives – $6,130 (£4,530) per night
3. One&Only Gorilla's Nest, Rwanda – $6,000 (£4,435) per night
4. Kokomo Private Island Fiji – $5,500 (£4,065) per night.
5. Kudadoo Maldives Private Island, Maldives – $5,400 (£3,990) per night
6. Al Maha, a Luxury Collection Desert Resort & Spa, Dubai – $5,200 (£3,839) per night
7. Amangiri, Utah – $4,100 (£3,027) per night
8. Grand-Hôtel du Cap-Ferrat, a Four Seasons Hotel, France – $3,663 (£2,700) per night
9. One Nature Nyaruswiga Serengeti, Tanzania – $3,290 (£2,429) per night
10. St. Regis Residence Club, Aspen, Colorado – $3,233 (£2,387) per night
11. Six Senses Zil Pasyon, Seychelles – $3,135 (£2,314) per night
12. Ho'olei at Grand Wailea, A Waldorf Astoria Resort, Hawai'i – $2,371 (£1,750) per night
13. Anantara Golden Triangle Elephant Camp & Resort, Thailand – $1,487 (£876) per night
Source: Read Full Article