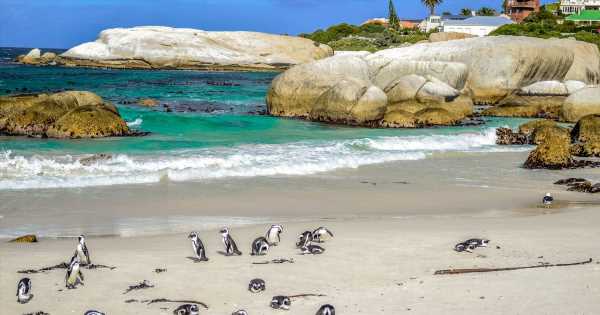 Bargain-hunting Brits may want to add Cape Town in South Africa to their bucket list, as it's been named the best value holiday for UK travellers.
Earlier this year the Post Office compared costs at a host of popular hotspots and found that Cape Town offers you the most bang for your buck, with an overall 7.5% drop in costs such as coffees, beers, three-course meals and essentials like suncream. But it's not just the affordability that makes Cape Town such a tempting destination for 2023 – it's also a brilliant winter sun hotspot.
Throughout December, January and February you can expect temperatures that reach around 27C-28C in the day, making for ideal conditions whether you want to relax on the beach or do some exploring of iconic spots such as Table Mountain.
READ MORE: Little-known islands that rival the Maldives but have just 5,000 visitors a year
READ MORE: Sun-soaked party city has 33C temperatures and 'cheapest beer in the world'
Speaking of beaches, Cape Town doesn't disappoint. There are Blue Flag Beaches such as Bikini Beach, Strandfontein and Muizenberg which have water sports facilities, swim-friendly waters and long stretches of golden sands. However, if you only visit one coastal spot then make it Boulders Beach.
One of Cape Town's most famous beaches, this stretch of land is home to a colony of penguins! They can often be spotted wandering around the sands and they're not too shy so you can get a great view of the animals – although you shouldn't get too close as these are wild creatures after all, so you don't want to disturb them! It's worth noting that the penguins aren't on the main beach itself where tourists often set up camp for the day – but there are boardwalks that make it easy to walk over to where the penguins live.
Of course they're not the only wildlife to keep an eye out for during a visit. Cape Town boasts a handy location just an easy drive away from some of South Africa's prettiest safari parks, some of which boast the Big Five (that's the lion, leopard, rhinoceros, elephant, and African buffalo, should that prove helpful next time you're at a pub quiz!). Cape Town tourism has a useful guide to some of the best safari lodges and reserves in the area here, although one of the closest is the Inverdoorn Game Reserve which is about a two-hour drive from the city centre.
Meanwhile, there's heaps to explore in Cape Town itself. Home to the majestic Table Mountain, it's an ideal location for intrepid explorers who want to take on the various beautiful hiking trails – or if you're not keen on the climb, then the cable car that takes you straight to the top might appeal. Nature fans may also want to leave space on the itinerary for Kirstenbosch National Botanical Garden, which is often tipped as one of the world's greatest botanic gardens thanks to the plethora of plants that can be found here.
Robben Island Museum is another must-visit for tourists. It can be accessed via ferry from the V&A Waterfront, with the full tour taking around 3.5 hours including the ferry ride. The World Heritage Site is about 12km off the coast of Cape Town and became infamous as a gaol for political prisoners under Apartheid – the most famous being Nelson Mandela who was imprisoned on the island for 18 of his 27 years in prison.
Cape Town is about an 11-12 hour flight direct from London; holiday giants such as British Airways and Virgin Atlantic offer packages with flights and hotels.
You can find out more about the study on postoffice.co.uk.
Source: Read Full Article