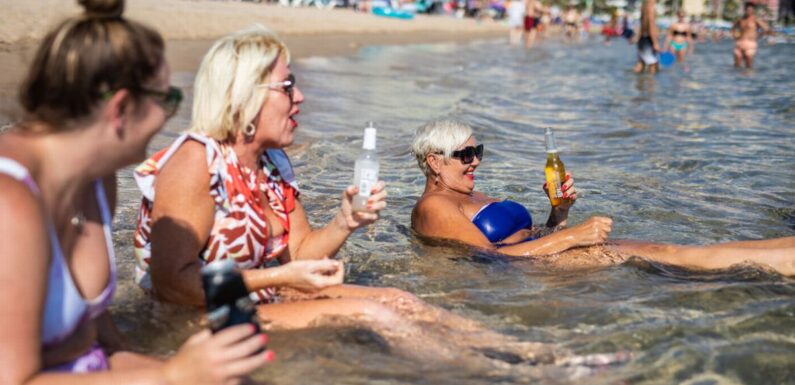 Benidorm is a huge favourite among British tourists thanks to its cheap pints, raunchy entertainment and beautiful beaches. But, a variety of rules and regulations could land visitors with fines of up to £1,000.
One Benidorm lad – Frank – who claims he's an expert on the Spanish town says there are lots of behaviours that could land you in hot water. These include everything from getting drunk to reserving a spot on the beach.
Frank shared some of his tips on TikTok recently, @frankthestagman, with a long list of things to avoid while on holiday. He noted that if you camp or sleep on the beach you'll get a £1000 fine.
READ MORE: Benidorm lad spills resort secrets – 88p pints, £2 fry-ups and getting drunk for 'nowt'
He also noted that anyone using a parasol or other item to reserve their spot on Benidorm's gorgeous beaches could be given a £730 fine.
Going on the beach between midnight and 7am could mean you're levied "a fine of £650 to £100" too. Frank added: "Urinating in the sea can get you a fine of £130."
It doesn't end there either. Frank said that using soap or shampoo at public beach showers could get you a penalty of up to £558, while drinking booze on the sand carries a fine of £650.
So leave the bubbles for when you're dining out or in your hotel room! Even building a sandcastle in Benidorm may cost you £130, claims Frank.
Benidorm isn't the only place to be affected by new rules that target unruly tourists. Beaches in Majorca and Ibiza have banned smoking – covering 28 locations. Meanwhile a six drink limit has been imposed on resorts across popular parts of Spain like Ibiza, Palma and more.
Swimwear is fine on the beach or poolside – but head out to the shops in your bikini, and you could end up being slapped with a fine. In hotspots such as Barcelona and Majorca, topless men and women wearing bikinis face fines of up to €300 (£253) if they're spotted walking around away from the beach.
Boozing on the streets is banned in Barcelona and Madrid, with fines of up to €600 (£507) for those who flout the rules. Plus, in parts of Majorca and Ibiza there are new bans on party boat cruises, all-you-can-drink bar crawls and some drink offers. This includes Magaluf, El Arenal, Playa de Palma in Majorca, and Sant Antoni in Ibiza.
Luckily, it's not all bad news as two Benidorm "legends" have also shared some of the fun ways you can save money on your trip. Grummet claims there are 88p pints, £2 fry-ups and you can get drunk for "nowt"on the strip.
He and his best pal say they manage a week in Benidorm including flights, hotels, food and booze plus entertainment for under £250 a pop. Although they have made some mistakes when booking – one time resulting in a room with four complete strangers being their accommodation of choice.
You can find some of the cheapest rooms in the area on booking.com. You can stay for four nights at the B&B Hotel Benidorm Centro for just £210 between two at the end of June. That's just £26.25pp per night.
Source: Read Full Article