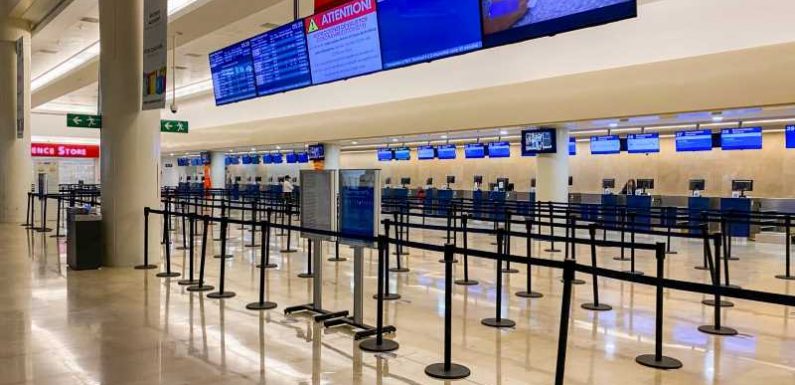 Load Error
The day before we were set to take our first international trip in well over a year, there was buzz that our intended destination, the Quintana Roo area of Mexico (home to Cancun, Playa del Carmen, Tulum and more) was going to be given a red-level designation due to a surge of COVID-19 cases.
If the area shifted from orange to red, it would have effectively spelled the end of our already twice-delayed trip.
Lucky for us, the weekly evaluation of the area's COVID-19 stoplight system stayed orange, or naranja, and we were able to grab our passports and fly south.
But while the situation hasn't escalated to red, there's no denying that the Quintana Roo section of Mexico is still dealing with a serious COVID-19 outbreak. (Here's where you can check the current level.) As a result, the U.S. Centers for Disease Control and Prevention (CDC) currently has Mexico listed as a Level 3 high-risk destination for COVID-19.
For more TPG news delivered each morning to your inbox, sign up for our free daily newsletter.
Given the surge of cases the area is experiencing, photos I've seen of incredibly long arrivals lines at the Cancun International Airport (CUN) and the general perception of openness that attracts travelers from U.S. who want to party but don't want to deal with vaccination or pre-travel testing requirements, I had some concerns about what I'd find when we touched down in Mexico.
While things can change quickly these days, we ultimately had a great trip. Here's what it's like to travel to the Cancun area right now.
Arrival at the airport
Travelers flying into Cancun from the U.S. don't need to apply for entry, provide any COVID-19 test results, show proof of vaccination or secure visas in advance.
So, while you may want to line up trip insurance or have a contingency plan in place in case you do test positive for COVID-19 while in Mexico, there's no specific requirement to do so.
Even prior to the pandemic, the Cancun airport was, at times, known for exceedingly long waits to clear immigration upon arrival. The line could go down hallways and wrap around itself even during normal operations. Earlier during the pandemic in 2021, there were also reports of long arrival waits.
The airport, however, has indicated it ramped up staffing to speed up the arrivals process. While I can't speak to exactly what's changed with staffing levels, I can say we didn't wait more than a few minutes after touching down in Cancun one Friday afternoon in late May.
Related: Best credit cards with built-in travel insurance protections
Some friends who arrived a bit later in the peak mid-afternoon hours did experience a 15- to 20-minute wait in the arrivals hall, but that was a far cry from the pre-pandemic wait they experienced in February 2020 that lasted more than an hour.
If you're concerned you'll face a long wait when arriving at a peak time, you can pay for a VIP service that will get you through arrivals in a matter of minutes, though it will set you back a few hundred dollars. That's what we did just to be sure we didn't get stuck in a long, crowded line.
Once we were through immigration, the usual number of car rental and taxi companies were available, and even in the warm, open-air area of the airport, drivers and vendors were largely wearing face masks.
The resort experience
Our resort stay was a bit south of Cancun at the Andaz Mayakoba in the Riviera Maya part of Quintana Roo.
At this particular resort, our temperature was checked upon arrival and again when entering restaurants. The staff always wore masks over their nose and mouth — even when outdoors.
For guests, masks were available when entering many buildings and were required in some situations, such as when perusing the breakfast buffet that was housed behind plexiglass. But guests here primarily spend time outside, at the pool, by the beach or seated in restaurants where masks wouldn't typically be worn anyway. Plus, most of the restaurants were open-air or had plenty of ventilation.
Daily housekeeping and room service were available, and there were no services or activities that seemed to be suspended in the name of pandemic safety.
Video: What will travel look like in 2021? (TODAY)
Make shrimp kebobs and street corn for Father's Day

TODAY


Naomi Osaka withdraws from Wimbledon for 'personal time'

TODAY


How to protect from ticks this summer

TODAY


Inspired by Juneteenth, this chef is working to preserve Black foodways

TODAY


Preview Trevor Noah's interview with Willie Geist

TODAY


Miley Cyrus to headline Pride concert event for Peacock

TODAY


Jenna Bush Hager shares behind-the-scenes look at her skydive

TODAY


Boeing's new 737 Max jet to take first flight

TODAY


Rescued Alaska hiker charged by bears details her survival story

TODAY


Cruise line Carnival hit by data breach that may impact staff, customers

TODAY


World's 3rd largest diamond unearthed in Botswana

TODAY


Frank Bonner, 'WKRP in Cincinnati' actor, dies at 79

TODAY


Israel launches new airstrikes on Gaza

TODAY


Delta variant spreading, but vaccines appear to protect against it, CDC says

TODAY


Before Amazon Prime Day, Target, Walmart and more battle for customers

TODAY


Biden signs law making Juneteenth a federal holiday

TODAY


Make shrimp kebobs and street corn for Father's Day
Ahead of Father's Day, SuperChef owner Darnell Ferguson joins TODAY with a meal sure to impress Dad and the rest of the family. Watch as he fires up the grill to make candied bacon-topped street corn and spiced shrimp kebobs.


TODAY



Naomi Osaka withdraws from Wimbledon for 'personal time'
Tennis superstar Naomi Osaka announced she is pulling out of the upcoming Wimbledon tournament just weeks after withdrawing from the French Open to focus on her mental health. NBC's Anne Thompson reports for TODAY.


TODAY



How to protect from ticks this summer
Scientists are already warning that it's a bad year for one type of tick, and now they're being found in more places across the country. NBC News investigative and consumer correspondent Vicky Nguyen spoke with an entomologist to learn how to stop ticks in their tracks.


TODAY

Exploring off the resort
Technically, the area's current orange-level COVID-19 precautions do affect what you can and can't do in and around the Cancun area.
In practice, however, this doesn't seem to have much of an impact on tourists.
While we weren't seeking out any nightclubs or casinos so I can't speak to that, the off-the-resort boat excursion we had in the Playa del Carmen area felt totally normal aside from the to-be-expected use of face masks at some times.
In our experience, those in the service industry wore masks the majority of the time, especially when indoors or while transporting people in a vehicle.
Mask usage outside was still high by those in the service industry, though it was more relaxed outside for people who were not on the clock.
In fact, our largest day-to-day challenge when it came to relaxing at the beach in Quintana Roo was the very significant seaweed issue, not the pandemic.
Flying back to the U.S. from Cancun
When flying back to the U.S. from any international destination, you need to have a negative COVID-19 test result taken within three calendar days of your departure.
The resort we were at in Mexico provided these tests complimentary on site for guests staying at least three days. If you aren't sure if you'll have easy access to testing, you can pack an eligible at-home rapid test to take online with a proctor.
Regardless of how you take the test, you will need to either upload those results to your airline's app for review or be prepared to show them at the airport to airline staff. If you need to do this step at the airport, you should allow for extra time, especially if you don't have any sort of elite or priority access with your airline as those lines to check bags or interact with airline staff can get long at peak departure times.
We flew with United and were able to easily upload our test results to that app where they were reviewed in advance of departure, approved and we were good to check-in and fly without any additional checks at the airport in Cancun.
When we arrived at the airport before dawn one Tuesday morning, the check-in area was all but empty.
You do have to complete an online Mexico health screening to depart the country, but you can do this up to 12 hours before your departure, or you can complete the screening on your phone in the airport.
Most people we saw were walking right past the signs explaining the health screening, but they then hit a small bottleneck of multiple travelers completing the questions right before needing to display the completed QR code to an official to continue the departure process through the airport.
My recommendation is to complete this screening either before arriving at the airport or in the roomier check-in area.
Just don't wait until the last second to complete the online form, as it does take a couple of minutes to complete, and that final area where you could complete the form before showing it to airport officials is pretty compact.
Related: Country by country guide to reopenings
Bottom line
The high rate of COVID-19 cases in Mexico's popular Quantina Roo area right now is very real.
There are rules, some closures and capacity restrictions in place at certain types of businesses in the region as a result of the high orange-level designation. However, for tourists who are most interested in spending time at the beach or pool at the resort (just like us), it wasn't a barrier to having a good vacation.
And mask compliance in the places we traveled around Quintana Roo was actually much higher than in my home state of Texas — and at least on par with what I experienced on a recent trip to New York City.
While COVID-19 rates remain at this high level in this part of Mexico, I'm not personally going to bring my still-unvaccinated children for a vacation right this moment. As vaccinated adults who were more than ready to enjoy an international beach vacation without flying too far from home, however, we had a great experience.
Featured image by Summer Hull/The Points Guy.
SPONSORED: With states reopening, enjoying a meal from a restaurant no longer just means curbside pickup.
And when you do spend on dining, you should use a credit card that will maximize your rewards and potentially even score special discounts. Thanks to temporary card bonuses and changes due to coronavirus, you may even be able to score a meal at your favorite restaurant for free. 
These are the best credit cards for dining out, taking out, and ordering in to maximize every meal purchase.
—
Editorial Disclaimer: Opinions expressed here are the author's alone, not those of any bank, credit card issuer, airlines or hotel chain, and have not been reviewed, approved or otherwise endorsed by any of these entities.
Source: Read Full Article