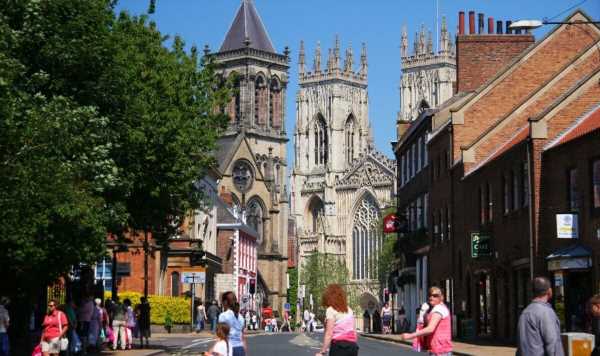 Looking for an autumn staycation? One of the UK's most atmospheric cities could be the perfect destination.
The expert team at Preply looked at some of the UK's top city breaks to find which destination was the easiest to explore on foot. While a southern city grabbed the top spot, another gorgeous destination wasn't far behind.
According to the research from the team, York was the UK's third most walkable city with its top five tourist attractions all within a 48 minute walk.
The walled city in northeastern England was founded by the ancient Romans and has an instantly recognisable skyline dominated by the 13th century Minster.
So what is there to do in York?
READ MORE France travel advice updated as terrorism threat level heightened
Unsurprisingly for one of the UK's most walkable cities, York has a gorgeous pedestrian area to explore. The Shambles is one of the city's prettiest streets, packed with boutiques to discover. It was helped inspire the famous Diagon Alley featured in Harry Potter.
Tripadvisor user 'Iarke/Burgess' wrote: "What a beautiful quaint place. This is full of charm and atmosphere. Lovely little shops with all sorts of goods."
'Happywanderer1960' wrote: "Stunning street with fantastic stalls and shops with everything for everybody. All in all, fantastic shops and stalls."
Don't miss…
Popular holiday destination to have Europe's highest tourist tax[LATEST]
'I went to Italy and tourists might be surprised by the beach'[EXPERIENCE]
The UK's creepiest village is 'Britain's most haunted' with 12 ghosts[STAYCATION]
We use your sign-up to provide content in ways you've consented to and to improve our understanding of you. This may include adverts from us and 3rd parties based on our understanding. You can unsubscribe at any time. More info
Chocolate fans will find plenty to delight them in York as the city is actually where some of the UK's biggest brands were created.
Nowadays, there are plenty of boutique shops selling chocolate while tourists will be spoilt for choice when it comes to finding a cafe to enjoy a warming hot chocolate.
Tourists shouldn't leave without visiting the National Railway Museum or exploring historic York Minster. York Castle Museum offers a glimpse into the past with plenty of family friendly activities.
It takes under two hours to reach York from London and it's also easily reachable from Edinburgh. The city is just a short trip outside Leeds.
Looking for autumn colours? One National Trust property is one of the best places in the UK to enjoy the autumn season.
Fancy travelling abroad instead? Why not check out one of Portugal's most walkable cities?
Source: Read Full Article