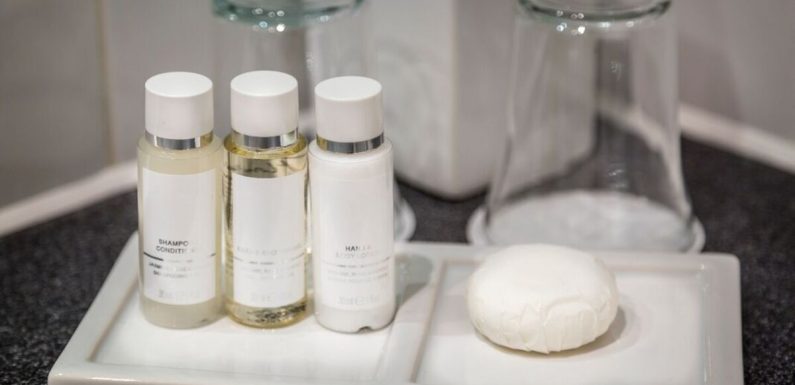 We use your sign-up to provide content in ways you've consented to and to improve our understanding of you. This may include adverts from us and 3rd parties based on our understanding. You can unsubscribe at any time. More info
The European Commission is slapping a ban on mini toiletries under new EU-wide laws. The rules are meant to combat waste.
The Commission said: "Packaging is one of the main users of virgin materials as 40 percent of plastics and 50 percent of paper used in the EU is destined for packaging.
"Without action, the EU would see a further 19 percent increase in packaging waste by 2030, and for plastic packaging waste even a 46 percent increase.
"The new rules aim to stop this trend. For consumers, they will ensure reusable packaging options, get rid of unnecessary packaging, limit overpackaging, and provide clear labels to support correct recycling.
"For the industry, they will create new business opportunities, especially for smaller companies. They will put the packaging sector on track for climate neutrality by 2050."
The aim is to make all packaging recyclable by 2030 and companies will have to offer a certain amount of goods in reusable packaging.
Certain forms of packaging will be banned including single use for fruits and vegetables and miniature shampoo bottles and shower gel in hotels.
Many tourists rely on the miniature bottles although some hotels have already stopped offering them.
The tiny bottles are bad for the environment and are often thrown away if they are only slightly used.
However, ever since tourists were banned from packing liquids over 100ml in hand luggage, miniatures have become more essential.
Many British tourists don't pack toiletries as they expect that their hotel will provide them instead.
Hotels might be able to get round the rule by putting bigger bottles in bathrooms which can be used by multiple guests.
Tourists will still be able to purchase mini products at duty free or supermarkets before their holiday.
IHG Hotels & Resorts switched to bulk bathroom amenities from miniatures earlier this year.
Unilever brand Dove, now supplies full-size hand wash, body wash, shampoo, conditioner and body lotion to IHG hotels, including Holiday Inn.
At the time Yasmin Diamond, IHG's EVP, global corporate affairs, said: "IHG has pioneered the move to minimal waste in the hospitality industry and we're excited to spell the end of bathroom miniatures through our collaboration with Unilever.
"Our guests are increasingly mindful of the impact their travel choices have on the environment and our colleagues, investors, owners and suppliers all expect us to act responsibly.
"Transitioning to bulk amenities across our global estate was one of our first significant steps towards eliminating single-use items throughout the guest stay by 2030."
Tourists could also get around the miniature problem by packing bars of soap and shampoo bars instead of liquids.
Soap and shampoo bars will get through security at airports and are light and compact in luggage.
Airports are planning to phase out some of the tight liquid rules in the coming years as they upgrade to new 3D scanners.
Additional reporting by Rita Sobot.
Source: Read Full Article