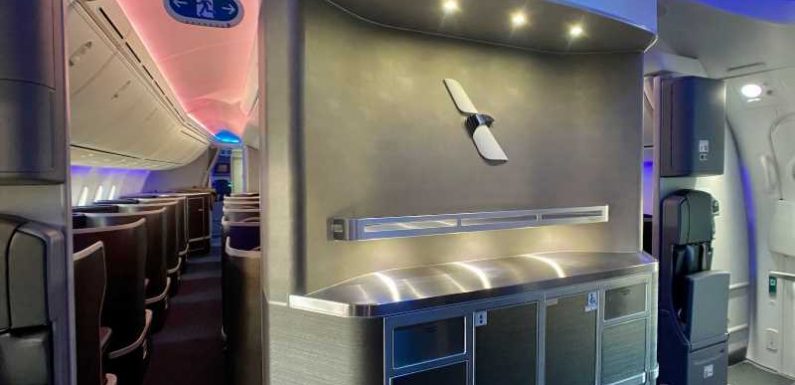 Load Error
The demand for Hawaii flights is seemingly at a pandemic-era high.
Over the weekend, American Airlines extended the schedule for its Charlotte (CLT) to Honolulu (HNL) flight, giving flyers over three more months of daily, nonstop service on that route. It was originally supposed to run seasonally from May 6 through Sept. 7, but now it will operate through Jan. 3, 2022, per Cirium timetables.
American flies the 273-seat Boeing 777-200 on the 4,678-mile hop. The aircraft feature 37 business-class pods, 24 premium economy recliners and 212 coach seats. These jets have two types of business-class seats — and it's nearly impossible to know which one you'll get until a day or two before the flight.
Notably, American's longest of over a dozen Hawaii routes will run through the holidays, giving East Coast-based vacationers more one-stop choices to get to the Aloha state. In October 2020, Hawaii began allowing mainland visitors to present a recent negative COVID-19 test in lieu of a mandated ten-day quarantine.
Stay up-to-date on airline and aviation news by signing up for our brand-new aviation newsletter.
The eased entry policy has caused a surge in demand from pandemic-weary travelers looking for a beachside escape. Most international destinations remain closed to Americans, so Hawaii's appeal is likely even stronger nowadays.
In response, most major U.S. airlines have launched or expanded service to the islands, and some visitors, including TPG's Clint Henderson, have noted that "Hawaii is again packed with tourists."
But American's CLT to HNL boost isn't just about matching supply with demand. It also renews confidence in this route that failed years ago.
Video: How fighter pilots train to fly the Marine Corps' F-35B (INSIDER)
How rare Caciocavallo cheese is made in Italy

INSIDER


What it takes for something to be labeled a hate crime, according to experts

INSIDER


WATCH: Prosecutor stresses that George Floyd said 'I can't breathe' 27 times while Derek Chauvin kneeled on him

INSIDER


These 6 high-tech facials can improve your skin

INSIDER


This peel-off lip stain claims to last 10 hours

INSIDER


These attachable wheels transform your shoes into skates — here's how they work

INSIDER


Watch how professionals remove ingrown hairs

INSIDER


I tried to eat healthily while ordering all my meals from food delivery apps for a week — here's what happened

INSIDER


This DIY kit lets you mix your own custom lip gloss

INSIDER


VIDEO: See inside the Border Patrol facilities holding migrant children in Texas

INSIDER


The evolution of how car chase scenes are filmed for movies

INSIDER


How Pixar's character movement evolved from 'Toy Story' to 'Soul'

INSIDER


What cocktails look like around the world

INSIDER


VIDEO: New footage shows tugboats trying to free a massive container ship blocking the Suez Canal

INSIDER


These shape-shifting cubes combine to form a picture

INSIDER


How rare Caciocavallo cheese is made in Italy
Caciocavallo cheese is one of the most popular cheeses in Italy and is famous for its signature elongated shape. In the caciocavallo family, there is one kind that is so rare that at times it can be even more expensive than the finest of Parmesans: caciocavallo Podolico.


INSIDER



What it takes for something to be labeled a hate crime, according to experts
Authorities did not call the Atlanta salon shootings this month a hate crime. But for many, it's not even a question.


INSIDER



WATCH: Prosecutor stresses that George Floyd said 'I can't breathe' 27 times while Derek Chauvin kneeled on him
Watch the opening arguments from former Minneapolis police officer Derek Chauvin's trial, who is charged with second-degree murder, third-degree murder, and second-degree manslaughter in the death of George Floyd.


INSIDER

The Charlotte-to-Honolulu market has an interesting history. Prior to its merger with American Airlines, US Airways began serving the route on Dec. 17, 2009. Three-and-a-half months later, in April 2010, the airline said it would suspend the flights at the end of the summer travel season, largely because of high fuel prices. The service lasted nine months, until Sept. 8. 
Despite US Airways' strong East Coast presence (and Charlotte hub) in 2009, it was a surprisingly quick decision to drop the service just months after it started.
More route history: American will give Charlotte-Honolulu a second try
Ten years later, and some wondered if American's CLT-HNL run would fare better than it did after the prior attempt by US Airways.
However, thanks to the pandemic, today's network planning strategy looks much different.
For one, jet fuel prices are hovering at $1.68 a gallon, compared to around $2 a gallon 10 years ago, according to data from Airlines for America.
There are also many more spare airplanes. With long-haul travel largely off-limits, American has plenty of unused wide-body jets. Instead of flying them across the Atlantic, the carrier has been deploying them an increasing number of domestic routes, like Dallas/Fort Worth to Anchorage, Miami to Boston and now, Charlotte to Honolulu.
More widebodies: American Airlines schedules wide-body jets on 3 unexpected domestic routes
As such, the opportunity cost of trying new routes is minimal. American's vice president of network planning, Brian Znotins recently explained to TPG that "the cost of experimentation these days is very low."
While American might be experimenting with another stab at CLT to HNL, it appears that the second time just might be the charm. Coupled with the increased demand and low opportunity cost, AA isn't just relaunching the service — it's extending it, too.
Featured photo by Zach Griff/The Points Guy
SPONSORED: With states reopening, enjoying a meal from a restaurant no longer just means curbside pickup.
And when you do spend on dining, you should use a credit card that will maximize your rewards and potentially even score special discounts. Thanks to temporary card bonuses and changes due to coronavirus, you may even be able to score a meal at your favorite restaurant for free. 
These are the best credit cards for dining out, taking out, and ordering in to maximize every meal purchase.
—
Editorial Disclaimer: Opinions expressed here are the author's alone, not those of any bank, credit card issuer, airlines or hotel chain, and have not been reviewed, approved or otherwise endorsed by any of these entities.
Source: Read Full Article