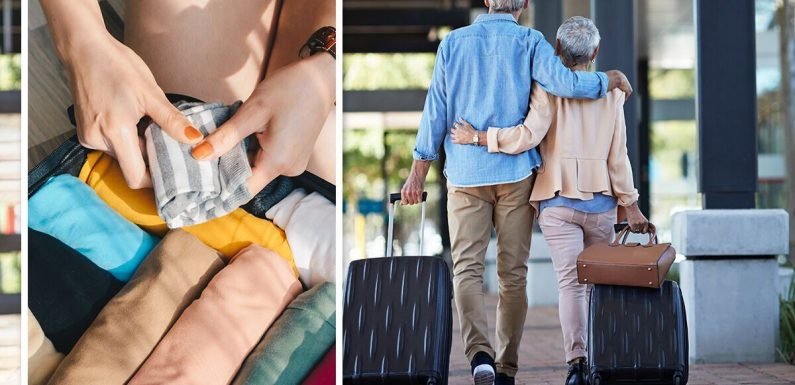 Holiday packing tips for best utilising luggage space
We use your sign-up to provide content in ways you've consented to and to improve our understanding of you. This may include adverts from us and 3rd parties based on our understanding. You can unsubscribe at any time. More info
Airline luggage restrictions can result in unexpected additional costs for holidaymakers. However, packing strategically can ensure you fit everything into your suitcase that you need, without the risk of incurring a fee.
According to Adam Ewart, CEO and founder of Send My Bag, points out that while rolling is one popular method of packing, there is another which can save space and reduce the risk of crumpled clothing.
Mr Ewart told Express.co.uk: "Rolling is a space saver and rolling in order of use makes a lot of sense.
"But if you want to save space, pack items in order, and save wrinkles, you can also try the bundle technique.
"This works by using a fixed-sized object, like an organiser pouch that you can fill with soft items.
"The pouch can act as a 'pillow' that you will wrap your clothes around."
The luggage expert also advises making use of all of the space in your bag, including some unlikely places you might not necessarily think of.
DON'T MISS
Why is there French on the British passport? Reason for translation [EXPLAINER]
Suitcase packing: The 'folding' method to 'carry more' in your bag [COMMENT]
Ryanair: Woman stranded after hand luggage was 'too big' [INSIGHT]
Mr Ewart added: "Don't let items such as shoes kill space, put socks inside shoes and make sure any other items with voids are not left empty.
"Always roll, you can even use your socks at either end to save space and hold the rolls together."
When travelling with the family, though it can be tempting to pack all of your belongings into one bag, Mr Ewart advises making use of every person's baggage allowance.
He explained: "If you are travelling with very young children airlines will usually allow you to travel with extra items, travelling with children is difficult and you don't need excess baggage charges on top, check what additional baby bag allowances are offered and ensure you max out using those before paying for extra kilograms.
"If your child is over two years, you will be buying them their own seat.
"If that seat comes with a free standard cabin bag, don't waste it with a small child's backpack, bring a full-size cabin bag and if your child also wants a small bag it can be put under the seat in front."
Source: Read Full Article