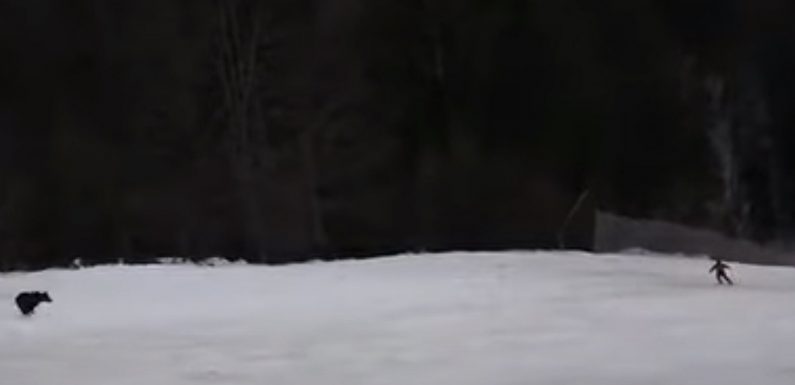 A skier in Romania got more than he bargained for when a bear started to chase him down the slopes.
The skier narrowly escaped the wild animal, which witnesses credited to his quick thinking move to drop his backpack on the snow, likely distracting the bear and giving him time to clip out of his skies and run away, ABC News reported.
Caught on video, the skier zig-zagged his way down the Predeal mountain resort as the bear chased him and fellow skiers on the lift shouted, trying to distract the animal.
"He did a pretty cool move, which is a really safe one when you want to get away from the bear," one witness told the network, adding he had actually spotted the bear himself an hour before the terrifying encounter. "He dropped his bag off, and, well, the bear was dragged towards the bag."
Another witness added during the day "Ski patrol stopped us [and] told us there was a bear at the bottom of the slope. All the people that were down there threw their skis down and ran from the slope."
Local police told the network they had received three emergency calls about the bear throughout the day. This isn't the first time a bear has been spotted at the Romanian resort and officials have promised to investigate and relocate the bear to a safer area.
"The skier did the right thing," a police spokesperson told ABC. "The bear was distracted by things inside his backpack. We are considering to relocate the bear, who should be hibernating now, anyway, but in recent years, we have more bears confronting skiers in the winter."
Romania recently reopened its borders to fully vaccinated travelers, eliminating the need to quarantine upon arrival.
This isn't the first near-miss with a wild bear. In September, a bear approached a man asleep by a pool in Massachusetts, tapped him on the foot, and ran away when the startled man woke up.
And in October, a hiker had to scare off an equally terrifying animal — a cougar — while trekking in Utah.
Alison Fox is a contributing writer for Travel Leisure. When she's not in New York City, she likes to spend her time at the beach or exploring new destinations and hopes to visit every country in the world. Follow her adventures on Instagram.
Source: Read Full Article