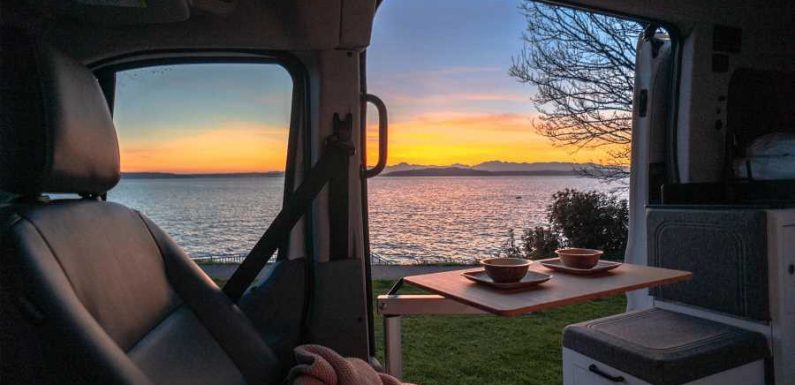 If you've ever wanted to try out van life, Valentine's Day weekend may be your best opportunity.
Cabana, a camper van rental company, has put together a collection of Valentine's Day packages perfect for anyone wanting to plan a romantic, socially distanced escape. Each package includes a three-night campsite booking and an itinerary of food and activity suggestions, as well as chocolates and flowers.
Cabana's vans are decked-out Ford Transits with high roofs and everything you could need for a comfortable weekend away from it all with the one you love. The 20-foot vans come with queen-size camper mattresses, bamboo shower floors, and a toilet you shouldn't have to empty for a week.
Cabanas are fully contained, meaning you won't have to hook up to anything to access power or water. Plus, each one comes with a coffeemaker, USB ports, and a 24-inch screen to watch Amazon Fire TV under the stars. Travelers will find their choice of soft or firm pillows on board and a fridge similar to what they might see on a yacht. Meanwhile, solar panels make it easy to recharge on the go and enjoy up to 18 hours of off-the-grid electricity.
To book for this Valentine's Day, you'll need to be in Los Angeles or Seattle, where Cabana launched in 2019. The company is planning to expand in the western U.S. and into one-way rentals. Cabana's all-inclusive Los Angeles package starts at $999 plus tax. A similar offer in Seattle starts at $899 plus tax.
Meena Thiruvengadam is a Travel Leisure contributor who has visited 50 countries on six continents and 47 U.S. states. She loves historic plaques, wandering new streets and walking on beaches. Find her on Twitter and Instagram.
Source: Read Full Article