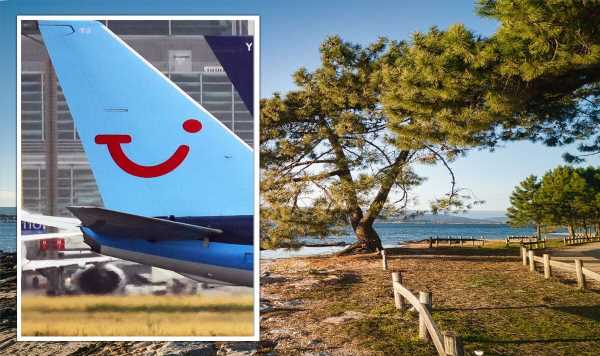 Martin Lewis issues advice on travel and refunds
We use your sign-up to provide content in ways you've consented to and to improve our understanding of you. This may include adverts from us and 3rd parties based on our understanding. You can unsubscribe at any time. More info
As travel restrictions around the world end, many Britons are eager to get away. TUI has warned there could be a rush on rooms this summer.
Managing director of TUI UK and Ireland, Andrew Flintham, told Express.co.uk: "We're seeing really strong demand for this summer, with many customers eager to get away on a package holiday for the first time in more than two years.
"Overall, Turkey, Greece and Egypt are currently the most sought-after hotspots this summer, and long-haul favourite Mexico remains extremely popular with our customers.
"With such strong demand, those looking to enjoy a summer holiday this year should consider booking sooner rather than later to make sure they're able to secure the holiday of their choice.
"Our family-friendly premium hotels, including our TUI BLUE Sensatori range, are much sought after for peak dates.
"For those with flexibility in their travelling dates, it's worth considering mid-week flights.
"It's great to see that the enthusiasm to travel is back to pre-Covid levels and we are excited to take our customers on holiday abroad again."
Peak demand is expected to hit in July and August during the British school holidays when families are set to travel.
Popular destinations for British travellers include Turkey, Greece and Egypt where warm weather is nearly guaranteed.
According to TUI, customers have increased their average stay from 8.5 days to 9.5 days meaning the company is using 12-13 percent more accommodation.
This could cause a rush on rooms this summer in the most popular holiday destinations for Britons.
As the cost of living crisis puts pressure on British families, many may be struggling to book a summer holiday.
A spokesperson from NetVoucherCodes said Britons could save money by avoiding an airport drop off.
They said: "Don't pay for airport drop offs. Airports have caused some stir in recent years since launching drop-off charges and a whopping 19 out of 30 UK airports are making you pay to drop someone off.
"However, there are free drop-off points that are just a short walk or bus ride away from the terminal.
"Arriving early and planning ahead means you can avoid these extra charges. See your airport's website for specific details on free drop-off options."
As TUI said, mid-week flights usually have more availability and are often cheaper than the weekend.
Tourists who do not need to travel during school holidays could book a trip in September when destinations such as Turkey and Egypt will still be hot.
British tourists are urged to check their passport expiry date before booking a holiday to the EU this summer.
Britons' passports will need to have been issued less than 10 years ago and have three months left after the final date of their holiday.
Source: Read Full Article